Zhou Yu and River Saunders have an awkward relationship, but with the addition of four others, their lives are about to get more interesting. Patrick O`Hanlon is happy to finally be free and explore his… options. Michael Saunders just wants to survive college; Elena Davis has her goal in mind, but her boyfriend Fou-Lu Yu doesn't seem to have any ambition at all.
Elena, Michael, and Fou-Lu all traveled to University together. Michael had got stuck driving, while Elena and Fou-Lu often forgot he was in the front seat. It was a little weird to have to be in the same with car with your sister who is making out with someone you've known since childhood.
He was happy to be free of the confines of the car, while Elena was happy to finally be in college. Fou-Lu was just impressed with how hot Elena turned out to be.
Patrick arrived later that evening, having hitched a ride with a hot chick. Why he was so late was never put to question, as it went without asking. Patrick was pleased with his roommates, though he had wished desperately to have his own place. Still, having people to talk to was pretty cool, and he was related to some of these people, too, so meeting relatives was interesting.
It turned out Zhou wasn't upset about Falco "flying the coop", so to speak, and just bought about bird. It was this that brought their relationship into more official territory.
"It's just a bird, babe," Zhou had said, laughing. "He's probably teaching his bird friends to swear, too. That's cool with me."
River chose to ignore the fact that the bird was quite possibly teaching other birds to swear and instead focus on Zhou's unfaltering ability to be sweet.
Elena had done a lot of thinking during her time stuck in the house before coming to University. She decided to pursue her dream of being a world-famous dancer. As usual, Michael lingered in the background doing something boring and nerdy while she practiced.
It wasn't long before Fou-Lu located her and extracted her from her practicing.
Michael had left in favor of less 'intimate' places while Fou-Lu pulled Elena into a hug.
"This dancing stuff isn't so bad," he said jokingly. "You look good in spandex."
"Lu, stop it," Elena scolded, though she made no move to pull away. "I have to do my exercises."
"There are other ways of exercising if you're that worried about it…"
She sighed, and smacked him hard on the arm, causing him to pull away. He gave her a look and broke out into laughter. She hit him again, lighter this time. He was such a joker and that worried her. Would he ever take life seriously?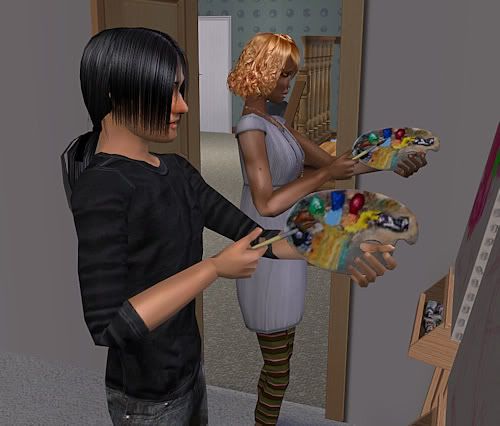 As the first year came to a close, everyone fell into a routine. Michael and River had an art class together, despite their complete lack of creative skills. They found solace in one another's company and general inepitude, muttering under their breath about the unfairness of college gen-ed courses as they hastily smeared gobs of paint on empty canvases.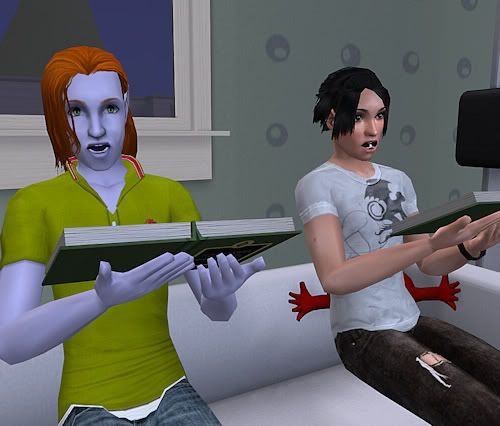 Patrick and Zhou often studied together, though Zhou was horrified when his books got confused with Patrick's. His mouth dropped when he opened the book to find a questionable picture of a co'ed… and upon dropping it, several more falling out and littering the floor.
"Dude!" Zhou said, gesticulating feverishly with his hands, unable to say anything else.
Patrick looked stunned as well, picking up a picture and admiring it, "I forgot I had this one."
"Is that ou… our literature professor?"
Patrick grinned, snapping Zhou's book closed and handing it over, "nice, huh?"
"Dude!!"