Mary O`Hanlon is relieved that the trial involving her husband, Derek, is finally over and that it was revealed he wasn't the murderer at all.  In fact, there was no murder, Katy had spooked herself to death.  Gina Saunders isn't completely convinced, but she knows her brother didn't do it.  Julie and Asia are joining the family and Julie has something to tell her parents.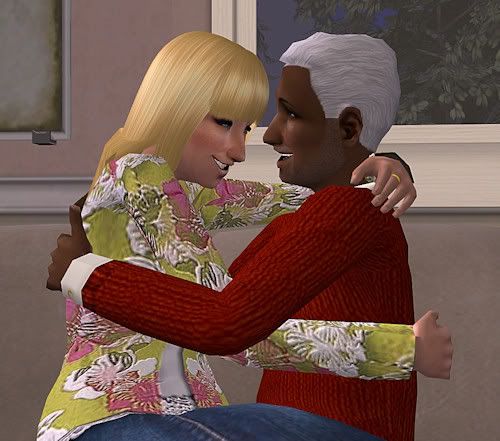 "I'm sorry for doubting you," Mary said, feeling incredibly guilty.  "It wasn't that I didn't want to believe, but my job and the evidence–"
"It's all right," Derek assured her, happy to have his name cleared and the tension gone from the house.  "I can't blame anyone for not believing me… it all pointed at me."
"Sara did," Mary frowned.
Derek smiled, "that's because she's stubborn as a bull, like me."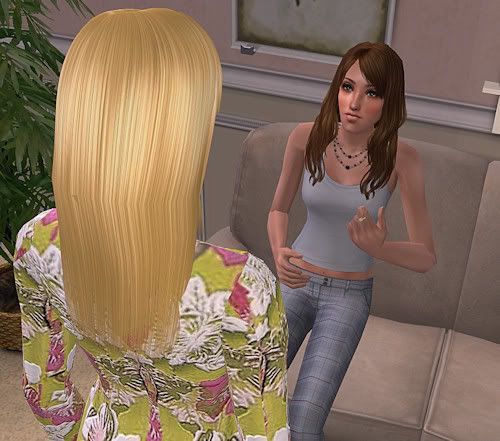 Julie was happy the house was back to normal with the trial over and done with, but she knew her news would turn everything upside down.  When she arrived home with her bags and Asia, she told Asia to wait a moment while she spoke to her mother alone.  It wasn't easy, but Julie told her everything.  Mary was suitably flabbergasted.
"Asia… is–you're… engaged?" She blinked, several times, unable to recooperate from the shock of it all.  "I think, I think I need to sit down."
"I know you're probably upset that I didn't tell you, but I thought you'd disown me or something.  If you're worried about the name, there's this–"
"No, no," Mary said, raising her hands up.  "Just… let me have some time.  Let it sink in…"
Julie wasn't sure what to think about her mother's reaction.  Derek had been a lot more understanding, but then again, Aunt Shaniqua was also a lesbian and in a relationship with a mutual child.  She just wished her mother didn't have such a stigma.  She wanted to tell Mary that she couldn't give it away–the name, the house–to Marla, because she was an alcoholic.  But Julie couldn't throw her twin under the bus like that.
She'd just have to wait it out and hope her mother came to terms with it on her own time.
Meanwhile, Julie and Asia were joined in matrimony.  They wore contrasting suits instead of traditional dresses and even did away with the traditional arch.  Nothing about them was rigid and traditional, so why maintain the guise?  They were happy with one another and their differences from everyone else.  It was certainly easier because Shaniqua Saunders and Florence Anderson had paved the way.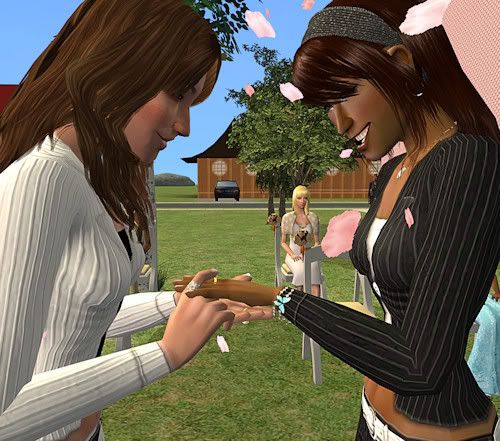 The entire family showed up with their respective spouses.  Sara was especially pleased, as now that someone had gotten legally wed Mary would stop breathing down her neck about her unsuitable relationship with Nathaniel.  How Mary could be so rigid was anyone's guess, it likely had to do with her own background and the whole mess with Derek.  She likely didn't want her children to suffer the same way.
Mary did her best to go along with the idea that she was getting a daughter-in-law instead of a son, but it wasn't easy.  She still couldn't understand how they'd have children.
Marla was there to support her twin, but her beau was not accompanying her.  Julie asked and Marla simply said that he was busy finalizing his divorce.  She assured her that she'd meet him soon enough.  Julie was skeptical, but Marla seemed happy–and significantly less buzzed–than usual, so she wasn't going to push it.  She was just happy to see her again.  Aperture seemed like it was too far away–they'd never been so far apart before.
After all the wedding hubbub died down, life resumed as usual.  Asia got a job as a G.P. at the newly built Aperture Hospital and Julie still hadn't decided on a career.  Gina and Derek had a quiet breakfast one morning where Gina finally decided to confront him.
"I want to know what really happened, Derek," she began, not unsympathetically, "I know you didn't do it, but I know you were involved.  I don't know what happened at the trial and I don't want to.  I just want to know your involvement.  We're getting old, brother, and the time for the truth is waning.  Don't you want to get it off your mind and ease your soul?"
He sighed, thinking about it for a moment.  She was right–as always.  Gina had this uncanny ability to read people with such precision it was startling.
"All right, Gina.  I'll tell you the truth of it.  It all began when Katy and I arrived back from University…"
————
Note from Mao: Uneventful round.  You have no idea how long I've waited to use the contrasting suits!  And now you know a bit about what happened at the trial.  Yay.