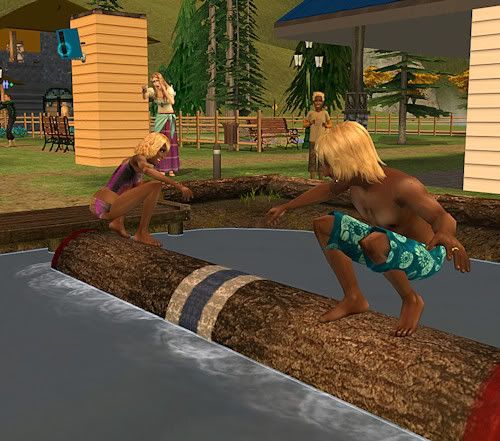 Although, we did have some warm days. That's when we actually had some decent fun. I mean, you'd laugh… I was on a log. No, seriously, a log. I know I'm not athletic and boy did dad kick my butt hard. You'd probably have enjoyed it. It was fun, but the water was cold. I don't like losing and I couldn't win! Even Basil beat me. I think I need to do some crunches or something…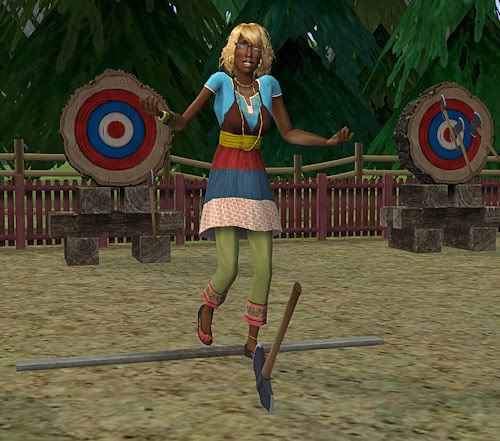 You know me, I'm not violent in the least… but the draw of the axe was just too much! Turns out, so was the weight. I went to fling one at the target–with accurate precision, mind you–and it went flying backwards. You should have heard people screaming… you'd swear an axe murderer was on the loose! Well, if you don't want an axe flying at your face, don't stand around!
You know I hit that bullseye all three times. What? I know you're making that face and it's true! Why would I lie? I may not be athletic, but I can handle an axe. Woe to my future beau, that's what I tell you. If he makes me angry, I'll come at him with an axe… (and if I'm lucky, it'll actually hit him…)
I guess the trip wasn't all bad. I mean, it was kind of fun. I know, spending time with family… what a drag… but I dunno. I guess it was nice. We don't really get much of a chance to see dad anymore, so it was cool to have him around. Mom seemed happier too–I think she's getting a job when we go home. That's cool. She's obviously going cabin crazy anyway.
Not that I can blame her. Sharing a cabin with Basil was awful. He snores like a log truck! Or maybe that was actual log trucks passing by… either way, not cool! I'll be glad to get home and get the smell of pine and pancakes out of my clothes. Just think, I'll be ungrounded for my sixteenth birthday! How awesome is that?
Hope you're fairing better than me,
River
————–
Note from Mao: Yes, Roman followed her home. I forgot to ship them off to University, oops! Anyway, turns out they have two bolts and could possibly have three. Wow. I think they are second cousins. Disturbing. We'll see how that goes.