Someone mentioned on the suggestions post that they might like to see the homes of Boreal Springs.  I'll preface this by saying I've built all of the homes that the sims are currently residing in, aside from apartments.  I'm not much of a builder, but I hate downloading lots due to their ability to completely render your neighborhood into a pile of burning rubble.  Building all the lots myself also added a new challenge and made things interesting.
The first four lots all began as starter structures, meaning I built them with somewhat of an idea… but given that I'm not a builder?  Yeah, how they ended up isn't quite that great.  In fact, there are only two houses I'm remotely happy with!  But, this is Anniversary stuff and as such, a look behind Oz's curtain, so come along… it's sure to be a laugh!
I should note that I would be a lot more detail oriented if this were my only blog/etc.  I started out that way, decorating the homes meticulously… now?  Not so much!  I try to add some homey touches here and then when the mood strikes, though.  Since a normal houses tour would be boring, given my inept building and decorating, I'll give some insight and random facts where I can.
Some of the pictures fluctuate between night and day, this is mostly because of the random times I took the pictures.  These were taken over the course of a few days.  This is also why some exterior shots are missing. 
The O`Hanlon House
The O`Hanlon house is relatively simple.  I wanted a ranch style house and while these guys have a considerable amount of cash, I prefer to keep things white picket fence and single floor simple.  I see this family has the type that puts family before possessions and I want their home to just feel small, but cozy.  The layout drives me nuts, I'll admit.  I had to add a bedroom behind the garage and an extra bathroom when Mary and Derek had children.  I would rid of the garage, but that would ruin the exterior look, so it stays and we get a very disjointed bedroom.  I also hate that they ALWAYS go through the front door, they never use the back door.  Ugh.  I built Isolde a little witchery room on the back.
This house has undergone some huge changes on the inside.  The entire layout was scrapped and redone.  You'll see a difference between older pictures and newer ones.  The kitchen was once closed off and tiny.  Now the living space is nice and open.
The Anderson House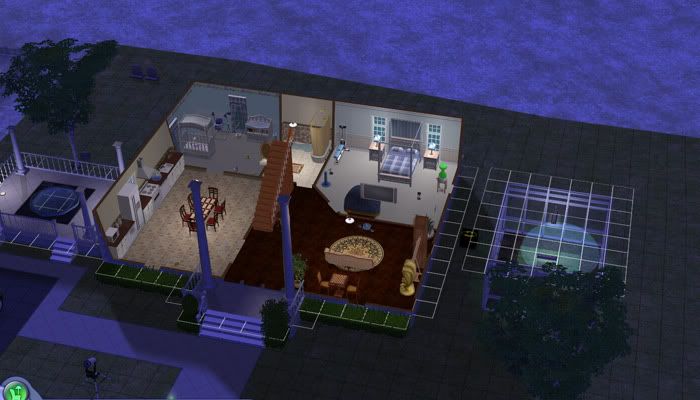 For the Anderson house, it's pretty similar to what I had envisioned in the beginning.  I wanted a house with stately columns and 2 floors of large rooms.  The Andersons, at the time, were the "it" family in the hood… so of course, they had the biggest, most status-conscious house of all!  The layout doesn't bother me as much as other houses, but I wish I could make better use of the space.  The hottub area was added for Nevio and the greenhouse hasn't been touched in a very, very long time.
I had originally envisioned a grand staircase, but this was long before they were available and now?  There's just no space!
The living room recently underwent a huge overhaul in looks.  I was planning to hit the kitchen, too, but didn't get around to it yet.  The living room had been the same since Thomas Anderson was an adult!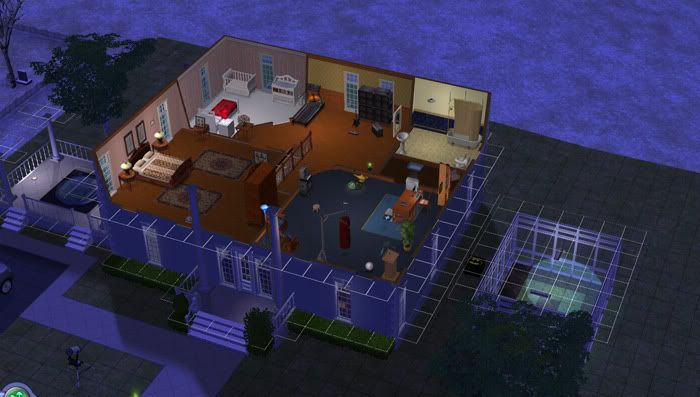 I'm not entirely pleased with how huge the rooms upstairs are.  I'm planning on doing a layout overhaul at some point, I just have to be in the mood.  For now, things are thrown everywhere and I have to be careful with how I frame my shots.  Katarina's room hasn't changed since she's been there and Alyssa's old room still has photos of her in it!
The only room that's had a slight change would be the "office" area that once belonged to Thomas Anderson.  It's changed a tiny bit, lookswise, since then.
The Saunders House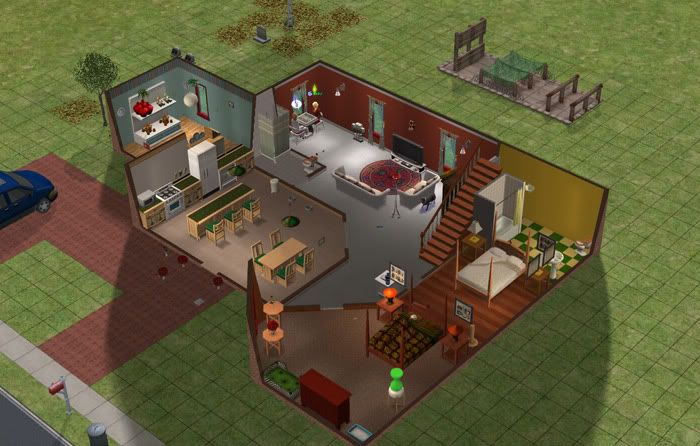 I never had any intention on the Saunders house being huge, but Henry's super sperm forced me to make it bigger.  The first floor kitchen and living room have had their looks changed, but prior to this recent development, they hadn't been touched since Henry was alive.  Yeah, scary.
The bedrooms have been the same since the first few rounds and are in dire need of a remodel.  Things in this house are just thrown about willy-nilly… mostly in the rooms you never see, heh.  Behind Oz's curtain, things are messy!  The layout doesn't bother me here, it seems to work pretty well.
You can see the forgotten home business started by Aiyana off to the side.  I've since decided I hate home businesses.  It's been years since I had one and yeah, not digging it.  So, it's forgotten…
The second floor layout drives me insane!  Everything was thrown together so crazily and quickly and it just built on and on, like a ramshackle of huts that became the Forgotten City.  Anyway, the art room hasn't been used since Damien and Aiyana's days in the house… the nursery was added specifically for River and Basil, as was the small room with two beds.
When Gordon was a child in the house, his bedroom was in the area that the train set and the computer now occupy.  Just a fun fact.
The Yu House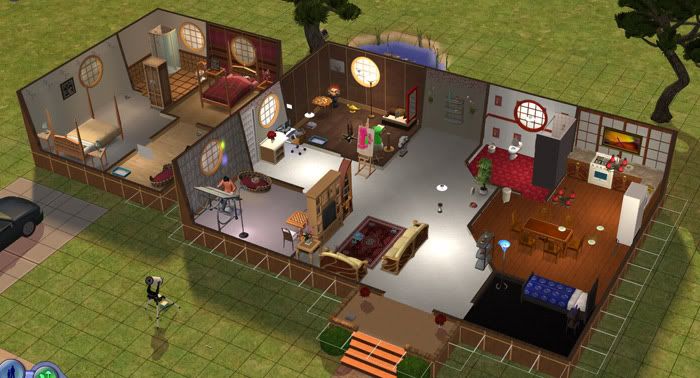 For the Yu house, from day one, I wanted an Asian-themed house.  I had never had one before and I wanted to make use of all the neat new decorations.  Anyway, the main house was once very small, but grew.  I had thought about putting a second floor, but instead just added an addition.  They're connected by a pathway that's covered by a roof.
The house has undergone some minor cosmetic changes here and there, mostly as the layout changed, but it remains true to the original theme and intent.  The cluttered room in the main house with all the browns was Lilith's summoning room where Katy Saunders (now Lauren Davis) rejoined the story.  It's now just a cluttered, forgotten room.
The house still has the paintings done by Sun-Tzu of Eileen and their children hanging randomly around the house.  You've probably seen them in update pictures.
The Anderson 2 House
The second Anderson house was originally started by Florence Anderson, the CAS daughter of Thomas and Janine Anderson.  She had alien babies and then hooked up with Shaniqua Saunders.  The house has undergone some huge changes since then.  The changes only recently took place, though.  I've been slowly revamping the houses as this generation takes the helm.  Anyway, the kitchen used to be a nursery with patio doors that lead back to the enclosed pool area.  The kitchen was once in the open, but crowded, living area.
Lydia and Rosa's childhood room is just a recolored version of the room Hugh, and even before that, Lilith and Nathaniel stayed in.  Not much there has changed furniture wise!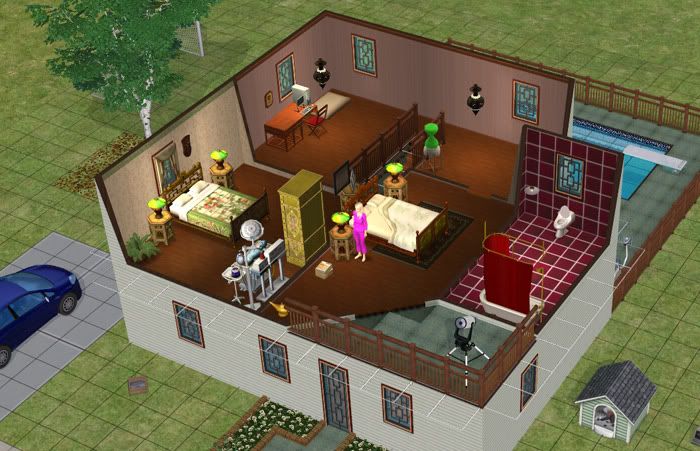 The upstairs is pretty simple and straight forward.  It hasn't really been changed much since Hugh's birth.  Katie's childhood room was what the hallway now is and her bed was where the desk now resides.  Not a whole lot more to say about it.
It's worth mentioning that I keep their house relatively small for a reason.  It's the same thing as with the O`Hanlon house, I don't want everyone to have some epic, huge house.  Not everyone is like that!  The families in this house are usually a simple bunch… Hugh and Kenya are family sims and so is Rosa.  Status isn't a big deal to them and Florence, the originator, left her house to escape her father's status craving ways.
The Anderson 3 House
For the third Anderson house, I wanted a very modern looking home.  It was started by Nathaniel, who was a start-up sports star turned injured seaman.  The house was intended to be very bachelor pad like and not very child friendly.  It was the first house to feature spiral stairs.  It started out very muted and black and minimal, but as Nathaniel and Sara had children, it became a bit more of a family home.  Now in the care of their son, Cole and the current mayor, Shelly, it still has its sleek look with the homey bits tucked away.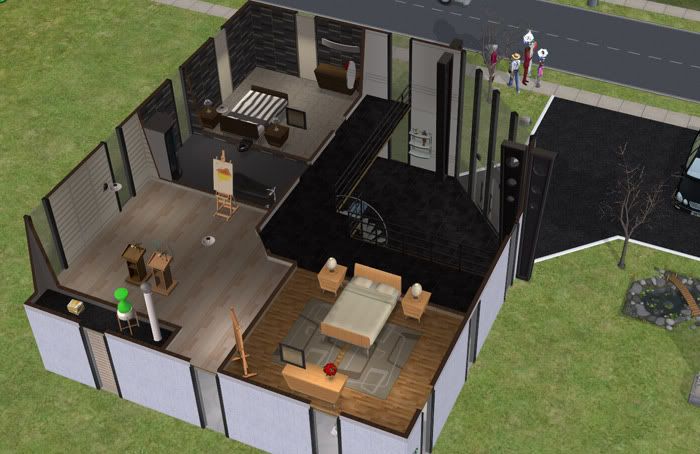 The upstairs is woefully sparse, but it's mostly just bedrooms.  The bedroom on the bottom right was added with Cole and Shelly's engagement.  The skilling room was once Sade's bedroom when she was a teen, with Cole staying in the downstairs room.
You can see I have the lot sync timer and the romance thingy isolated off by themselves.  I rarely get a chance to do this, so you see them all over the place in other houses!
The Yu 2 House
The second Yu house was started by Gordon (as Saunders 2), but certain parts are barely recognizable when compared to when he lived here.  The living room and kitchen/dining areas haven't changed much, but the bedroom area is completely different.  What was once just a large bedroom with stairs to the basement has been divided into two bedrooms and a hallway.
The layout of this house doesn't bother too much, though the openness of the dining room annoys me.  The patio was added on during Ryu and Tracey's marriage and the hottub gets used quite a bit by Marcus and Valerie.