The Saunders 2 House
For the longest time, Gordon resided with his second family in a pre-built home that came with Nightlife.  After Lauren's death, I decided it was time for a change, it was time for Gordon to fully embrace his criminal, vampire nature.  So, I built him a vampire lair.  The basement is mostly boring, just coffins with Gordon's tiny office.  I should note that it's locked, so only he can enter!
The living area is actually the second floor of the house.  There's two bathrooms, a big living room, and a very black kitchen.  Woefully, there's also a big, unused space.  When I laid the house out… I didn't think things through clearly.  Again, this is why I am not a builder!
Countess Emily spends way too much time tickling the ivories.  When I can't find her, I know that's where she is.  I think that's where she's headed in this picture, actually.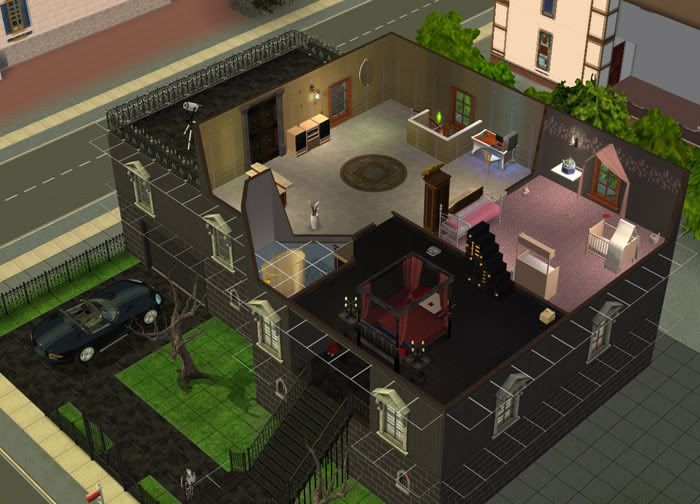 The third floor annoys me because of the too big rooms and ridiculousness.  Vampires don't technically need a bedroom, so the one they have is ill-conceived and last-minute.  It's dark, it's red, and it's there and in the end, that's what matters.  Selene's bedroom is also the nursery, because again, I fail at planning and my sims hate me.  Note the tiny bit of unused space between the bedroom and hallway.  At one point, I thought it'd make a novel bathroom… didn't quite work out!
The Knight House
The Knight house is one of the houses I'm actually kind of proud of.  It's pretty on the outside and it works on the inside, too.  Prior to this, Marla and Travis lived in a pre-built tiny house that came with Nightlife downtown.  Now they're back in Boreal Springs and in a house much, much bigger than their previous one!
I love the layered stairs, but my lack of planning with making the landing two squares wide as opposed to one means there's traffic jams… sigh!  Still, everything flows nicely on this floor.  The garage is a big, empty space there for looks.
The second floor isn't as well put together, but it works.  The purple room once belonged to Jennifer, now it houses Nadia.  Dominic shares his room with the gigantic cooking reward.  This room was added once Kit and the twins moved in.  The same goes for Kit's room to the far right.  It was sparsely decorated and inhabited by Travis before she moved in.  The hallway is a mess of cat things and cats!
The Anderson 4 House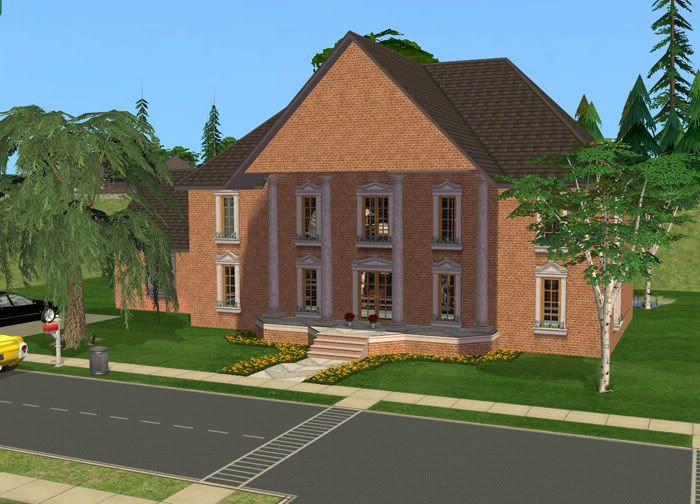 I love the exterior of the fourth Anderson house, but the interior was ill-planned.  This house takes the original Anderson house idea and expands on it.  I saw a house that had this exterior in one of the richer parts of our area and fell in love.  I love huge, roman columns.  Given that this house was started by Roman and his intent to continue the family lineage of status… it all makes sense.
The hallway is grand and decorated with expensive things.  The office at the top was added when Lydia and Gregory married.  Everything else on this floor is the same as its been since the house was built.  The pond in the back was added for the wedding.
I'm not pleased with the upstairs.  I need to make Roman and Cara's room smaller to make way for a better layout.  Until then, Lydia and Gregory are sleeping in his childhood room.  His nursery stands as it has since he grew out of it!
Another long, grand hallway.  It's mostly lined with random photos and useless things.
The O`Hanlon 2 House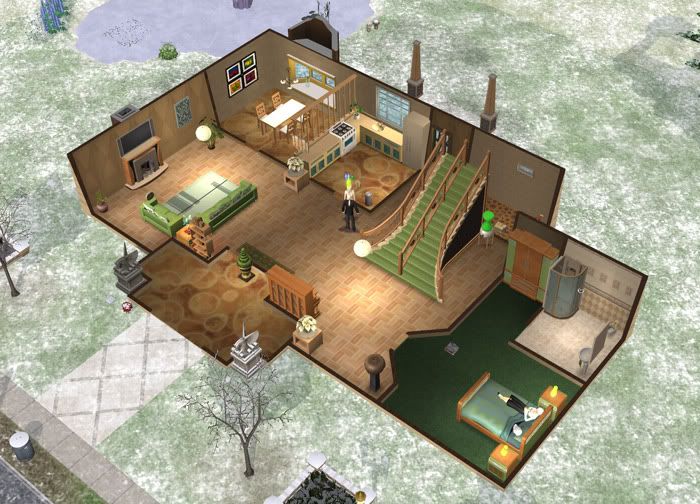 This is the only house of the bunch that I didn't build.  It came with Mansion and Garden stuff.  I will admit to editing it a bit.  The reason why I didn't build it is because I simply didn't feel like it.  I was in a rush to get Patrick and Viola out of the buggy apartment building they had been in, so I plopped this down and made it green.  Patrick was a very notable leading man and now a major director, so the eccentric house suits him.
I had fun decorating it, though.  Everything is very green!  Patrick loves green, his eyes are very green.  He has Mary O`Hanlon's eyes.  It's strange how genetics work, how they carry on down through families.  Red hair and green eyes, alien skin… reaching quite a way back there.  He gets the O`Hanlon genetics from his mother, Sara.
The upstairs is pretty sparse and huge.  I can't remember the original layout, I think it was just all open?  Anyway, of the rooms only Deidre's is really decorated with paintings and posters.  This makes sense, seeing as Francis has just recently moved back.  I haven't even had a chance to play him yet!
This house is one of the first to have a pool table.
The Saunders 3 House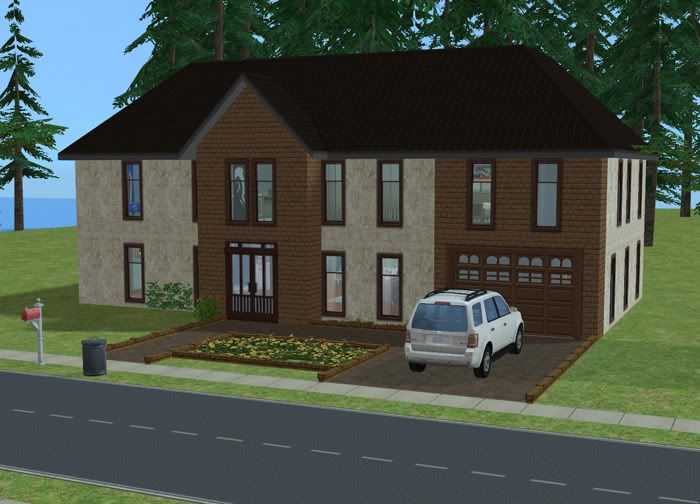 I'm pretty proud of the third Saunder's house exterior!  Of course, I made this house for one of my favorite families… so yeah.  I'm sure that had a huge part in it.  This is a copy of another home I've seen, exterior-wise, at least.  Anyway, the downstairs is nicely decorated and pretty filled out except the garage.  There's an empty space behind the bathroom, again with the poor planning.
Their living room is very blue.  It suits Michael and it suits me, as that's my favorite color.  I try to make interiors match the personalities of the sims within.  Sade gets her artsy stuff and Michael still retains his masculinity.
The upstairs isn't as nicely put together, mostly because it was all done in a hurry.  I still need to work on that.  You can see the Insiminator hanging out in the hallway.  Why is that there?  I have no idea.  I fix things on the fly all the time.  I love this stupid mod so much, I have no idea what I'd do without it.  That and the batbox can often be found on my lots!
If you want to imagine something funny, imagine Grace Saunders living in that very pink bedroom.  Hilarious.
Can you spot the second empty space?  What's with me and empty spaces?  Sheesh!!
And with that, ends our tour.  That's all of the houses in Boreal Springs!  Hope you enjoyed seeing behind Oz's curtain and yeah, that feeling of disappointment is normal.  Things look so much nicer on a smaller scale when framed properly.  You think this is bad?  You should see the sets/lots I use for AoL… I tend to favor "movie" type sets over fully done layouts… bahaha.