Roman Anderson was Thomas' intended heir, but died before he could put it to paper. So, now the irresponsible Nevio and his gold-digging girlfriend are privy to the Anderson fortune. Will Roman be able to help his brother or will Nevio dig his own grave?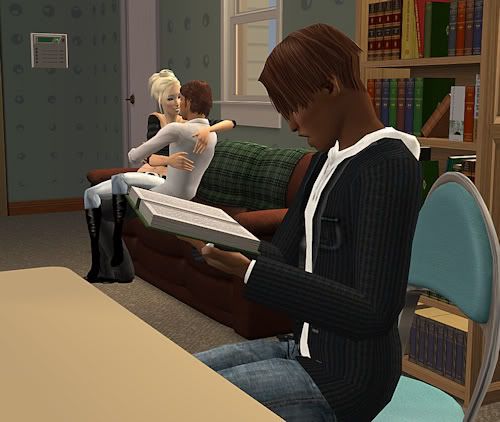 The three settled into the house as easily as any other. It was a bit small and meager for Roman's tastes but neither Nevio or Laci seemed to mind. Perhaps what bothered Roman most was Laci herself. She was so obviously in it just for the money. The fact that Nevio didn't see that or didn't care was just indicative of his own instability. Roman wished dearly Thomas had the chance to pen his name as heir.
With Nevio in the position, it was likely they would be paupers in less than a year's time.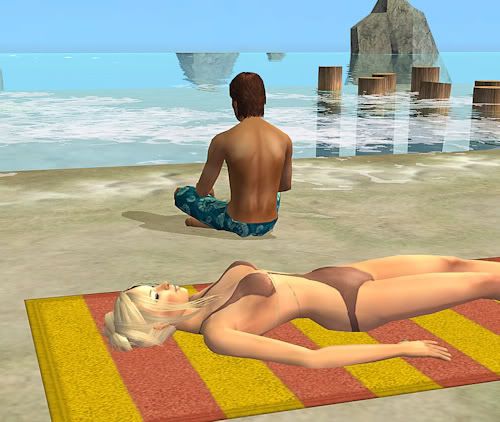 The first act of unnecessary excess was the trip to the islands. Nevio insisted that he needed a break, that all the academic pressure was getting to him. At this, Roman rolled his eyes. Pressure? Where? The professors were terrified of giving him anything below a 'B' and his work certainly warranted much less. Roman wouldn't even go into what Laci did to pass. All he could do is shake his head–Nevio had full control of the money now.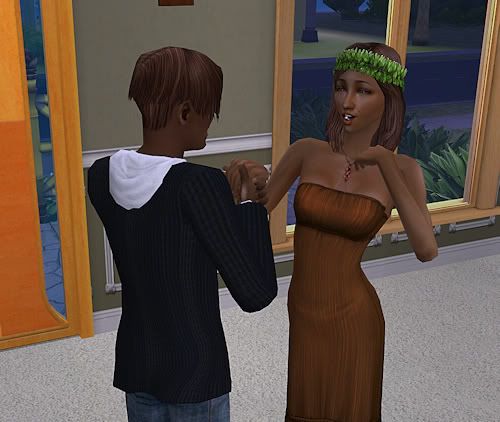 Letting his brother to his own devices, Roman went off on his own. It was then that he met up with a very intriguing islander. He had heard rumors ever since Tracey Saunders joined Boreal Springs; that a lot of the islanders hated being stuck on an overrun tourist trap and sought homes elsewhere. Cara Nanale was certainly one of those people. She even refused traditional dress!
She was shy and quiet, though, and made no wicked plans in her head for escape. It was only by chance she happened to cross Roman's path and catch his eyes. She had a rather plain beauty about her.
Prompted by his frequent meetings with Cara, Roman decided to have a talk with Nevio. The vacation would soon be winding to a close and Roman hadn't seen one act of restraint on Nevio's part.
"What, suddenly you don't think I'm a good heir?"
"Nevio, you know it isn't that. But you're making a bad first impression with Laci. Can't you see what she's after?"
Nevio shrugged, "so what? It isn't like I'm going to marry her."
"That's even worse, you idiot! She's going to trap you and then what? You're so careless you'll fall easily into the trap. I swear, Nevio, I think mother dropped you on your head too many times! Can't you look past your own issues and see what you're doing to our family?"
"Whatever, Roman," Nevio said, sliding off his chair. "It isn't like I have to listen to you anymore, anyway."
Meanwhile, Laci was enjoying the excesses that dating Nevio Anderson provided. So far, her plan was working great. Nevio thought they were just messing around–casual girlfriend and boyfriend. They were being careful, but not careful enough. Sooner or later, it would happen and she'd have him right where she wanted him. Laci wasn't terribly interested in children, but one would be worth nailing Nevio's hand down. She wanted that money and no one, not even Roman, would stand in her way.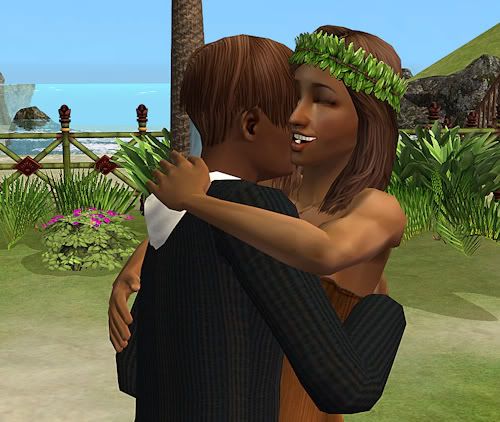 While it may have seemed Roman was preoccupied with Cara, he wasn't. His brother's problems and the family's jeopardy were always forefront in his mind. In fact, that's why he paid attention to Cara. She had the right sort of mindset to be a worthy wife of someone with money. She didn't seem to be easily impressed by material wealth and her willingness to please those around her was more than suitable.
Roman had entertained thoughts of introducing her to Nevio, but soon found he couldn't put her through that. He wasn't completely heartless.
On the last day of their vacation, Roman caught Laci away from Nevio. He wasted no time letting her know that he was onto her and he would do everything in his power to keep her from screwing the family over.
"Oh, don't be stupid, Roman," she smiled pleasantly, "we both know who has power here. You can't threaten me."
"Don't get cute with me, Laci, it won't work. I will find a way to excise you much like the tumor you are."
She moved closer, looking at him through her eyelashes, "why must you be so cruel? Can't you see what a… nice… arrangement this could come to be?"
"You're disgusting." Roman fumed, pushing past her.
She laughed, watching him stalk off, "but I'm winning, aren't I?"
———
Note from Mao: Roman and Laci are the type that have two bolts but do not get along at all. It's hilarious watching them tear into one another. Poor Nevio is such a dolt. As for Cara… all I did were cosmetic changes. I've done this to a few townies, to remove their defaults/etc. I don't know what their aspirations/etc are. Somehow, I messed up Cara's default outfit. Woops, lol. But the only thing tampered with were her skintone and eyes. That's all! I am really hoping she's not another Romance sim.