Alyssa and Ryu's marriage has been on the rocks for awhile now. Can they settle their differences or is it time to call in the lawyers?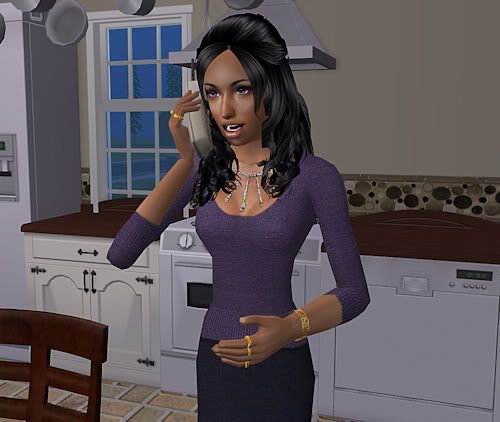 Alyssa found herself at a loss. She had confessed to Florence, but she really didn't feel any better. In fact, she felt worse. Her guilt was transposing itself into anger and she found herself frequently lashing out at the wrong people. She had to bite her tongue when Roman called to report that Nevio was bringing his gold-digging girlfriend Laci to dinner.
"How can you be so sure, Roman? Maybe you are misunderstanding her.."
"No, I'm not, mother. She's even gone so far as to hit on me. She's disgusting and she needs ejected as soon as possible."
Alyssa sighed heavily, "you know we can't do that, Roman. If Nevio loves her…"
"Grandfather would have. You know it, too, just as well as I do." There was shuffling on the other end of the line. "I've got to go. We'll see you Sunday."
Talking to Ryu was as awkward as it had ever been. They mostly kept their distance, though Ryu had made attempts to build bridges, Alyssa always declined. She just couldn't get over her own guilt. She knew she had to tell him, but it would have to wait until after the kids visited. No need to make things messy for them, too.
"You need to tell me what's going on, Alyssa."
"No, not yet. After the kids have come and gone, I'll tell you. But no sooner than that. It's for the best."
And so Sunday came and Alyssa finally met Laci. She had to admit, Laci certainly looked the part. Was Nevio serious about this girl? Alyssa couldn't help but notice how much makeup Laci wore. That really wasn't appropriate. She tried her best to make nice, though, for her son's sake. She also needed to have a talk with Roman. If there was anyway to remove this woman from Nevio's life, it needed to be done. She wasn't fit to be an heir's wife.
Alyssa went downstairs to see where Ryu had gone to only to find him talking to Tracey Saunders. Inwardly, she bristled. The mere sight of Tracey was enough to set her off. She glared angrily at Ryu and walked into the kitchen, ignoring the fact that Tracey seemed frightened.
"Hold on a minute, Tracey. I'll be right back," Ryu assured, patting her on the shoulder.
"A…All right…" she replied, visibly shaken.
Ryu entered the kitchen only to be met with a shower of water. He pushed it out of his face and looked at Alyssa, his own anger flaring.
"What the hell is she doing in the house, Ryu? When the children are here, no less!"
Ryu shook off the water, "what are you trying to say, Alyssa? Tracey just came by because of work. She found something–"
"I'm sure she did!"
"That's it!" Ryu yelled back, getting in her face. "What is your problem? Why don't you just tell me so we can stop this stupid charade and get it all over with. Just say it, Alyssa."
"You act like you already know," she huffed back, crossing her arms over her chest. Inwardly, she felt as if she might faint.
"Maybe I do," Ryu retorted, not backing down. "Maybe I figured it out myself and despite that, tried to make this work. But you've killed that. So just say it!"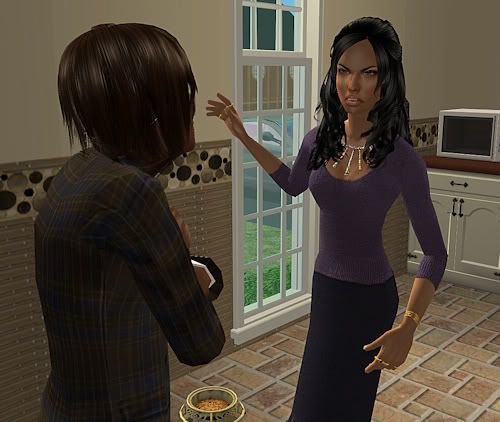 "Fine! I slept with Shang," she shot back, eyes narrowing. "Are you happy now? But it wouldn't have happened were it not for that stupid wench in the livingroom!"
"Don't blame Tracey for your own weaknesses, Alyssa." Ryu replied, his tone low and full of warning. "I don't think we need to discuss this any further, do you? I tried, I did, and you threw it in my face."
"I never should have married you!" Alyssa raged, fists forming at her sides. "Father was right! It's a shame he won't be here to see the divorce."
Ryu shook his head and exited, "I should have known you'd go crazy without your puppet master here to rule your every move."