Tsung Yu and Lilith have somehow found a way to be in love despite their very different personalities. Zhou takes mostly after his mother, but denies it vehemently, while little Fou-Lu has yet to really show his true personality.
One night, at dinner, the family found themselves discussing the possibility of a new pet. Fou-Lu had been campaigning, in his own quiet way, for several days. After some serious consideration, Tsung and Lilith decided to grant his request.
"Just know that it'll die," Lilith said bluntly, looking up from her porkchops. "Everything does."
"Lilith!" Tsung cried, mouth agape. "Don't say things like that, for goodness sake, he's just a boy."
"He needs to know, regardless."
Fou-Lu nodded fervently, desperate to get the kitten he so desired. Zhou just rolled his eyes, muttering beneath his breath how nuts his family was.
And so it was that 'Chairman Mao' joined the family. When questioned about the name, Fou-Lu simply said he found it appropriate. Where a child of his age had learned the word 'appropriate', it was hard to say. But he was perfectly content to play with Chairman Mao every chance he got and that was enough. He certainly was a dedicated little pet owner.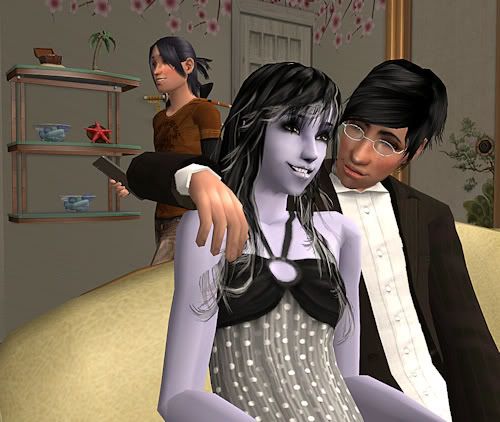 Zhou walked into the living room after a long day at school only to see his parents engaged in unnecessary PDA. With a groan, he tried to ignore them, smiling and remembering how he had managed to somehow ace that geometry test he never studied for. All thanks to River, mind, as she hadn't spoken to him since that impromptu kiss. It wasn't like he'd initiated it, what was she so upset at him for?
Of course, Zhou was too much a bullheaded teenager to realize that girls are strange. He was also too much so to see that he was deeply hurt by her slight and that beneath it all, he had a crush on her since they were children, in all her awkward, ungainly glory.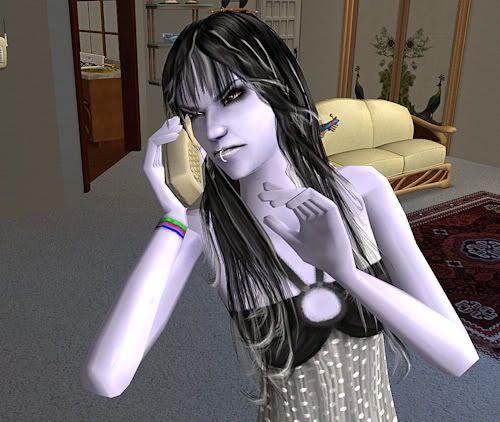 Lilith was having her own sort of trouble. The phone rang while she was home alone with Fou-Lu and the voice on the other end was one she had hardly expected.
"What do you want?" She spat, her fingers clutching the receiver tightly. "Just because my husband is your best friend doesn't mean I have to talk to you."
"Even if I have interest in your little tricks?"
"Tricks? Ha! I know all about you, Gordon… who, no what, you are and you're damn lucky I haven't told Tsung. Look, pal, your little charm won't work here. So step off."
"Now, Lilith, honestly," Gordon continued, unrelenting. "You'd think you'd be more hospitable in someone who actually believes all that stuff you dabble in."
She faltered, unable to think of a comeback. His voice sounded sincere enough… why would he be interested though? What would a criminal want with the paranormal?
"I don't like where this is going, Saunders."
"Oh, but you will, Lilith, you will."
Meanwhile, Fou-Lu made friends with Elena Davis. She was headstrong and independent, but Fou-Lu was amiable and easy-going. They really enjoyed playing active games like tag or catch and on the odd occasion, they'd have a water balloon war.
Elena enjoyed the scenery of Boreal Springs. It was so much different than her place in the city.
Zhou finally managed to corner River, only for her to ignore him. He sighed and looked down at her.
"River, seriously, what's your problem? You're the one that kissed me."
River focused intently on the logic ball in her hands, trying to avert her eyes away from Zhou's, "just… forget about that, okay? I need… I need to focus on college and stuff. I shouldn't have done that."
"That's fine, but why can't be friends again? This is stupid."
"Sorry, Zhou." She said, moving down the street, never once gazing up from her logic ball.
Chairman Mao grew up into quite an adorable cat. Lilith, despite herself, was smitten. She'd never replace Fou-Lu has Chairman Mao's number one person, but she came in a very close second.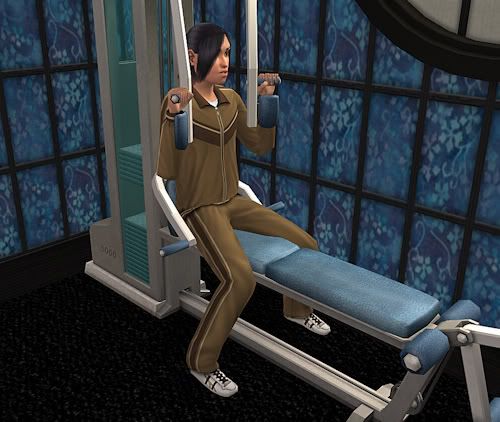 Zhou let go of the whole River ordeal and just focused on his scholarships. He found a love for fitness he hadn't known existed and poured all his excess energy into it. School was a lot less fun now, but he was quickly gaining a reputation without River hanging around him. He was a bit of a brute, bullyish even, and his excessive need to be fit only heightened the fear he enstilled.
He'd enjoy his few years of power left before High School ended.
——–
Note from Mao: Poor Zhou! Neither River nor Zhou have ANY wants regarding one another at all, so there you go. Maybe that'll change in college. I wasn't necessarily surprised to find that Zhou's beloved hobby was fitness. Chairman Mao turned out seriously adorable. Also, Gordon autonomously called Lilith and by the time she hung up, they were friends. Seriously, Gordon, what's the deal? He's pooling his resources for sure.