Florence and Shaniqua have an unsteady relationship while Kate and Shang's makes theirs look like couple of the year material.  Poor little Hugh is still oblivious to the strangeness of his family, but how long will it last.  (pardon the outdated picture of Hugh, woops.)
As was usual for this particular household, Florence and Shang were in the middle of a rather loud row.  Florence had lit into him for his indiscretion with Alyssa while Shang had shot back with the implication that Kate had been dabbling in unseen forces.  Florence balked at this claim.
"A golden lamp?  Honestly, Shang, do you take me for that much of a fool?"
"Hey, I'm being real.  That girl of yours is sneaky.  You think I was really so careless as to knock 'er up at college?"
Florence scowled, "you're foul, Shang Yu, foul and disgusting.  I can hardly stand the sight of you."  She stormed off.
Despite her initial anger at her son-in-law's claim, Florence decided to seek out further counsel.  She spoke to her son, Nathaniel, who had been passing by one morning.  Of course, he was clueless.  Poor Nathaniel got the looks, but he certainly wasn't the brightest of bulbs.
"A lamp?  Are you kidding?  I don't know anything about that stuff, ask Lilith."
Finding nothing on the lamp front and too proud to contact her daughter Lilith to inquire further, Florence relented.  She instead shared with Shaniqua what Alyssa had told her.  Shaniqua's response was quite warranted.
"They what?" She gaped, completely aghast.  Shaniqua had screwed up in the past, but never with family.  What the hell were they thinking?  "That's insane."
"Isn't it?  And I don't know what to do.  If Kate were to ever know…"
"Alyssa should know better, too.  No wonder her marriage is over.  Sheesh."
Meanwhile, Shang had been feeling the weight of married life.  Sure he had some fun with some ladies, but it wasn't enough.  The stifling atmosphere he suffered at home was enough to kill a man.  He sought comfort outside, in the one person who could always provide it in endless quantities.
"This married life is killing me, babe.  I'm not sure how much longer I can take it."
Katarina smiled and moved towards him, "poor baby, I know just what you need…"
Unfortunately for the both of them, Florence had been home at the time.  Busted was truly an understatement.  Shang hardly wanted to crawl out of the bed, knowing what awaited him when he did.  Goodness only knew what Florence would do to Katarina.
Florence lit into Katarina like a vengeful flame, only to be snuffed out before she began, "how could you do this–"
"You, shut up!  No one tells me what I can and what I can't do," Katarina hissed in response, giving Florence a sharp jab.  "You wanna blame someone, blame Kate.  She's the idiot in this mess, not us."
"Ladies, ladies, can't we resolve this with kindness?"
"Shut up, Shang," they said in unison, the Anderson tones in their voice quieting him instantly.
"Get out, Katarina.  If I ever see you in my house again, I swear…"
"I'm leaving," Katarina said, rolling her eyes.  "Don't bother with threats."
"As for you," Florence said, whirling around to face Shang, who had found his clothes on the floor and put them on.  "You are shameless!  In this bed, in my house!  I regret ever bringing you into this family."
"It was a forced thing, I would've been happier has a bachelor," Shang admitted, crossing his arms over his chest.  "Find the lamp yet, Florence?  Might want to, before Kate screws us all over."
"There is no lamp, that's just an excuse for your carelessness!"
"Is that so?  Then what is this?" Shang said, pulling the lamp from beneath the bed.  "Go ahead, look at it.  I'm outta here."
Florence could scarcely believe her eyes.  The thing was huge and unmistakable, its golden sheen catching in the bright daylight.  How had Kate kept this so carefully hidden?  Florence didn't want to venture a guess as to where it came from, she already knew.  It had to have been Lilith, but why?  Lilith was a lot of things, but she wasn't stupid.  Didn't she know what Kate had done with this vile thing?
With great effort, Florence hefted the lamp out of Kate and Shang's room and hid it away in her own.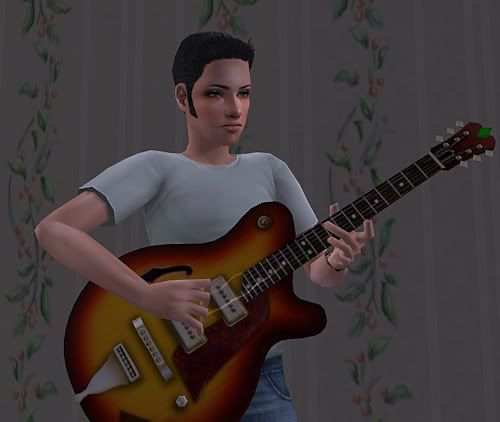 Meanwhile, Hugh had somehow managed to become a teen.  It was likely thanks to his grandma Florence's tireless efforts.  While he hadn't understood at first, he know knew that she was guiding him down the right path.  He was old enough to see how crazy his family was.  No one could say he wasn't Shang's son, though, as he was a remarkable likeness, though with softer features.
He desperately wanted a family, despite the nature of his father dwelling within him.  He would strive to fight it and he would succeed.
Hugh was happy to announce his first scholarship to Florence.  She was the one who had started him on the path towards college.
"I'm so proud of you," Florence said, hugging him tightly.  Her time was short, she knew she'd never see him actually go, but the pride she felt knowing he would was enough.  "And so early, too."
"It's all thanks to you, grandma.  I don't know what I'd do without you."
"Don't say that, sweetie.  You're a good kid, you'll always do fine, as long as you try and keep your wits.  Don't be like your dad."
He laughed, "but I like music!"
"Well, that's fine, but you know what I mean."
——–
Note from Mao: Phew, long update.  Katarina and Shang got buuuusted.  Woo!  And the lamp is revealed, ohnoes.  Hugh is, well, yeah.  Wow.  Where did he come from?  He's a family sim with a LTW of golden anniversary, but a randomized roll of the dice has designated him to have a secondary as Romance.  Dun, dun, dun… Florence is on her last day.  She'll die next round. :'(