Nathaniel Anderson and Sara O`Hanlon are finding that all children are not the same. While Patrick was a well-behaved little angel, Sade is a bit more of a… trial.
Sara found herself up late again, trying desperately to get little Sade to go to sleep. She was so unlike Patrick as a baby that it was almost unbelievable. Sade cried often, demanding Sara or Nathaniel's constant attention. It was often hard to keep up with her, as they both led very busy lives.
Sara was even busier now, thanks to the mess the whole Anderson divorce had caused. As one of Gordon's trusted people, Sara was very much involved in his the legal proceedings leading up to his divorce. It helped that Mary's mother was also involved. He had a legal team and a half to ensure that Michael was his. It was daunting work, though, and with Sade being such a fussy baby, Sara found herself quite exhausted.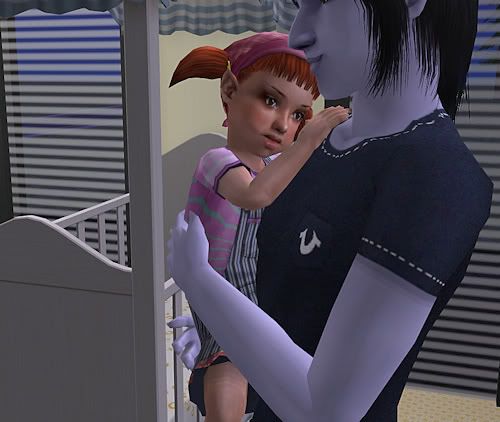 Finally, Sade became a toddler, much to relief of both her parents. They were surprised by her pointed ears. Given that she did not have the purple skin, they hadn't really expected her to take on any other traits. Unfortunately, Sade's transition into a toddler didn't make her any less needy. She still clung to her parents and cried when they dared leave her alone. It was tiring business, to be certain.
There was no reasoning for Sade's lack of independence… she was incredibly demanding of their time and attention.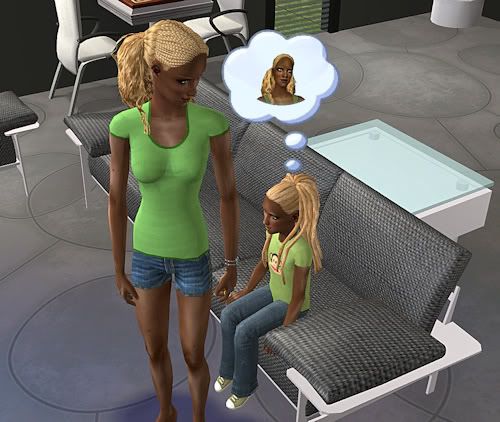 Luckily, Patrick was the opposite and was quite all right taking care of himself. The fact that Sade took all the attention didn't bother him in the least. He was doing well at school and meeting various people. In fact, one day, he brought home Elena Davis, who was a striking likeness of his own mother.
Sara saw the similarities instantly and it all clicked together. Gordon had told her about Katy being Lauren, but he hadn't said anything about her being pregnant. Sara knew to keep her mouth shut, but she couldn't help but feel a slight pang everytime she looked at the child. They were almost twins in their appearance. It was a little disturbing.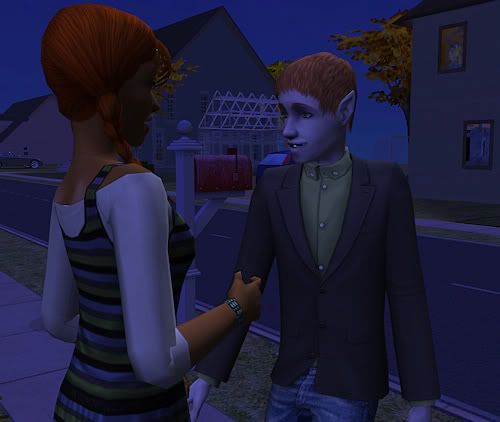 Patrick became a teenager and was a great help to his parents with Sade. Unfortunately, Patrick's normally clear head was clouded by the surge of teenage hormones. He still had deep thoughts and plenty of theories, but he was applying them to the opposite sex more than anything. Sara was a little concerned with her son's obvious interest in girls, but Nathaniel assured her it was just a thing most males go through… which quickly earned him a hard smack upside the head and a glare.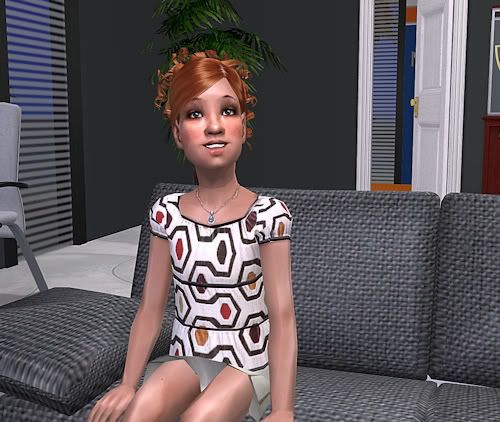 Sade herself moved onto childhood.  She was quite the pretty little thing and while she still wanted attention, she found that there were other ways of getting it.  Even as a young girl, she took great care in her appearance, wanting her curly red hair bound up and elegant always.  It worked, of course.  Anywhere she went, she was complimented and fawned over.
Sade could definitely get used to this kind of attention.
———–
Note from Mao: Sade was an impossible baby and toddler.  I haven't had so much trouble in ages.  Wow.  Both these kids are scaring me!  Patrick rolled Romance… arghh!  But at least there are secondary aspirations, right, RIGHT?  TOO MUCH ROMANCE! Oh and how creepy are Elena and Sara?  I never realized it until I saw them in the same room.  WOW.