In the morning, Tracey made a frantic call to Ryu's cellphone. He rushed over as quickly as he could, surprised to see the house was still intact and Tracey was there. He hadn't anticipated that Gordon would hand over his base of operations… unless he'd been wrong all along and this was simply a decoy.
"Michael's gone, Ryu! He took him!" Tracey wailed, unable to cry. She had run out of tears several hours ago. "He said he has proof… I mean, of… us. And that… the courts–he can't take my baby! He's a monster! Who knows what he'll do to him…"
"Tracey, calm down," Ryu began, unable to make heads or tails of her frantic cries. "Gordon isn't a man of the law and if you give it time, perhaps you can come to an arrangement. Michael will be able to make his own decisions in a few years. Let him decide what he wants to do."
"But I want him now, Ryu. I don't want to miss everything… he's my son, my son!" She said desperately, falling back onto the sofa. "What if he forgets about me?"
"He won't, you're his mother," Ryu said, a painful memory of his own coming to the surface. 'Be good, okay?' He brushed it off. "You never forget your mother, no matter what."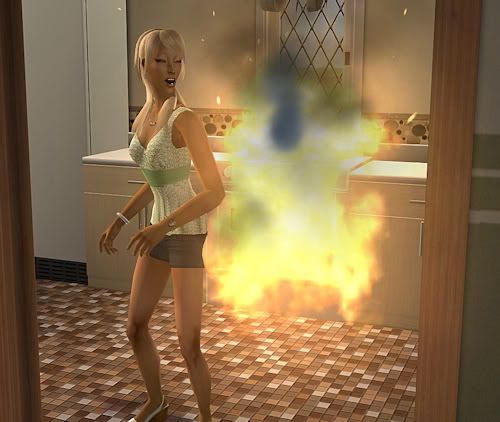 Over the next few weeks, Tracey tried to deal with her grief. It was certainly helpful to have Ryu around. She felt incredibly guilty for ruining his marriage, even if he assured her it had been in ruins beforehand. Still, without any support, Tracey wasn't quite sure what she'd do.
She was burning things worse than ever now. She even started a fire. Thank goodness for fire alarms. Being alone in the house was incredibly troubling to Tracey, but it was awkward yet for her to think of 'moving on'. Sure, she and Ryu were close… but was it a true kind of closeness, or merely convenience?
It wasn't long before Tracey realized that she had been careless in her grief and was now very much pregnant. She was thankful there was no possibility it was a remnant from her former husband, that had been much too long ago. She wasn't quite sure how to go about telling Ryu, though. He was older than her and already had three grown children. Would he really feel like raising another?
She shouldn't have worried, Ryu was more than happy about it. He knew his children wouldn't be too pleased, but they would get over it. Roman would explain things over like he always did, he was a little too much Thomas for Ryu at times, but he had to say, it came in handy.
Ryu wasted no time moving in and helping Tracey out. It wasn't until a month or so before Tracey was to give birth that they were married, very quietly. Two divorced people hooking up would normally breed disaster, but these two people were a different sort.
Tracey gave birth to fraternal twins, Marcus and Shelly. They both had brown hair and her tan skin, while Shelly had Henry Saunder's eyes and Marcus Risa Yu's. (Those two eyes are running rampant lately, what's up with that?)
——–
Note from Mao: Okay, after this update, this house will be known as 'Yu 2′ simply because Gordon has moved to Lauren's and made that house, 'Saunders 2′. They'll keep their rotation schedules, but simply change the name of where they relocated. As for Ryu and Tracey, the divorces had barely FINALIZED before they spun up wants to marry one another. Also, TWINS? SRSLY GUYS, you're killing me. It's going to be time for a plague in the population keeps exploding.