Tracey's declaration that Gordon was a monster unable to deal with children was very wrong. He loved his children dearly and made every effort for Michael to adjust well to his new surroundings. Michael was fascinated by his baby brother, who seemed to resemble their father more than he did. Never once was Michael ostracized or made to feel badly. Tracey was never mentioned in conversations with him, not by Gordon or Lauren, meaning she was never put down. It was a little odd, but truly, Gordon had no concern for Tracey anymore. His concern had always been with Michael, Tracey was just attached baggage.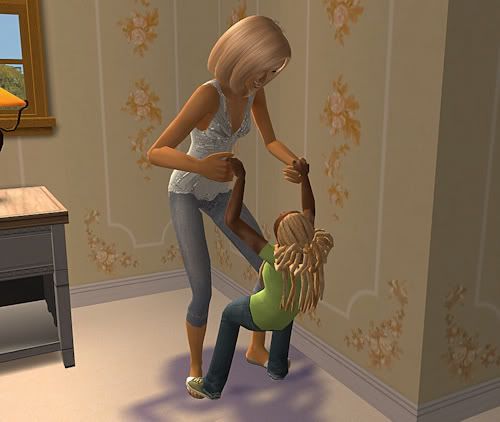 Elena was happy, as well. She had been a little apprehensive at first, but she was glad to have what she saw as a happy family. All the necessary parts were there and there was definitely enough attention to go around. She enjoyed her new baby brother and she even had a lot of fun with Michael, too, even if he was a little too quiet for her tastes.
Just as she said she would, Lilith delivered on her end of the deal. She phoned Gordon immediately and they met that evening in his basement. She brought a most peculiar guest with her, who moved dramatically about the room like a lost spectre.
"All right, this is it," Lilith began, unable to hide her excitement. "I can stay, right? If I'm going to monitor you, Gordon, I have to see everything."
"Yes, you can stay." He said, sending a sidelong glance at the strange woman. "Do you know what will happen for sure?"
"No, not completely, but it's safe. I mean, what could go wrong, right?" Lilith smiled reassuringly, getting into position. "Ready?"
Gordon nodded, "you know, I haven't said thank you yet–"
"Say it later, Gordon. Right now, it's business time."
Lauren was saddened by the fact that Gordon missed Claude's birthday. She knew he said he'd be out on business for a few weeks, but she had hoped he'd make it back in time to see Claude become a toddler. He looked exactly like Gordon when he was that age, the only difference being their eye color.
She also hoped Gordon would come back soon because of Michael. He'd been acting so strange lately, talking about hearing things in the night and saying he saw something moving around in the basement. Poor child, he probably just missed his father.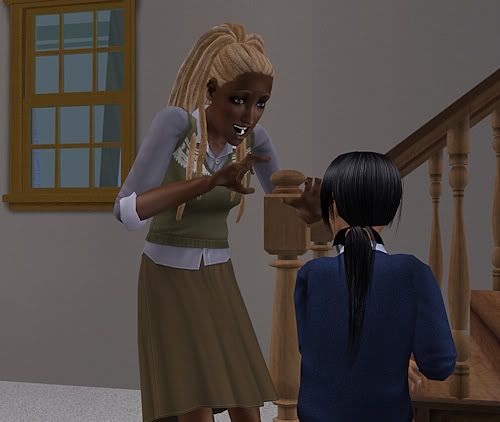 Elena also had her birthday. She wasn't upset that Gordon had missed it. He always got her fantastic gifts and she was sure he had something especially fantastic for her transition into teenagerhood. In the meantime, she made it her goal to cheer Michael up. She spent a lot of time with him, but no matter what, he kept saying the same thing.
It wasn't until Elena glimpsed at the figure for herself that she believed him.
———–
Note from Mao: House swapping, woo. This house is now Saunders 2, as you know from the last entry. Anyway, not too much to say here. Michael and Elena get along very well, he's even good friends with Lauren. Poor Tracey!