"That's not mine, is it?" Travis blurted out, not bothering with tact.
Katarina shut the door and gave him a look, "don't be stupid, Travis. It's not yours."
"Well thank everything for that," he gave a great sigh of relief, a weight lifted off of him.
"Wouldn't want your chances are inheriting dear mother-in-law's mantle, now would you?" Katarina snarked back, make a motion with her arms. "Time to get out of my bedroom, Travis. The little fling is over."
Travis laughed, "what do you think I came in for? I was going to say the same thing."
Little Kit became a toddler and was completely unaware as to her mother's own sadness. Marla had an inkling something wasn't right and now Katarina had been careless enough to get pregnant. She'd known Katarina far too long to know it wasn't just a stupid mistake. Something had happened that made Katarina lose her head.
It was something that Marla hadn't wanted to believe. She heard a murmuring after the wedding of an indiscretion between her beloved best friend and husband… but she had thought it was just bitterness talking. She was wrong.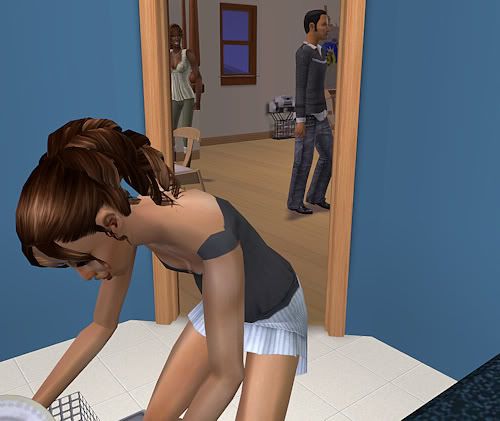 When Marla had the facts, she began her assault. She confronted Travis first and he slipped, saying the baby wasn't his, it was Shang's. He realized his mistake all too late and headed off to work, uncertain of the fate that awaited him when he arrived home.
Katarina, who had been in the kitchen, heard the whole thing. She could feel Marla's glare burning a hole through her.
"My husband, Kat? How could you?!" Marla raged, getting in Katarina's face. "I know how you are, I've always known… but I never thought… I thought our friendship meant more to you than that!"
"Marla, I'm sorry," Katarina said, though she knew it was fruitless. It was over, Marla was gone. "There's nothing else I can do or say aside from that."
"Don't you feel any real shame or remorse for what you do, Kat? You're disgusting, I can hardly stand to look at you. Everyone else was right when they said I was a fool to be friends with you… you're nothing but a slut."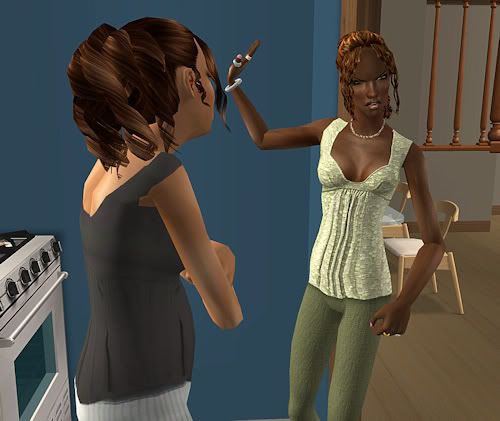 Katarina bristled at the insult, lashing back, "is that all you can come up with, Marla? And everyone says I'm stupid. At least I don't follow in the wake of everyone else."
"Oh, get off your high horse, Katarina," Marla growled. "You're just a spoiled brat! You've always been that way! You don't care about anyone else but yourself. I want you out of my house, now."
"I helped pay for this place!"
"Take your money, take it! I don't need it anymore, Kat. I don't need you anymore. This friendship is over. I never want to see you again."
That afternoon, Travis was hesitant to return. He wasn't surprised to find that Katarina had gone, he assumed Marla would kick her out. The true question was would she want a divorce now? That would surely ruin his chances at becoming the new DA and certainly hurt his relations with Mary O`Hanlon. It wasn't just business, though, Travis did love Marla. He was just a weak man and had given in.
"Marla, I–" he began, but was quickly cut off.
"Shut up and sit down, Travis."
"I've always known who Katarina was and what she did, but that doesn't excuse this. That doesn't excuse her sleeping with you and I won't forgive her for it. But it wasn't just her, Travis, it was you. It takes two and if you were thinking of blaming her you can just leave, now," she paused, waiting for him to stand up. When he didn't she continued, "good, taking responsibiliy for what you've done is the first step. Now, we have a daughter, we have a marriage, and currently… both are in serious jeopordy. It will take me a long, long while to forgive you, but I'm willing to try. The question is… are you? Can you handle the consequences you've brought on yourself, on our daughter, on this marriage?"
"I can, Marla. I am truly sorry, I do love you."
Marla shook her head, "save it, Travis. I told you it would take a long while and I meant it. For the time being, you can stay in Katarina's old room. And don't worry, I won't tell mother. This is my problem and I've dealt with it."
———–
Note from Mao: In truth, they got caught in the act. They autonomously smooched at breakfast while Marla was on the staircase. You can imagine how that went. Katarina has returned to her home lot, so we'll see her there next round. Oh and Shang seriously was getting all the ladies during his trip to the beach. It was INSANE.
Also, there is now a newly re-designed database up and available for view. Just click the usual link at the top to see it!