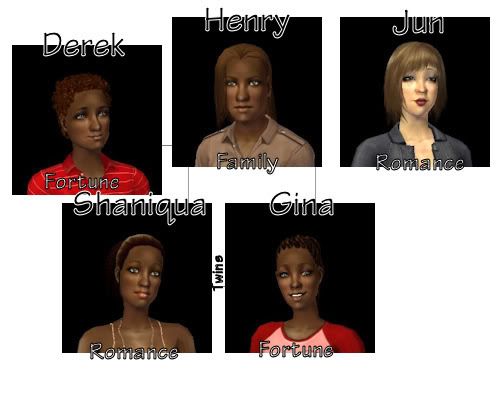 Henry Saunders has found himself in quite the situation; his girlfriend, Jun Yu, has just moved in after being kicked out of her home. Derek is on his way to University and the twins, Gina and Shaniqua, are enjoying their days as carefree teens. Will Jun's little 'secret' disrupt their happiness?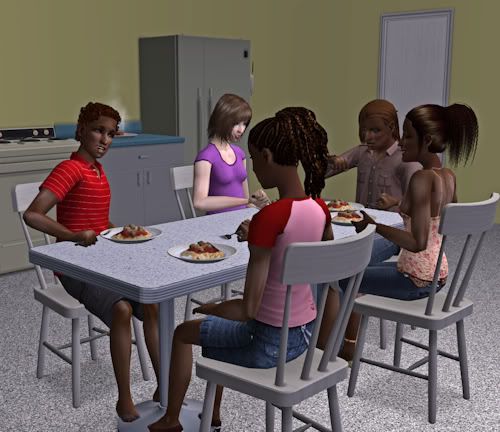 Henry: Okay, excuse me if this is a little awkward… I'm not really used to this sort of thing. In fact, I don't really get the point, but I'll give in. For now. Things around the house have changed drastically. Jun moved in–her family kicked her out–and I was worried that the kids would react badly.
I couldn't have been more wrong. It really surprised me how they all acted as if it was nothing. I suppose it helps that Jun acts more like a kid than an adult, but still. I suppose I'm just expecting it to blow up in my face. Most things tend to go that way…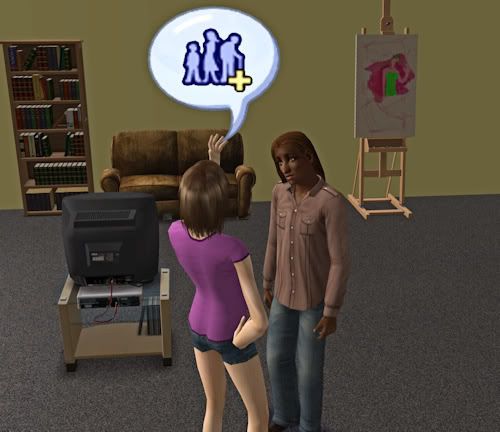 A month or two after moving in, Jun pulled me aside. She'd been acting oddly lately and I couldn't help but notice she seemed a little… heavier. It wasn't an insult! It's just, she's a small framed girl and you tend to notice those things really easily.
I hardly expected her to say that she was pregnant, though. We'd been really careful… or so I'd thought. Accidents happen, it seems. I felt horrible, bringing a child into the world under such… odd circumstances, but Jun ignored my attempts chivalry and said things were fine the way they were.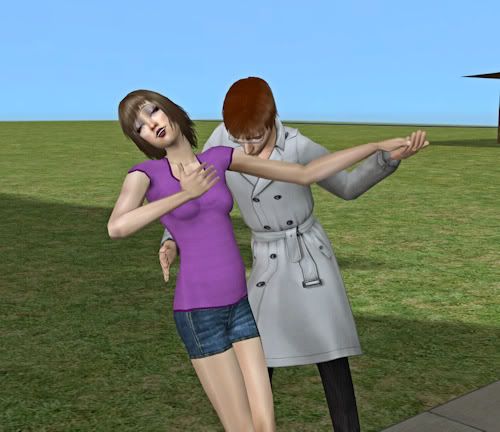 Eventually, Jun had to take time off work. I wasn't sure what she did all day or how she kept herself busy with everyone gone. She's a very social person and I can't see her being happily cooped up in the house all day. Not to mention she hardly enjoyed being pregnant. I could tell she wasn't happy about it, even if she wouldn't admit it.
Certain days were better than others. When I came home, she seemed oddly… happy. I didn't question it–it was a thankful reprieve from crazy hormonal bouts of rage.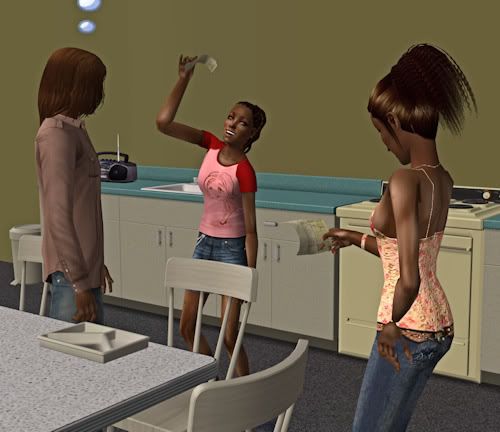 My girls are growing up so fast… but it isn't so bad. So far, Shaniqua has managed to squelch out her need for boys in an attempt to join Gina and Mary O`Hanlon at University. For that, I'm thankful… until I realize how many hormonal boys there are at college campuses. At least Derek will be there to watch over them for a year or two.
Shaniqua and Gina were beaming when they brought me their report cards. They'd both earned straight A's. It was all in thanks to their study plan that involved constantly doing all their schoolwork together. It worked, I'll give them that.
Derek, however, wasn't as concerned with his studies as he was his girlfriend Katy. Gina had tried to get him to join her and Shaniqua, but he always declined. I just hoped he could keep his GPA high enough to get accepted… time was not on his side.
Gina often commented that if there was a scholarship for hormones, Derek would have gotten it for sure. I wasn't quite sure what to think about that…
Jun went into labor late one evening when only the kids were around. Gina was sure to relate the tale to me while we waited in the hospital. I hoped she was joking and simply overemphasizing certain details.
"What are you doing?" Gina demanded, watching as Shaniqua hastily leafed through a tawdry romance novel.
"There has to be SOMETHING in here about this!" The twin squeaked in response, her eyes wide. Jun let out another wail.
"Put the stupid book down!" Gina scolded, watching as Shaniqua flung it on the floor in frustration. "All that's in there is how to make babies… not what to do with them!"
"I'll… go call dad." Derek said finally, snapping out of his stupor. His face was white as a ghost.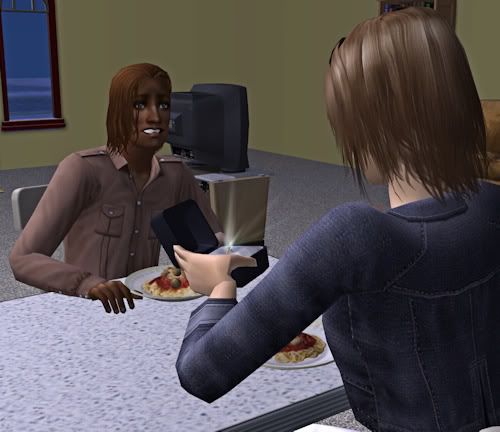 Jun gave birth to a little boy that she insisted be named 'Ryu'. He had her family's last name, but he looked more a Saunders than anything. I was disappointed that he didn't have my name, but Jun had been so cranky I wasn't about to approach her with a ring.
I waited until I was sure she was in a 'decent' mood. It wasn't the most romantic thing and a little voice in my head kept asking me if I was sure… but it needed to be done. I'm a family guy and I won't leave a woman hanging like that.
She said yes, of course, though I could see she was shocked. Her face turned as pale as Derek's when I saw him at the hospital, after Jun had given birth. I didn't pay much mind to it–maybe she was just nervous…
Derek left for University not long after that. The house continued to run as normal, but his presence was missed. The twins kept themselves busy, off in their own little world. I watched them build a snowman together:
"There we go," Gina said with a smile, hands proudly on her hips. "Do you have the carrot?"
"What?" Shaniqua replied, a guilty look crossing her face. "Um… no."
"…what happened to it?"
"I got hungry! I ate it–I thought it was a snack…"
Gina sighed, "I guess we'll just have a noseless snowman."
"Doesn't he need a head before a nose, anyway?"
My girls were incredibly understanding about the situation with Jun. They were a great help in Ryu's care, too. I really didn't want to hire a nanny and it worked out so our schedules allowed for the girls to care for him while Jun and I were away at work. So, it was quite a surprise when Gina asked me: "are you sure this is the right thing to do?"
Despite being the adult in the situation, I couldn't help but look at her dumbly. She completely blindsided me with that. When did my little girls become such grownups?
"Gina, I don't quite understand what you're saying."
"Do you love her, dad? You shouldn't marry her if you don't. Ryu would understand. He'd want you to be happy, like we do. You deserve it."
"I am happy," I countered, though a bit more forcedly than I expected. "You don't need to concern yourself. This is for the best. Don't worry about me–I want this."
Gina was completely unconvinced, I could see it on her face, but she didn't say a word about it again. Shaniqua sat quietly, aghast at her sister's brashness. Gina always was the more serious of the two–the 'little' adult. Still, if my girls were worrying about my happiness… did that mean I wasn't happy? I couldn't realy tell and I hadn't really thought about it.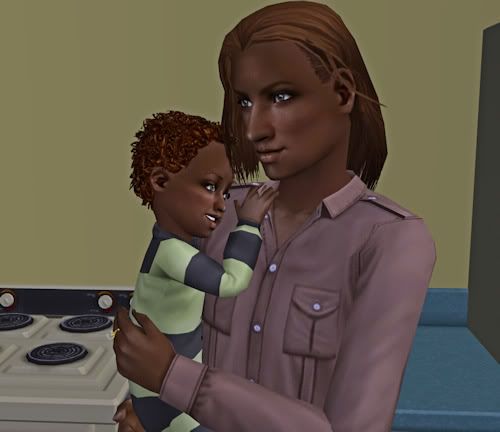 Finally, after what seemed like an eternity of changing diapers, Ryu had a birthday. He was finally ready to use the potty. Which was certainly a good thing–I had thought my diaper changing days ended a long time ago.
He looks almost exactly like me, much like Derek did at his age. He even has that mop of curly hair. My hair straightened as I got older, but Derek's seems adamant to stay curly. We'll have to wait and see how Ryu's turns out.
——
Note from Mao: I got a lot of lucky shots in this, for which I was thankful. Wants were also all over the place! Henry feared having a baby, but wanted to get engaged/married to Jun. Jun feared getting engaged/married… it was crazy. This house is kinda crazy. Phew.