Roman Anderson is trying to keep his family name from dropping below its faculties, but his twin, Nevio, isn't helping any.  To make matters worse, Laci's plan seems to have worked.
Laci did her best to hide her happiness.  Her plan had worked, not that she had ever doubted herself for a single second.  Nevio didn't have the same intelligence or cautious nature his brother did and so it was only a matter of time before all their fooling around got them into trouble.  Laci had him right where she wanted him, that money would be hers.
"Are you sure?" Nevio replied, shocked.  His face was nearly as white as his shirt.
"Yes, of course.  I even took two tests and I've already scheduled the visit."
Nevio swallowed, unable to think of a fitting response.  This was not good at all.
As any son would do in a situation like this, Nevio phoned his mother immediately.  Alyssa made the drive as soon as she was able and met with her very anxious son.  She knew what her father, Thomas, would do in this situation… but Alyssa wasn't Thomas.  She sighed and with a heavy heart, said:
"She can't stay here, Nevio.  College is no place for a pregnant girl.  She'll come home with me and then you'll marry as soon as you finish the accelerated program they offer.  You're a senior, it won't be that difficult."
"B-But, mom–"
"No buts, Nevio.  You can't just cast her out on the street.  You have to make this right…"
"This is preposterous, mother!" Roman raged, unable to contain himself.  "You're giving Laci exactly what she wants, she wants the money!  That's the only reason she allowed herself to get knocked up in the first place.  That lustful skank will bleed you dry!"
"Roman Anderson!" Alyssa scolded, arms folded over her chest.  "I did not raise you to speak like that.  Regardless as to what Laci is or is not, it no longer matters.  She's now carrying my grandchild.  I will do what I must to ensure that poor thing's future.  Surely you can understand…"
"No, I can't," Roman snapped, turning away from her.  "You're making a mistake, mother, a very big mistake.  You'll lose everything."
Despite Roman's protests, Alyssa and Nevio went through the motions.  Nevio proposed and Laci was suitably pleased.  She packed up all her belongings and put them in the car with Alyssa.  She had no qualms about quitting University.  It wasn't like she'd actually need an education–Laci didn't even plan to work.  There was absolutely no reason to!
Alyssa knew that Roman was right, but she couldn't bring herself to cast the baby aside.  If anything, it could be saved.
Roman, fueled by his anger, bought a community lot within Boreal Springs and opened it to the public.  It was the end of his senior year and he had plenty of time to devote to it.  With his careful management and financial savvy, it climbed the ranks.  The once lowly general store was now a pivotal business within the small suburb.  Even Mary O`Hanlon came by to congratulate him on his endeavor
A reviewer from Aperture stopped by and was pleased enough to give Roman an award for service and reliability.  Of course, Shang Yu was passing by at the time and more than happy to give his two cents.
"Congrats, dude, and hey, she's hot!"
Roman rolled his eyes and accepted the award.  He was sure to hang it over the door so that everyone who entered would see it.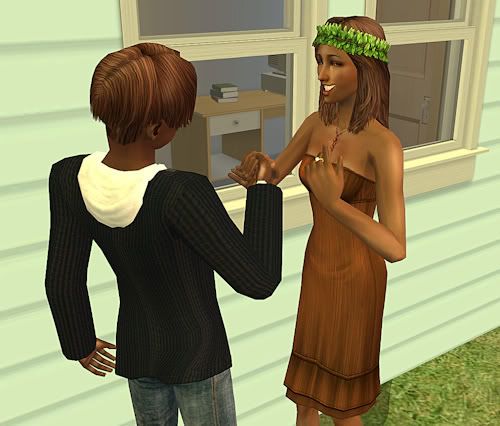 With his business ventures begun, it was time for the next thing on his list.  He had kept in contact with Cara Nanale and they had built a relationship, though hardly to the extent of his brother's.  He proposed to her with the intent of marrying her as soon as the house he had bought was built enough to be a suitable home to the two of them.  Cara was beyond overwhelmed, but certainly happy.  She'd be off the islands and Roman seemed to be very kind and respectful.  Not once had he tried to cross any lines and Cara could wear a white dress with pride.
Of course, she had no idea that Roman was simply protecting his own interests in doing so.  There would be no bastard children to take his wealth, that much was certain.
——–
Note from Mao: Laci's pregnancy threw me for a loop!  Never have I had YAs get pregnant so easily.  Yikes.  I think I fixed my community lots, which is good.  I really missed having them!!  Roman's business is almost rank 10 already, haha.  As for Cara, he had a want to get engaged, but never rolled any woohoo wants.  Fortune sims, haha, what are you gonna do?