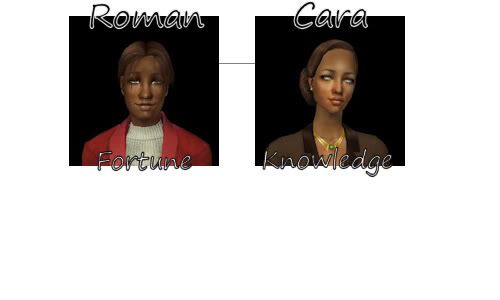 Roman Anderson is determined to make his family rue the day he wasn't chosen as Heir. Cara is just happy to be rid of grass skirts and steel drum music.
Roman and Cara had quite a large wedding, one of the larger ones that's occurred in all of Boreal Springs. Regardless, Lacie Anderson wasn't impressed. She was beginning to realize that perhaps she had chosen the wrong sibling to seduce. Roman may think himself impenetrable to her charms, but only time would tell.
Roman's parents, meanwhile, were more than pleased with the union. At least one of their son's had the foresight to pick a suitable wife and not manage to knock her up prior to getting her to the altar. Despite the tensions swirling around the hood, the wedding went off without a hitch. The newlyweds decided to postpone their honeymoon until it was more appropriate. Right now, they had jobs to get to.
Roman was more than pleased with his choice. Cara cleaned up very well, just as he knew she would. She was humble, too, and dressed appropriately. She had a keen mind and seemingly no desire to overindulge herself in the wealth that was to be theirs. This was all very well. He wouldn't have to worry about her interfering at all.
In fact, she helped him achieve his goals and was more than supportive. She did her best to aid him with his business endeavors and was a quick study. Soon she was bossing employees around like a natural and keeping track of every little green and red mark on the books. She had her own desires, though. She wanted desperately to take Gina Saunders' position as the face of Boreal Spring's media. Only, Cara wanted to be a news anchor. She certainly had the looks, she just needed to work on her charisma.
This gave Roman plenty of freedom to build up his… other contacts. He was related to Gordon Saunders, but it wasn't a relation that was really recognized by either side. Janine Saunders was Roman's grandmother, but she was Gordon's mother. Roman was an Anderson and therefore, Gordon didn't really care much to talk to him. So Roman had to go through the lower echelons. He was surprised when one of the contacts turned out to be a very pale woman prone to dramatic, sweeping gesticulations and a bit of a lisp.
She wasn't very helpful, but Roman wasn't about to give up. Gordon was the answer to his biggest problem and he was determined to reach him.
Cara took no notice to her husband's odd habits and instead enjoyed the friendship of another islander turned resident, Tracey Yu. While Tracey kept the part about being married to a criminal, she couldn't hide the fact that she was married to Cara's technical father-in-law. They didn't bother acknowledging the legal relation, though, instead becoming jogging buddies and just casual friends.
It was nice to have another islander, but Cara was a little too serious for Tracey.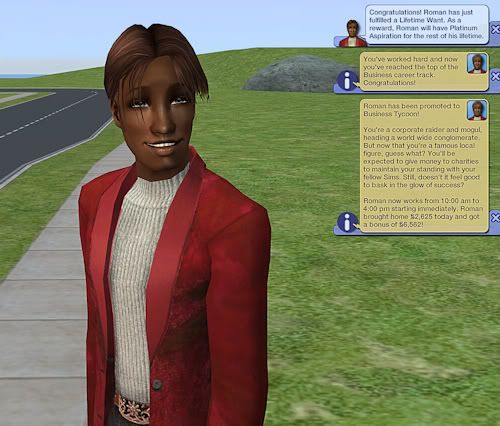 Roman wasted no time reaching his goal. He was keen to take over Boreal Spring's real estate matters. The government had been handling it, but now with Aperture and Boreal Springs growing in size, it required a more closely invested handler. Roman was more than happy to take the responsibility. He was also working on getting his second business off the ground.
He continued looking for Gordon, but he figured that with all the wealth he was amassing, he was sure to run into him somehow. He had heard Gordon didn't like it when people not under his thumb started getting filthy rich…
———–
Note from Mao: Okay, Cara is gorgeous. Wow. I had no idea she was that pretty. She is like, the perfect trophy wife LOL. Roman is insane. He reached his LTW faster than anyone else in Boreal Springs ever has. Sheesh! Also, Roman wanting to talk to Gordon comes from him stalking him on a community lot. I saw him doing this while I was playing another family. Makes sense, given Roman's ambitions…
Also, Cara's formalwear was messed up for some reason. She couldn't choose any of the dresses I bought for her. Weird.