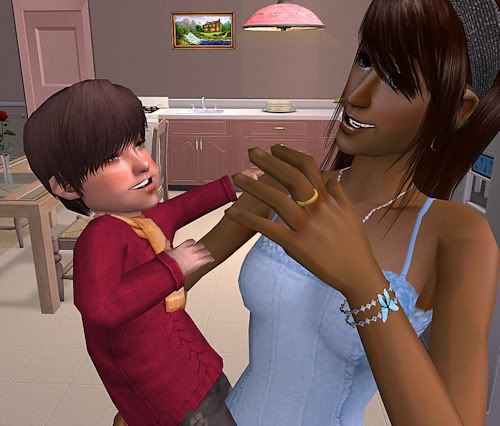 Little Timothy became a toddler not long after, much to Asia's joy. She tried to dress him in a cute little sweater, but Julie insisted that it was much too girly and insisted that he wear something a bit more masculine. Timothy most resembled his mother and the O`Hanlons, but only time would tell if he had inherited anything from his other mother, Asia.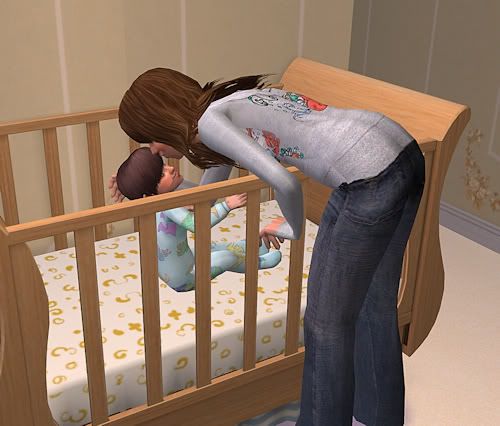 Julie soon found out she was pregnant, yet again. Asia wasn't pleased. They had figured Timothy would be their one and only, but also, Asia was considerably jealous. She was the more maternal of the two and she had longed so desperately to be pregnant and experience the 'wonder' of childbirth. Julie thought she was off her rocker, there was nothing 'magical' about it.
Calling to complain to the fertility clinic only resulted in them going, "oops!" and saying that after this pregnancy, Julie was to come in so they could make sure it didn't happen again.
Her second pregnancy flew by and she gave birth to a little girl who definitely took after her grandfather Derek Saunders. They named her Maggie and fretted over where to put her. Asia wasn't standoffish to the children, despite her own sadness, but she was a bit more cold towards Julie. Mary worried that they wouldn't be able to fix this before her time was up and so tried her best to help them work it out.
Gina, sensing her time was at an end, met up with her successor, Cara Anderson. While Cara wasn't a writer, she did have a lot of ambitions regarding the media in Boreal Springs. She wanted to be the face of the news and that was certainly something Gina could help with. After a brief discussion, Gina knew she had done right in passing along as much as she could to the young woman. Cara was a bit too business-oriented for Gina, but that didn't mean she wasn't the right choice.
That night, Gina died in her sleep, having survived all her natural siblings. All that remains now is her half-siblings, Ryu Yu and Gordon Saunders.
Poor Timothy never really got to know his awesome Great-Aunt Gina. He did know how sad everyone was after she died, though. They were so sad, in fact, no one was around to yell at him for drinking the bubbles again. He was a kid! What did they expect? Burping bubbles was an awesome kid-thing to do, even if it tasted totally gross.
Little Maggie grew into a toddler, reminding everyone that there was still a Saunders in the house. It was hard to say what she would come to look like in the later years, but right now, she looked like Shaniqua had as a toddler. Genetics were strange and complex things. Thankfully, Julie had gotten the issue with the clinic worked out and was now completely safe from becoming pregnant again.
————–
Note from Mao: Giiiinaa! I thought for sure Mary was going to go this round, too, but phew. She didn't. I need an elder to help care for these babies! Julie getting knocked up was a freak accident, once again. Poor Asia. I think her plumbing is broke, because Julie was always the active sim and the active sim is supposed to be the father. Buh.