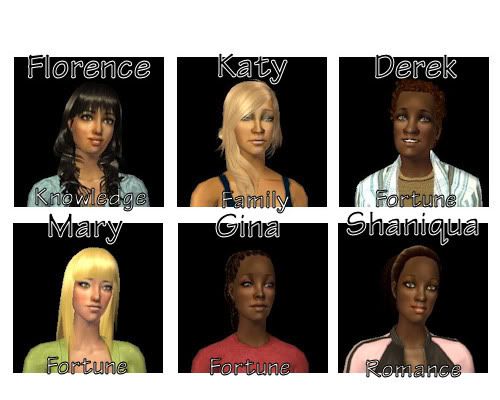 Florence Anderson, Derek Saunders, and Katy Fuchs have had an easy go at campus so far. Will the newest additions–Mary O`Hanlon, Gina Saunders, and Shaniqua Saunders–have the same luck?
Florence made no attempt to hide her distaste for her newest roomies. The house was now very crowded and she was being forced to share her room with none other than Shaniqua Saunders. The very thought of Shaniqua's lifestyle intruding on her study plans made her vocalize her anger when Shaniqua greeted her.
"Great, nice, that's fantastic," Florence said with a glare, dismissing Shaniqua's offering for a handshake. "Just remember that some of us here actually care about their grades and future." With that, she stalked off.
Shaniqua was flabbergasted, to say the least.
Sharing a room with Florence was just plain weird. Not because Florence was so abrasive and standoffish, but because for the first time, Shaniqua was sharing a room with a girl who wasn't her sister. Florence went to bed early, so she was always asleep when Shaniqua retired to her own bed.
She often caught herself glancing across the room at Florence, who was sleeping soundly and quietly. She was very pretty. Shaniqua shook her head violently and quickly shuffled off into her own bed. Where did that come from?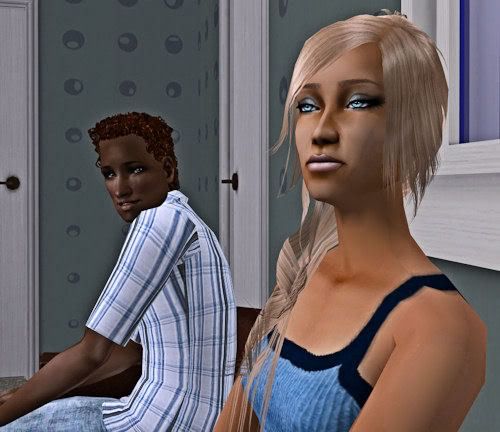 "So, you're Mary," Katy said, sizing up the young blonde girl in front of her. "Derek's told me a lot about you."
"Don't be ridiculous, Katy," Derek replied quickly, looking like a deer caught in headlights. He rose up from the couch to greet his old friend. "I told you one thing."
Mary just laughed, missing the tension in the air, "I hope it wasn't anything bad."
Katy gave a small, though secretive, smile, "no… nothing bad. Nothing bad at all. Hmm."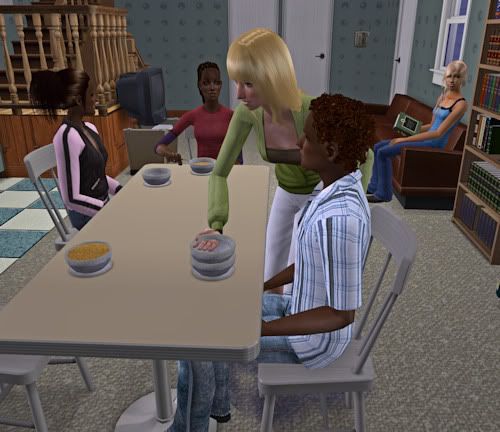 Despite the various tensions that existed within the house, life at Boreal Summit University continued normally. Well, as normally as it could. A particularly dysfunctional time was when they were all home for dinner. Mary often cooked and would clean up the dishes, too. Katy took particular notice of Derek's rigid posture and the way he forced himself to look forward when Mary innocently bent over near him to take his dish.
If Gina noticed, she didn't say anything and Shaniqua was too lost in her own confusion to notice her brother and friend's dilemma.
"Is something wrong, Derek?" Mary asked, completely oblivious. "You look like you swallowed something bad."
"Yes, Derek," Katy said from the couch, closing her book. "Why don't you tell us what's on your mind?"
"N-Nothing." He said quickly, scooting out of the chair and fleeing. Mary just watched him in confusion while Katy's eyes narrowed.
Mary found him an hour later, still hiding in his room. She knocked on the door tentatively before entering. She closed it behind her and approached him.
"Is everything okay? You've been acting weird since I got here. Did I upset you or something?"
He shook his head and moved from the bed. A very bad move, he knew, because it forced him closer to Mary. He'd known her since she was a little girl and while it was completely wrong to feel the way he currently did, his brain nor body would hear none of it.
"Nothing's wrong, Mary," he assured her, though he was unable to meet her eyes. "I'm sorry, things are… just weird. With Katy. I dunno."
She laughed, "you know, when I found out Katy was going to University with you… I was a little upset. I had a crush on you when I was a little kid! Creepy, huh?" She laughed again, her face turning red. "Okay, well, I'm gonna go."
Derek was tempted to grab her arm and keep her from leaving, but his rationality took over and he watched her leave.
Shaniqua and Florence had been sharing the room for over a semester now. They formed a tenuous friendship, mostly for the sake of peace, though there was a tension there that neither of them could identify. Florence dealt with it by being unnecessarily snappy and Shaniqua just tried to avoid her.
They ran into one another in the kitchen. It was late and they were the only two still awake. Shaniqua spun around only to bump directly into Florence, who had approached her, but not yet spoke.
"Sorry," Shaniqua managed, her hand accidentally brushing Florence's. She looked sheepish. "Sorry, again."
"It's okay…"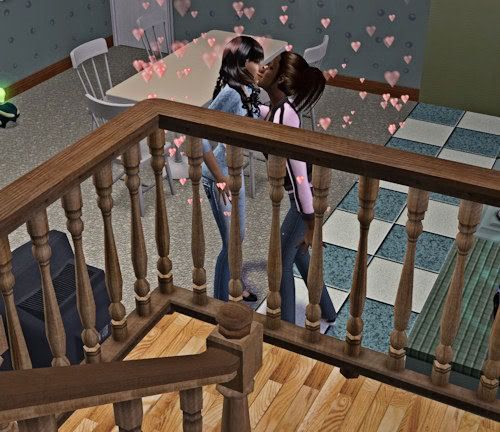 A few awkward words later and suddenly, they kissed. It was a bizarre change of events that initially made zero sense to either of them. When the moment ended, they stared at one another, eyes wide as saucers.
"Uh… I need to go." Florence said quickly, running off to her room.
Shaniqua just stood there, completely shocked. "I'm not gay." She said in a low voice, shaking her head. "I'm not… so what was that?"
Unbeknown to both of them, someone else had been awake and saw the whole thing.