Nathaniel and Sara have been successful in staying together despite not being married. Will they continue on this path, or will the impending birth of their third child and their own elder age drawing near cause them to change their course?
Nathaniel and Sara had never really pushed marriage. If it happened, it happened. They had a busy life and neither of them quite seemed to be on the same page when it came to the subject, so it was always dismissed in favor of focusing on other things. With Nathaniel's age catching up with him and Sara's lagging not far behind, the two decided to get married on a whim, much to the delight of Sara's mother, Mary.
Aside from Sara taking Nathaniel's name and some legal differences, nothing really changed afterwards. Winter was in full swing and Sade was obsessed with making 'pretty snowmen'. Worst yet, she preferred to enlist her father as opposed to her mother. When questioned why, Sade simply said that Nathaniel had more time on his hands.
Which, well, was true… but it didn't help his masculinity any to be stuck doing all the things women usually did. Especially making girly snowmen with his daughter. Sara just laughed at him when he complained, asking if it was his idea or Sade's to add the bow.
Their third and final child was a boy they named Cole. He had Nathaniel's skin, much to their surprise, and Sara's eyes. He was the only child to inherit the black hair. Fortunately, he didn't suffer nearly as much as Patrick had at his age and was much easier to care for in the normal sense of the word.
Little Cole was the only one who had a birthday, though…
Nathaniel was feeling his age, to be sure. It was now suddenly obvious that Sara was just a tad bit younger than he was. It had been years since either of them thought of the days in high school and college when Sara had tried desperately to get his attention–even going so far as to wear a dress–only to decide he wasn't worth the change.
Now he was the old coot trying to keep his young wife from checking out all the eligible bachelors. Wouldn't be hard, Sara had no interest and well, they were all pretty much related to her.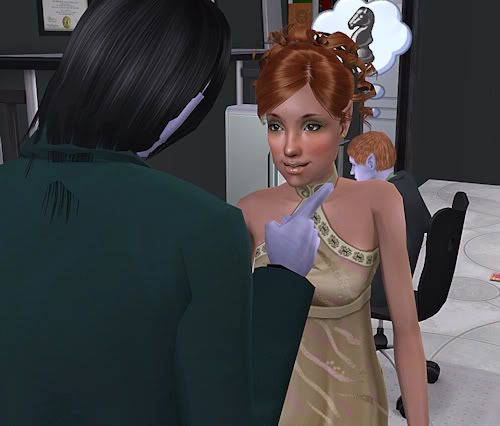 Sade also matured just before Patrick was preparing to leave for University. She was a lovely young lady, and not in the typical sense, there was an old fashioned beauty about her–classical and timeless. Neither Nathaniel or Sara could begin to guess where she'd gotten it, but weren't about to say anything to her.
She was bright and happy, but her mean streak was a mile long. Heaven help whoever dared to get on her bad side.
With Patrick gone, it was up to Sade to help care for Cole. He wasn't much trouble and she actually enjoyed it, though she would never admit that to her teenage friends. Cole had become a toddler and looked quite different than both his siblings at that age. He definitely had Sara's nose, Nathaniel joked, only to watch as a well-aimed newspaper narrowly missed his head.
Sade missed her brother, but Cole was definitely enough to keep her occupied.
————–
Note from Mao: I was waiting for both Nathaniel and Sara to spin up the marriage want. They finally did! And so they are married. Cole has Nathaniel's last name. Sade is really quite pretty–I was shocked. I don't know who she looks like at all. Patrick is finally off to Uni, too, which frightens me… LOL.  In case you're wondering, Patrick is an EXACT copy of Nathaniel in the face… it's scary.