Ryu and Tracey have come a long way, leaving their former spouses behind.  With their hectic work schedules, can they ensure that the twins, Marcus and Shelly, make it to childhood?
Even after so long, Ryu was the primary caregiver.  It was quite the role reversal, as Alyssa had taken care of most of the 'rearing' as far as children were concerned before.  Now it was up to him.  It wasn't particularly hard and his increasing age gave him more and more patience.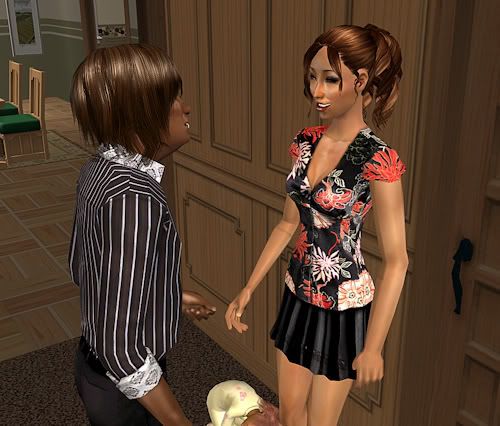 It was hard to be patient with certain things, though, like Katarina.  She held no grudges at all and would visit now and again.  She was shacked up with Shang and Ryu wasn't quite sure how he felt about that.  He still couldn't imagine her as a mother, though Alyssa had said she was doing surprisingly well.
Katarina only visited during the afternoon and evening, while Tracey was off at work.  She had no problem with her new siblings, but she really didn't care to meet Tracey.
The twins' birthday came and went, and despite being children, old habits die hard.  They still spent a lot of time at the little drawing table, having competitions as to who could 'draw better'.  Neither one came out on top of the other, Ryu wasn't sure if his creativity had passed on to either of them.
They saw their mother late in the evening, when they usually had dinner.  She always made sure to inquire about their day, school, and everything that would happen while she was away.  It wasn't easy leaving them behind and going to work, but she was nearly at the top and it wouldn't be much longer until she needn't worry about it any longer.
Of course, by then, they'd be teens caring for themselves, but sims don't usually plan that far ahead…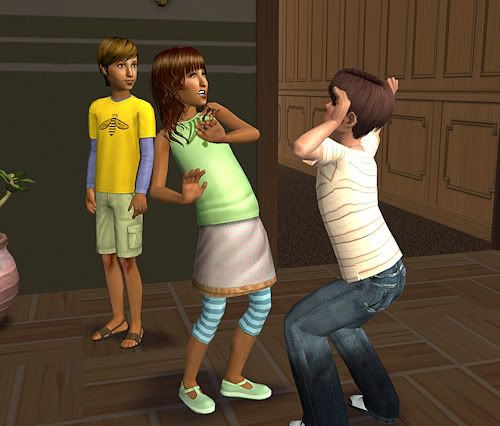 Despite Tracey being gone a lot, life was good for the twins.  Of course, not everyone was kind about it.  Timothy and Marcus were friends, but Timothy always gave poor Shelly such a hard time.  Kids would be kids and what goes on in their mind when they tease girls is always the same…
—————-
Note from Mao: Katarina is as bad as Shang!  She stops over autonomously constantly–it's crazy.  Timothy teased Shelly on his own, which made me laugh…