Mary O`Hanlon moved into her old house and offered her friend, Gina Saunders, a place to stay until she gets settled. Can these two Fortune sims help each other climb the career ladder to success?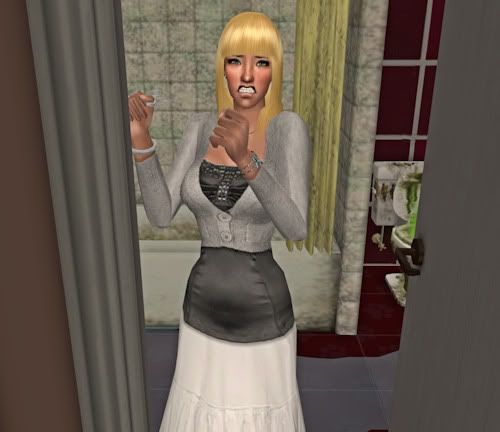 Mary and Gina had left their bags at the doors, anxious to sit down after the long ride from campus. Eileen and Sun-Tzu had cleared out earlier in the morning, leaving the house empty except for Lady. Mary went to the bathroom and let out a horrified shriek, causing Gina to come rushing to her aid.
"What did mom and Sun-Tzu do to this house?!"
They hired a maid immediately.
Aside from the bathroom mishap, the two young women quickly set into a routine. Mary took a job at the law firm she worked at as a teen and Gina was trying to break into journalism (but got stuck writing obituaries). One day, when Mary had off and Gina was at work, an unexpected visitor came by.
"Derek, what are you doing here?" Mary tried to sound firm, but it just came out as frightened.
"I was just looking for Gina," he said carefully. "I'll leave."
"No, wait, I'm sorry. I didn't mean to be cruel. H-how are things with Katy?"
"Miserable," he said easily. "You really shouldn't have done that, Mary. Why did you tell her it was you? I–"
"It wasn't right and it wasn't just your fault. I had a part in it, too. I didn't… want to be some 'on the side' fling or some sort of relationship destroyer." She gave him a stern look. "My mother raised me to have better opinion of myself than that."
Derek looked angry all of the sudden, "and you think I would do that to you? You should have spoke to me instead of avoiding me. I was going to break up with Katy, Mary. But I had to find the right time. I didn't and don't want to be with her. I wanted to be with you, but that apparently doesn't matter nor mean anything."
"Derek, I'm sorry… I didn't… I didn't know…"
Gina stepped out of her carpool, sighing heavily. The Grim Reaper sure had been busy this week. She smoothed down her suit and walked forward, only to see her brother and her roommate making out on the lawn. Her brows furrowed.
"Derek? What are you doing here?"
They jumped apart and looked quite abashed. It was Derek who spoke first, "Er, I had come to find you…"
"Why?" She asked pointedly. "You've found me, now what is it?"
"I.. I can't remember," he grumbled. "I should go."
"You should."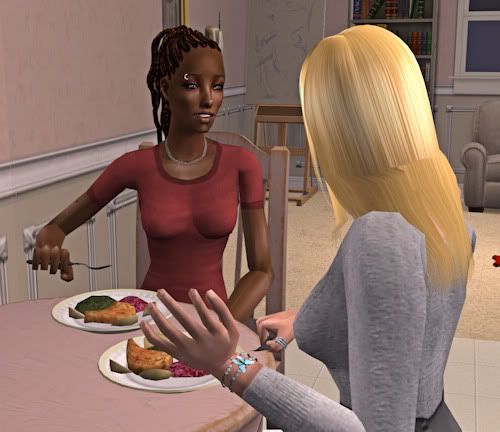 "What's going on, Mary? I thought you two decided against that back at University."
Mary frowned, "I hadn't meant for that to happen. It just… did. I tried getting him back with Katy and I tried avoiding him and nothing works, Gina. I don't know what to do. I'm at the point where I just wish I had told Katy it was him and then we would be together… but she would be so hurt."
"You can't protect everyone, Mary," Gina said sagely, pointing at her with her fork. "You can't force Derek to love Katy, just as she can't force him to love her. You also can't force yourself not to love him, if you do. Though, I don't know why you would. My brother is a blockhead."
"I guess you're right," Mary replied, but quickly added: "about the love stuff, not the blockhead stuff."
"So talk to him… without the kissing this time. He's my brother, you're my friend, and that's just gross."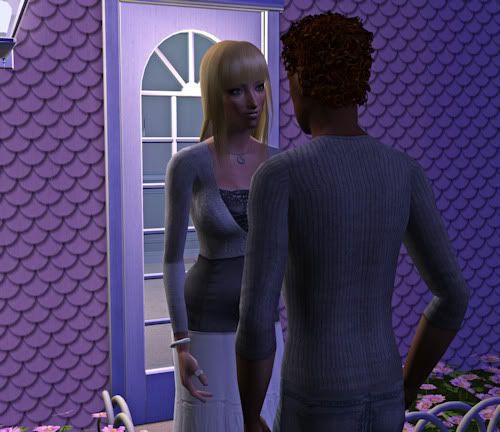 Mary followed Gina's advice and invited Derek over one evening after she got home from work. Gina promised she'd give them space–she had recently been promoted, but kept her new job rather secretive–and would be holed up in her room at her computer all night. Mary kind of wished she'd been around to supervise.
"Is Gina here?" Derek asked, looking around.
"Yes, she's in her room, and don't act like you're sneaking around. This is a friendly visit, Derek."
"This is hardly what I'd call friendly, Derek."
"What? This is friendly. We haven't done anything." He grinned, "Katy is driving me crazy–I should be angry at you for sticking me with her. The house is chaos, you have no idea."
Mary frowned, "I wish you had told me what you meant to do."
"We're not married yet, I can still–"
"No, Derek. I called you here tonight to tell you that we can't see each other… friendly or otherwise. I'm sorry, I really am… but there's nothing else that can be done. You're engaged. You can't back out now. This… this has to be," she frowned, closing her eyes. "This has to be goodbye."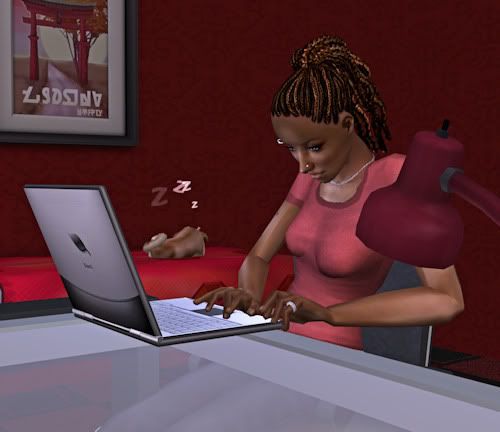 Gina sat hunched over her laptop, her fingers moving deftly over the tiny keys. Her mind was a flurry of activity and she found no issue getting the right words. Her promotion landed her a job writing articles–about life. Right now she was writing about the situation unfolding before her–love that simply couldn't be due to bad decision making.
Mary's dog, Lady, sat dozing on her bed. Lady always slept with Mary and the fact that she was in Gina's room now didn't bode well. Gina saved her article and closed the window, giving a heavy sigh. She hoped Mary had finally made the right decision.
Gina groggily got out of bed and stumbled into the hallway. The smell of pancakes woke her up and she hurried to the table. Mary was already seated.
"Good morning," Mary said, though her usual cheer was missing. "I have off today so I thought I'd make something good to eat."
"I'm not going to complain," Gina replied, popping a tasty piece into her mouth. "How did it go?"
"I… I don't… we–" Mary frowned, her eyes watering, "I-is it wrong, Gina? To say g-goodbye?"
"No," Gina abandoned her food and gently placed her hand over Mary's, "it isn't."
——
Note from Mao: I just had to say 'wouldn't it be nice if I could practice writing romance/drama crap? I really suck at that' didn't I? Thanks, Prosperity Hood, for becoming Days of Our Lives in just two rounds. Buh. Anyway, yeah, Derek and Mary got busy and I have Risky WooHoo. Do the math. It always kicks in when I don't want it to.