Shang Yu is happily divorced and has drug his long-time-lover Katarina Anderson and his 2nd son, James, along with him to his new home in Downtown.
Despite their difference in age, Shang and Katarina had always gotten along famously. They even understood one another to the point of neither so much as blinking an eye at the other's indiscretions. Granted, Shang took the cake when it came to things like that, but Katarina was no angel herself.
Now they were together in an 'open' relationship. Shang was home from his tour for awhile and Katarina spent a lot of time helping him tweak certain songs.
"Tweak that one a bit, babe," he said, strumming lightly, listening. "A little more, that should do it."
Shang was well-known for his exploits with women and while most men of his ilk were horrible fathers, Shang was not. He cared deeply for both of his sons and made sure that they were taken care of. Hugh knew of his father's ways and wasn't dismayed when he saw him out with women, but James had quite awhile to go before he'd be able to understand.
Of course, with Hugh, it was easy. It was only his father, not both of his parents. Poor little James…
Cara Anderson came by to interview him for one of her columns–she was working her way up in the media–and he had to admit, that prim-and-proper bit was hot. He knew she was very married to Roman Anderson, but what could he say? Those Anderson women, he had a weakness!
He made a few little jokes and did his usual bit with the charm. He was surprised when she almost seemed responsive, but then suddenly, she drew away. Oh, this would be fun… even Kat would get a kick out of this!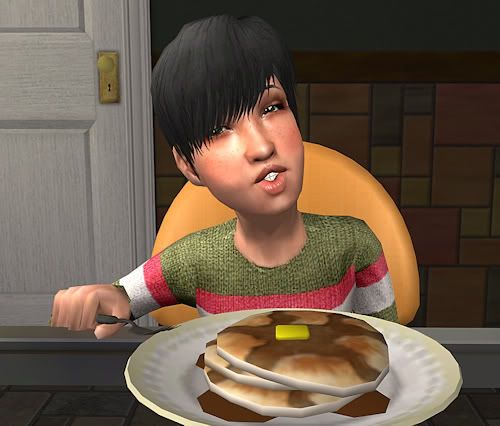 James became a child and looked quite a bit like his father, though he certainly looked more like a Yu than anything. He had his father's charm and seemed to be rather easy-going. Only time would tell if he turned out anything like his parents or not…
Shang and Lacie had a bit of an affair in the hottub and even while she was pregnant, Shang continued to charm her. He didn't much like to hear her talk, but she couldn't deny that she was smokin' hot. He kind of pitied Nevio, though. He was Kat's brother and well, he wasn't a bad guy… just not too bright.
No one in their right mind would mess around with Lacie on a serious level. That woman should have been born with green eyes!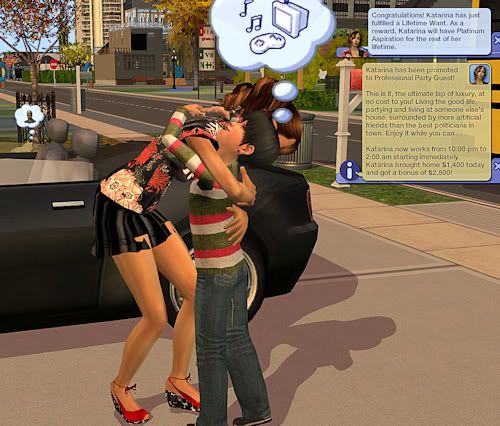 Being Downtown had definitely helped Katarina's career. She was at the top of the party scene now–there wasn't a huge event that she wasn't invited to. Of course, she made sure she still had time for James. She was usually gone while he was asleep, anyway. She spent a better part of the day with him, helping him with his homework, and trying to embrace her maternal instincts.
James brought his Uncle Marcus home from school one day. He was quite surprised to find out that his friend was technically his uncle.
"It's true, you know," Marcus said in a sagely tone. "I'm technically your mother's half-brother."
"That's… just weird." James remarked, making a face.
Marcus laughed, "have you met your older brother yet? He's technically my cousin!"
————–
Note from Mao: Man, talk about twisted family trees! Poor James, I worry for his future. This house needs revolving doors. One scene I laughed too hard at to get a picture of was Katarina teaching James to do his homework near the stairs and front door. Two women came up in their underwear and immediately went to leave. Seconds later, Shang comes walking up the stairs in his underwear and makes a whistle motion at Katarina while walking by.