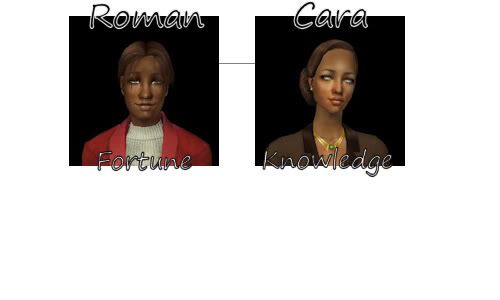 Roman Anderson is becoming quite a powerful man, can Cara keep up?
With the success of his last business and the deeds to lots in both Aperture and Boreal Springs in his hands, Roman opened another business. It was a simple grocery store nestled in Boreal Springs. It was a success and Roman hired on a young woman who desperately wanted to be close to Boreal Springs. Why he didn't know or care, but she proved to be a good worker, albiet unskilled.
One evening, during dinner, Cara decided to question her husband. She had seen him acting oddly and skulking about, she even had others tell her about it. She didn't think he was the type to have an affair, but what else could he be doing?
"It's business," Roman said sternly, "that's it. Who is filling your head with this garbage?"
Cara shrugged meekly, "I… I wasn't trying to imply anything, Roman, I was just worried."
"Well don't," he snapped, angry that others had been talking and not quite pleased as his wife's distrust. "Why would I sully the name I'm trying to restore? Honestly, Cara, sometimes I wonder where your brain is."
Cara frowned and stared down at her plate, ashamed. She should have known better. Perhaps she was projecting her own thoughts onto Roman…
Katarina stopped by one day to thank her younger brother for the awesome pad he had hooked her and Shang up with in the heart of downtown. Roman wasn't fond of his sister's ways, but she was his sister, and despite herself, she had a brain.
"You shouldn't thank me, Katarina," Roman replied, showing a rare bout of humility. "It was Tsung Yu's design and Gordon Saunders that made it truly possible."
"Well, whatever, you had a hand in it someway, so thanks. I know how you feel about Shang, and with Nevio marrying Lacie–"
Roman laughed, "it's fine, don't worry about it…"
Roman's luck wasn't all good, one night, while they were asleep in their lavish bedroom… a burglar broke in. Fortunately, Roman had the foresight to install an extensive security system. The police were called to the scene before the striped fiend could make off with anything. Unfortunately for that burglar, that particular cop was also in Gordon Saunders' pocket… and well, you don't mess with someone under his protection.
There were definitely perks to working with criminals…
Cara enjoyed throwing parties, epsecially those that involved the other ladies from Boreal Springs. Alyssa frequented these and Roman pulled her aside one afternoon to tell her of his plan.
"Lacie won't be a problem for much longer," he confided.
Alyssa gave him a look, "what are you saying, Roman? She's pregnant!"
"The baby will be fine, mother. Just trust me–I've taken care of it."
Alyssa shuddered, remembering the propaganda involving her mother all those years ago… something in the back of her mind shouted for her to take notice, but she ignored it.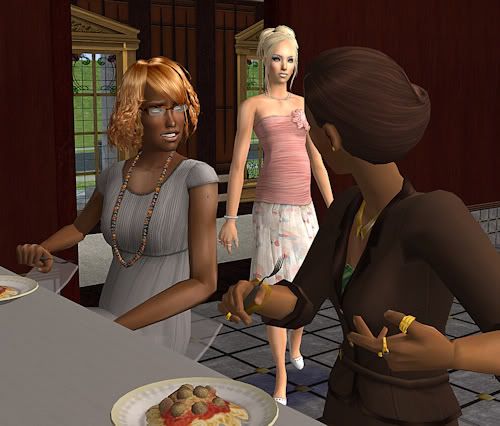 Cara, meanwhile, was having lunch with one of her guests. River Saunders was an interesting type of girl, not particularly feminine, but incredibly keen. Cara grilled her on sciences and her studies at university.
While she enjoyed all the guests she invited, Cara had to admit, she didn't get along very well with Lacie. She really didn't like Lacie's blatant flirting with her husband or her attitude.
—————–
Note from Mao: The blonde in the first picture is important for a reason you will find out later.
Katarina is like Shang, she constantly drops by uninvited. It's insane.