Kate is a single mother, but her son Hugh has turned out to be a good kid, even if he ignored going to University.  Better yet, he seems to have a pretty nice girlfriend, too.
Kenya was elated when Hugh visited her at the grocery store.  She ignored the looks from her boss and allowed him to embrace her in the middle of her shift.  They had met a year or two prior and had kept their relationship quiet due to the fact that she had been in college.  She left University and moved to Boreal Springs just to be closer to him.
Now he was an adult and he wanted her to come and live with him.
While she was busy giggling over his childhood room, Hugh surprised her with a ring.  She said yes, of course.  It was what she had been waiting for!  She was happy to find out that he had an actual adult bedroom he had been staying in, though.  She moved in without another thought and met his mother, Kate, who was startled by all of this, but happy for her son.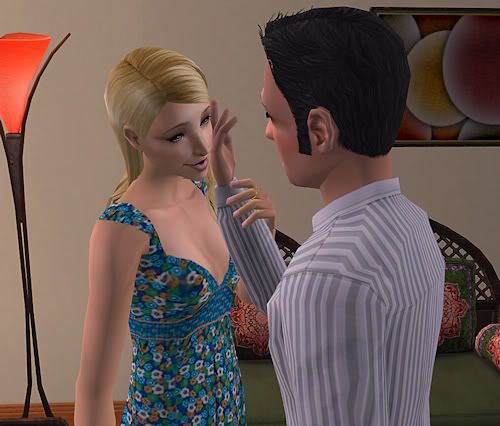 Kenya was happy to finally have the money to update her wardrobe and let her hair hang freely.  She was a lovely girl, something Hugh reminded her of constantly.  He was so sweet, who wouldn't have waited?  She had heard stories of his lothario father, but saw no hints of that in her beloved Hugh and so never gave it another thought.  She was too busy planning their wedding and thinking of what to name their children.  She dreamed for her kids to complete college.
She brought with her a black lab named Lyra.  Thankfully, Iorek and Lyra got along famously and everything within the household was harmonius.  Kate's head was still spinning with how rapidly everything was happening, but what could she say?  She couldn't deny her son the love he so desperately sought.
Hugh and Kenya were married in the afternoon, under a clear, cloudless sky and in the company of close friends and family.  Hugh was glad to have his father there, and was surprised when his mother even made casual conversation with him.  It was all for his sake, he knew, but he appreciated the effort.
Most of all, he was happy to finally have Kenya.
Hugh was sure he wouldn't be like his father, he couldn't possibly love anyone the way he did Kenya.  Ignoring the tension of the guests (Fou-Lu was present and Elena was ignoring him, instead sitting with Michael, her half-brother and getting looks from Shang), the two enjoyed their first married moments together.
Of course, the fact that it was his son's wedding did nothing to hamper Shang's romantic pursuits.  Elena Davis had grown considerably since he'd seen her and he had to admit, she was one smoking hot co-ed!  His nephew, Fou-Lu, had been her beau for a long time… but they were broken up now.  There was no harm in a little flirting, something Elena did not decline.
————-
Note from Mao: And so the mysterious blonde's purpose is revealed!  And Shang, you dog.  What are you thinking?  And Elena, seriously?  SHANG?  Let me tell you that this was purely autonomous and these two were heart farting all over the place.  Poor Fou-Lu, LOL!