Nathaniel and Sara are happily married, but their children give them cause for worry. Sade has grown into a lovely young lady, but she seems a little too aware of it. Cole, too, is older, but still a bit… odd.
From Sade's Online Diary, pulled from SIMplygorgeous.simjournal.com:
So, unless you've been living under a rock or something, you know I'm a teenager now and fully independent in the most awesome of ways. That's right, world, you better watch out… because one look at me and you'll drop dead! I'm just that gorgeous.
Unfortunately, gorgeous people like myself have problems, too… like my parents…
They are all… old now. Like, really old. They look like they should be grandparents! I doubt that will ever happen. My big brother Patrick is a total jerk when it comes to women. But I guess not having grandchildren doesn't keep you from looking like an old person. Ew. I hope they don't like, suddenly starting going to bingo or anything now. That's just… ew.
Enough about them, though. Back to ME! Of course, all the boys at school are dying to take me out, and why shouldn't they? But I have no interest in high school boys. They're such losers, seriously. I'm not your average teenage girl, I've got class… more than most of my peers will ever have in their lifetimes! So, yeah, no thanks. And stop staring, seriously, you're drooling and that's disgusting.
I'm not an idiot, I know it's totally wrong but Michael Saunders is just so… I don't know. Not hot, that's just… that's like calling me hot, and I'm not hot, I'm drop dead gorgeous. He's just… well, he's the only one who matches me, you know? We're too pretty for everyone else. He came home with Patrick one evening and… I haven't seen him since we found out we were related.
He's a couple of years older than me, but age isn't anything but a number! Look at him! I mean, are second cousins really that related? Don't give me that look! You'd feel the same way, too, if you such a hot second cousin. His half-brother Claude is just the same way… but not like Michael. College guys are so much more appealing.
I hate my life. Why am I related to all the pretty guys?!
Enough about that, I guess. I mentioned it once to mom and she got this horrified look on her face. Then she gave me this long lecture on incest and what it is and bla bla. I KNOW what it is, gosh. Anyway, she is all upset because Patrick is spending his days at college sleeping with all the girls. What did she expect? I told you he was a jerk!
Cole isn't a jerk like Patrick, but he sure is annoying! All he talks about are video games and silly kid stuff. Does he seriously think I'm interested? Please. He and Patrick think they are just so special because they have the purple skin, but special isn't nearly as good as gorgeous, which is what I am. I would change my name to that if it weren't so cheesy.
At least I have my cousin Kit to keep me sane. Like I said, I am related to all the pretty people. Kit and I are on the same level, we understand one another, and what our status in this place entitles us to. Of course, she's a bit of a tomboy and I totally do not understand why. I've tried to help her, but it's just so hopeless. Oh well, maybe she can get married and have babies! Haha, and I'll be living the life of starlet!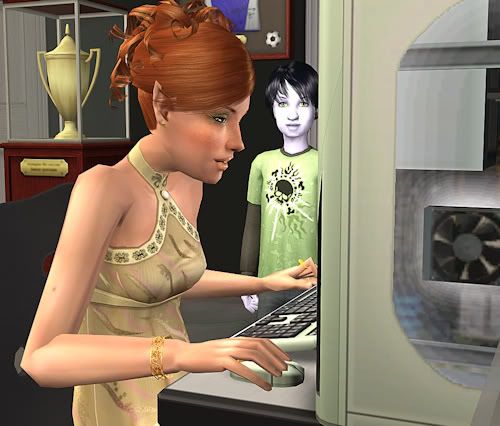 Cole is being such a brat! He keeps reading over my shoulder, so it looks like have to go. Ugh! My parents need to just give me a computer in my room. Like I would be so crass as to post stupid videos of me dancing half naked to hip hop music. Like I said, I have class. Oh well. Until next time.
~~Sade~~
—————-
Note from Mao: Sade cracks me up so much and yes, Michael and Patrick came over for a visit. I completely forgot that Sade and Michael still had the crush flag (they flirted and kissed as teens before I realized they were related). Such a shame!