The Yus went on vacation as a bonding experience and also to take a break for the daily humdrum life.  Tracey had fun trying to learn the local ways, but wasn't quite good at pounding her chest and acting like a gorilla.  The children were so fond of flapjacks they wanted to take them home.
Both being rather competitive, it took no time for the twins to find a sport they could enjoy.  Log rolling turned out to be a lot of fun, especially in the rain.  It made the logs extra slippery!  There was no chance for cheating her, but Shelly tried everything she could to get her brother off that log.  It eventually came out even.
When they weren't striving to push the other one into the ground with competitive sports, they were exploring their surroundings.  They were fairly self-sufficient and enjoyed doing things on their own.  This was a great relief to Tracey and Ryu, who got to spend some time with one another and relax.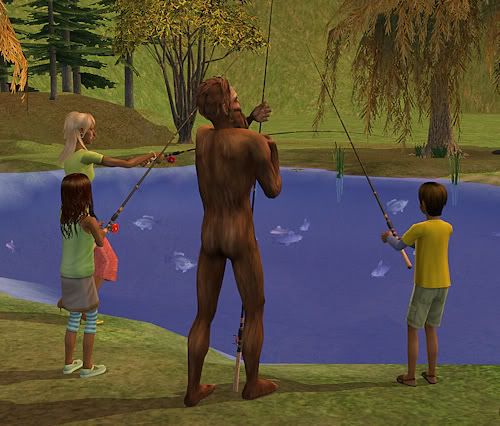 The best part of the trip had to be fishing with bigfoot.  Of course, they couldn't actually tell anyone about bigfoot, but they'd always have the memories!
Their last night they decided to camp out.  Tracey regretted the decision immediately upon seeing the tiny, cramped tents they'd be staying in.  Thankfully, it was only for one night and it was a new experience.
Unfortunately, their trip ended on a not-so-good note when they went on a final tour and all ran into some poison ivy.  They spent their planetrip home itching and scratching like fiends.
——————
Note from Mao: Marcus and Shelly crack me up.  They really seem to like competing with one another.  And the poison ivy, argh!  This was actually also the first time I've encountered bigfoot.
The kids are also teens now, but transitioned right at the end of the round.  Both are fortune.