Marla and Travis have managed to make it past Travis' 'little indiscretion' with Katarina Anderson.  Their daughter Kit has grown up into a lovely young lady with good business sense.
Kit: Sade, if you get this, I'm still alive.  I managed to smuggle my Blackberry to this trip from the seven circles of Hell.  I'm sending you this email while I hide in the sauna.  Whew.  It's pretty hot in here.  It feels like I'm sweating off my skin.  But it's the only place I know my parents won't look for me, so I gotta be quick.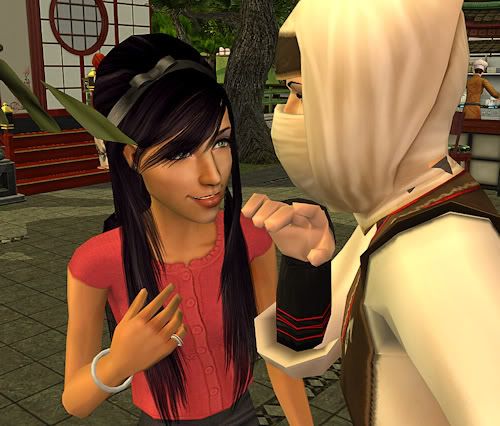 Things have been pretty uneventful here in the land of weird.  You know how you see all those ninjas on TV and stuff?  Well, apparently, they exist here.  I know because I spoke to one and he taught me this cool little trick.  Don't worry, I'll show you when I get back.  If you are dead set on being an actress, this is one move you won't want to miss.
Of course, you know why we're here.  Mom is doing 'research' for new dishes at her restaurant.  The foot here isn't too bad, but I don't know.  It really isn't my thing.  I didn't really get the talent in the culinary arts that mom has.  You'd probably like it, though.  Bunch of rice and vegetables and stuff.  I know how you are about "diets".
And before you ask, no, there really weren't any hot guys.  I mean, there were, but they were older.  One guy looked really familiar to me and I couldn't figure out why.  So that kind of killed the attraction factor.  It was just so weird, like I'd seen him somewhere before.
I did find that I can make a killing off playing Mahjong for money!  I'm a regular, uh, tile shark?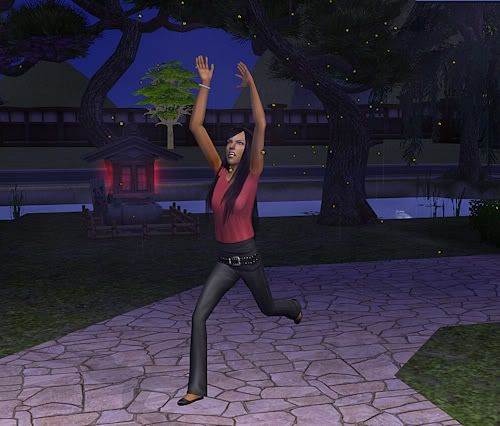 I tried to check out this neat little shrine but all I got for my effort was attacked by BEES!  You know how I hate bees.  What a horrible trip it's been!  I just want to go home.  I have to finish my studies and I'm hardly prepared for University yet… have you decided if you're going yet or not?  Actresses still need to go to University and it'd be nice to have someone I know there, too.
Oh, and I know you think that helicopters are just glamorous… but they're not.  They are noisy and annoying.  We took one on a tour and it was crazy.  I hope I never have to travel in one again!
One more thing before I go (I swear, I'm going to die in here.  It's so HOT!), I learned this really cool technique.  It's like 'dance exercise' or something.  Anyway, I'll show you when I get home.  It'll be good for you to 'tighten up' for those close-ups.  Body doubles are for sissies.  Okay, time to go before this thing melts in here.
-Kit
—————–
Note from Mao: Contrary to Kit's perspective, they had a good vacation and she has a ton of memories.  I wasn't going to write this from Kit's POV, but she seemed to be the focal point of the vacation and I kept hearing her quips in my head as they happened, so there you go.  I have been caught up with my gamplay for the past few updates, that's why they've been slow.  Sorry!  I haven't been feeling too well, so things might be a little slow.  Maybe.