While Katy was happy that Janine and Henry were finally together and that they had a child on the way, she couldn't help but be envious. Despite having children together, Derek was very distant. Katy had hoped by now all thoughts of Mary O`Hanlon would be gone from his mind… but he didn't look at her the way Henry and Janine looked at one another. Katy couldn't help but wonder if he reserved that for Mary.
Anytime she confronted him about it, he simply changed the subject or found some way to divert her attention. Katy had thought children would bring them closer together, but it only seemed to make the gap wider. Derek was bound by obligation now, not love. It was a depressing realization.
To compound her despair, Henry and Janine married. It was obvious they were both quite happy about it, though Janine did make strange faces and looks now and again. It was likely due to her pregnancy–she was set to give birth within the month.
The Saunders name was going to sweep the neighborhood if this kind of breeding kept up. At least this would lull Thomas into a false sense of comfort…
The wedding party was a mix of Saunders and Andersons. Alyssa and Florence came to see their mother married, though Florence was hardly impressed with her sister Alyssa's behavior. The entire time, she ordered Ryu around and he gave in to her every whim and fancy.
Alyssa was acting a little too much like Jun Yu for Florence to take. She'd have to have a talk with the young girl before it was too late. Unfortunately, Janine went into labor early and the entire party was disrupted by shooing her off to the hospital. She gave birth to a healthy baby boy named Gordon Saunders.
The twins seemed to grow like weeds, becoming children before either of their parents were prepared for it. They were definitely etching out their own identities, though they were young enough to still enjoy being similar. Chuck was more laid-back and easygoing while Damien seemed to carry his mother's temper and sensitivity.
Despite their differences, they got along famously and enjoyed doing everything together, as twins are sometimes wont to do.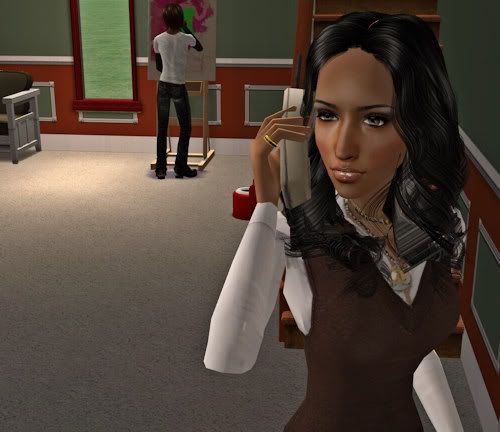 With her child nearing its toddler years, the time was definitely at hand. Enough time had passed that Thomas had probably forgotten all about Janine. It was the perfect time to strike. Quietly, Janine snatched up the phone. She glanced back at Ryu, who was busying himself with the canvas in the living room, and began talking in a hushed tone.
"Is everything prepared? Good. No. I told you," Janine said firmly, her eyes narrowing. "It's my mark. No one touches him but me, got it? Good."
———
Note from Mao: I was so mad when Janine's belly popped. Since BV, my 'Lot Full of Sims' hack is busted and I can only have eight sims to a house again. Lame. Katy needs one more baby for her LTW! Oh, and after this, it may take me a day or two to update… I seem to have caught something. The Sims 2 is unplayable because it makes me violently ill and nauseous. I'm starting to feel better, but I make no promises.
Oh, and the reason you didn't see little Gordon Saunders (who my fiance named after the main character from Half-Life) was this:
It reminds me of that Michael Jackson song, 'Black or White', hahaha oh dear. Thankfully it'll fix itself once he's a toddler. Poor kid.