Tsung and Lilith Yu have been happily married for many years, now they welcome their eldest son Zhou and his love, River, into their home.
Zhou and River were married in an intimate ceremony held in their backyard near the pond and trees that Sun-Tzu had ordered many years before.  Family and friends were in attendance and the day was clear with not a cloud nor a even the slightest hint of rain.
A childhood crush and a troublesome courtship had ended in happy nupituals.
River was understandably nervous, she had never really seen herself as the "marrying type", especially not with Zhou, but what they had was beyond denial.  Why should she deny happiness, even if it was a little odd?  Being around Tsung and Lilith had shown her that such odd couples truly can work.
They were oblivious to the dissension amongst the wedding guests.  In bringing together family and friends, they brought tension.  But they were too busy being newlyweds to pay attention.
Elena and Fou-Lu weren't officially 'back together', but it was hard to say otherwise with the way they acted after the wedding.  Elena was living back home until she got onto her feet while Fou-Lu and the other men were looking into apartments that were being built in Aperture.
Zhou took the time to advise his brother to tread softly, so not to scare Elena away.  He knew his brother wasn't the most reliable and steady of men, but he knew how much he loved Elena.  He just hoped Fou-Lu could pull his act together long enough to become a respectable adult.  Responsibility had never been something the younger sibling wore very well.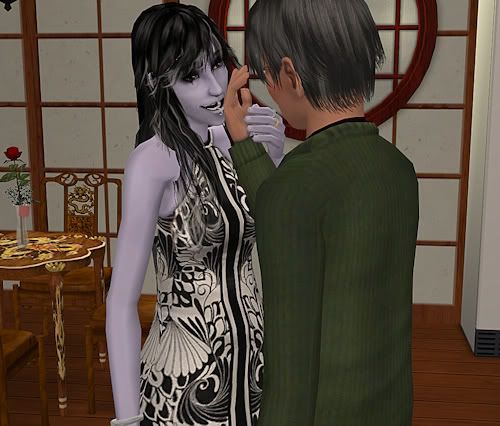 The newlyweds weren't the only ones in love, Tsung and Lilith were still very much aware of one another.  They enjoyed their quiet years as elders and looked forward to the possibility of grandchildren.  Her advancing age hadn't stopped Lilith from pursuing her paranormal interests and Tsung hadn't yet retired, either.  He was in charge of the apartment and town house plans.
Lilith was pleased to have an apprentice to pass on all her knowledge to.  Isolde Anderson had come to her sheepish, but adamant and so Lilith took her in.  It would take awhile for Isolde to truly grasp the very nature of what she believed in, but Lilith was sure she would reach the same level as she, if not even higher.
She just hoped the girl was prepared for the ridicule and everything that came with being such an 'odd' character.
—————
Note from Mao: Zhou and River are finally married, yay.  And Inteen needs to hurry up, I need Apartments for my recently graduated young adults!