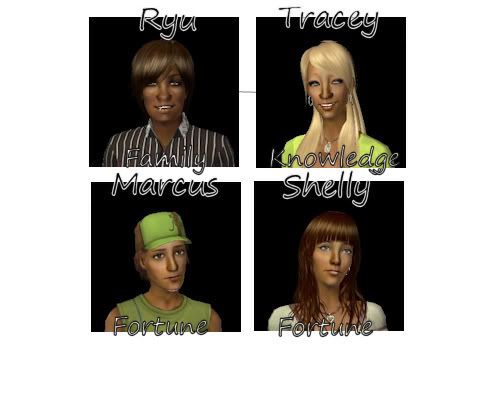 Ryu and Tracey Yu are happy, despite the rocky road they've ventured on to get here.  Marcus and Shelly are teens now and just starting to figure out what they want out of life.
Shelly Yu was not happy to hear about Timothy O'Hanlon and Isolde Anderson being together.  She had hoped the rumors were false, but when she saw them together at school, it was too obvious to ignore.  If she didn't act soon, they'd be official.  That just couldn't be.  Timothy was supposed to be hers!  They had been picking on one another since childhood, surely that meant something.
That little social reject was not making a fool out of her by stealing her would-be boyfriend.  Sure, they were related, but that didn't mean Shelly had to like her.
Meanwhile, Ryu was trying to talk some sense into his son.  In a surprising act, Alyssa had phoned him and told him of Nevio's behavior.  Ryu had hoped that perhaps he could make Nevio see reason, but it seemed fruitless.  He was spoiled and set in his ways.  Ryu was definitely regretting all that time he spent trying to nail down Gordon Saunders… he had almost had him, but well, he couldn't act now.  Gordon had them right where he wanted them.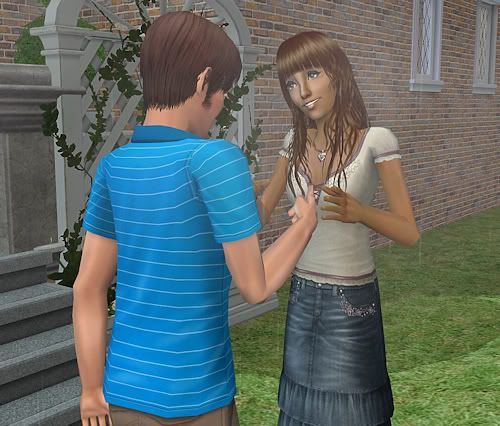 "It's raining, Shelly," Timothy said, giving her a look.  "Aren't you worried about your hair?"
Shelly laughed and tried to pretend his was kidding, "Oh, you're hilarious!  Now, don't avoid the question…"
Timothy looked uncomfortable, "I was actually going to ask Isolde to the dance, Shelly… sorry."
"That's fine, I was only asking because I didn't want you to be dateless.  That's what friends do." Shelly replied, trying not to look as angry as she felt.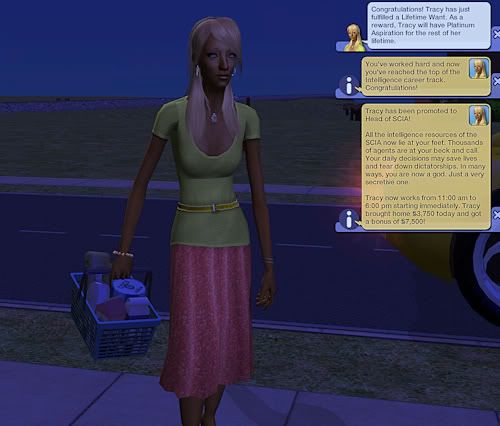 Tracey fulfilled her dreams and became the head of the SCIA.  Unfortunately, it meant little.  In fact, it made her feel guilty because she'd never be able to do anything.  Gordon had her firmly in his grasp, any action against him threatened her family.  She sighed and carried the groceries in, as if it were any other night.  She was as much in his pocket as the corrupt officers and city officials.
Shelly was still sore over Timothy's rejection, but what could she do?  And then, one day at school, Marcus introduced her to his friend, Cole Anderson.  He had the same last name as Isolde, but they weren't related.  How weird is that?  Anyway, they got to talking and it seemed Cole had a thing for Isolde and was surprised when he saw her with Timothy O`Hanlon, who he assumed to be Shelly's boyfriend.
Together, they schemed.  They would pretend to be a couple in the hopes of making the other two jealous… and perhaps inadvertantly try to break them up in the process, too.
"I don't think you should do this, Shel," Marcus reasoned, giving his sister a look.  "It isn't right.  Just let them be.  It won't work anyway, Timothy doesn't like you like that."
Shelly rolled her eyes, "For being a boy, Marcus, you sure are clueless.  He'll care once I'm taken!  Just make sure you keep your mouth shut about it, all right?"
"Fine, whatever, but I still think it's stupid."
Marcus and Shelly would often walk to the park and hangout.  Usually they'd be joined by their friends, but with this whole mess, that had stopped.  Marcus missed hanging out with Timothy, but he couldn't reason with himself that lying was okay, so he avoided his old friend.  Even Cole, too, seemed too busy with Shelly.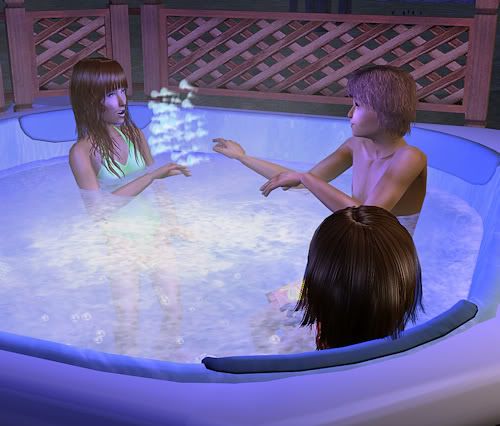 At least they still had family time.  Tracey and Ryu had recently added a deck onto the house and with it, a hot tub.  Everyone enjoyed clustering to it after a long day's work or homework.  It was definitely a place of 'family bonding', though Shelly and Marcus didn't want to venture a guess as to the real reason their parents had purchased it…
——————
Note from Mao: Cole and Shelly have THREE bolts without any trying from me.  Wow.  I was definitely shocked, lol.  Poor Marcus, he's losing his friends to Shelly!