Mary O`Hanlon and Gina Saunders have been successful so far, but can they keep the secret of Mary's illegitimate child from reaching the rest of the neighborhood?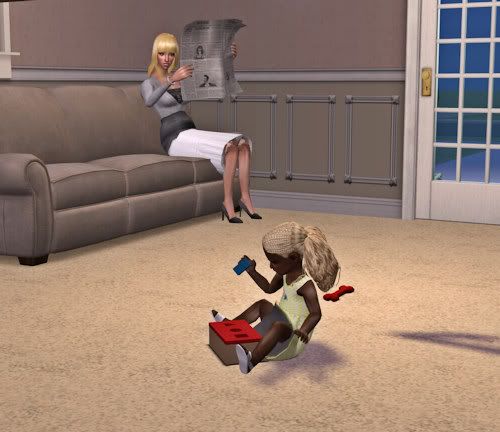 Mary pretended to be reading her paper, but she was really looking at Sara. Her birthday and come and gone and now it was even more obvious she was a Saunders. Jokingly, Gina had said that Sara looked more like her kid than Mary's. Of course, that wasn't entirely true, as Sara had Mary's blonde hair and green eyes.
She was almost a carbon-copy of her father when it came to her facial features, however.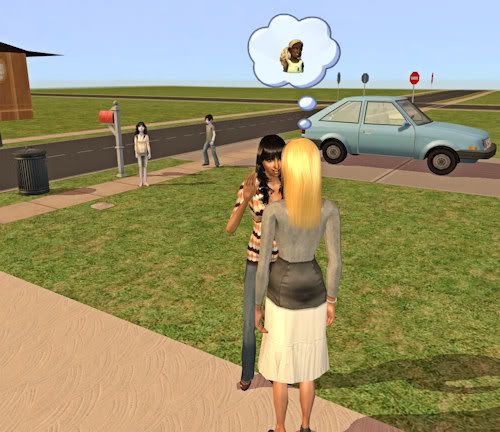 Even when Florence dropped by for a surprise visit with the twins, all Mary could think about was Sara. Florence had briefed the twins prior to visiting, so it was safe. It was surprising how much Florence had changed since University–she could still be serious, but she had lightened up considerably. Lately, it seemed like Shaniqua was the one always on edge.
Of course, this was never discussed. It was just easier to let things go and pretend they didn't exist. Shaniqua was not with Florence when she visited–she was at work… supposedly.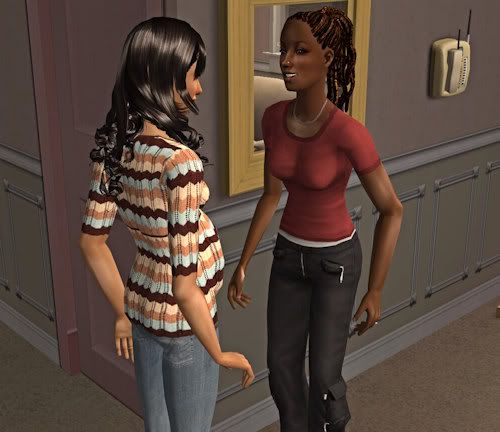 "Lookin' big there," Gina greeted with a smile. "How long now?"
"Too long," Florence replied with a heavy sigh. "When did I take a turn down Family lane, Gina? This is nuts."
"You're the one who signed up for the testing. Speaking of which, how did Shaniqua take it? I see she's not with you."
Florence shook her head, "lets just say… she doesn't remember signing the documents. I know I should have talked to her before I had it done, but we really needed the money and the success rate was dismally low."
"Don't worry about it," Gina said, guiding Florence over to the couch. "Have a seat and relax while we preoccupy your rugrats!" As if on cue, Nathaniel ran past chasing Lady out the door.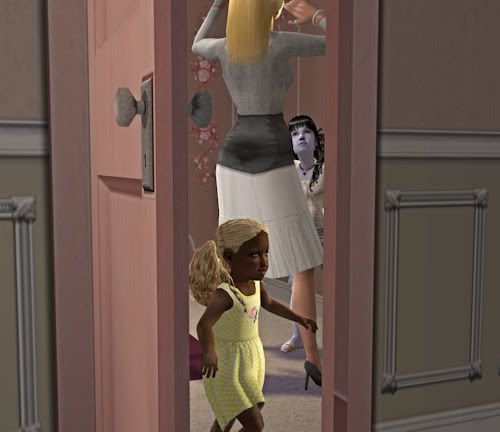 Mary found Lilith in Sara's room playing with her. While she trusted Florence to inform the twins of the situation, she wanted to make sure Lilith completely understood. As she chatted with the young girl, Sara made her escape. Hearing the door creak behind her, Mary cut off her lecture and ran off after the toddler.
After Florence's visit, Mary found herself exceedingly worried. She would often stare at the phone, wondering what would happen if she made the call. Sometimes she even went over and picked it up. She always set it back down before she could dial the numbers, though. Calling would be a disaster. Sara's birthday was fast-approaching and she'd be a child.
It just felt like it was too late and that Mary had gone this far with the ruse, so why not continue? She also didn't want to disrupt the life of the little boys she knew Katy had. It would be wrong to tear them apart. Of course, Mary hadn't anticipated that once Sara was a child, she could also use the phone.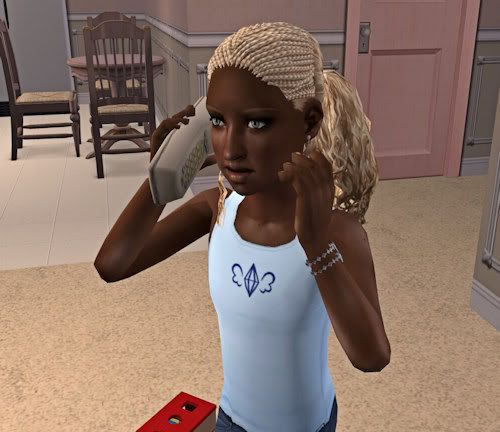 "What? Auntie G is at work." Sara cried into the receiver, her green eyes narrowing. "No, mommy is busy." She rolled her eyes. "Yeah–busy. Who's this, anyway? Huh? I don't know you. Mommy says I shouldn't talk to strangers." Suddenly, her eyes lit up. "Saunders? Derek Saunders? Well, even if you are my Uncle, I can't let you talk to mommy. She's sleepin'. Call later. Bye bye."