Meanwhile, Janine and Henry were having their own kind of issues. Henry had never felt the need to pry into Janine's career. She had always been rather quiet about it and looked positively pained whenever he asked, so he let it go and just stopped asking. Lately, though, she was out all night and anytime she was around, she seemed to avoid him. It was incredibly worrying. He caught her before she was about to run off, holding onto her hand gently, though showing she wasn't getting away until she answered him.
"Is something wrong, Janine? You've been acting a little off lately."
"I'm fine, Henry, really," she said, trying not to look guilty. "I'm just… exhausted. Work is quite… taxing lately."
"I saw the package, Janine… by accident. It was on the top and I knew it couldn't be Katy's–"
Janine closed her eyes, "I am and I've made an appointment with the doctor."
"Why didn't you tell me?"
"Because I wasn't sure if it was a good thing or not, Henry. We're getting older–too old for children." She smiled and squeezed his hand. She couldn't tell him the real reason–that she was sleeping with her ex-husband behind his back and she wasn't sure if it was even his.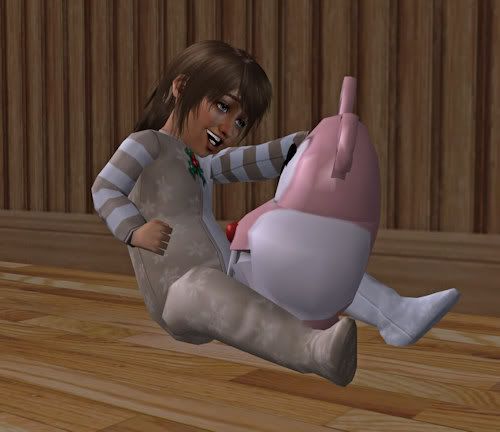 Amidst all the drama in the house, Gordon had grown into a toddler. He was nearly a child, actually, but the drama took forefront to his transition. Janine took care of him and he looked quite a bit like her–breaking the trend that all Saunders ended up looking like Henry. He was a sweet child, and quiet, too.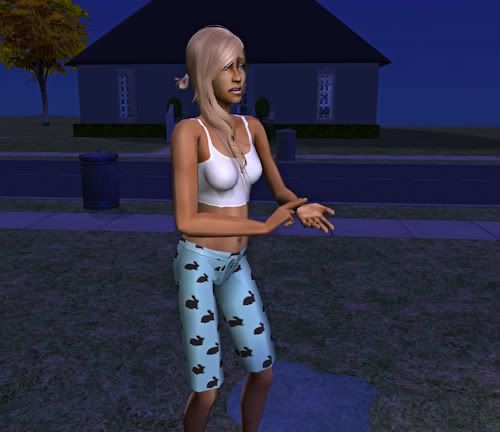 Unfortunately, not even sweet and quiet children can save face when there's tragedy afoot. Katy, who was showing her pregnancy quite obviously, found herself in a very bad situation. She had been up late, like always, and was taking out the full trash when something startled her. In fact, it scared her so much she keeled over. It was so late that everyone was asleep and they didn't know until the paper girl shrieked in horror at 5am.
Janine had been gone all night and Derek was off with his team at a game. When Janine returned home, Henry had taken care of everything and Derek was on his way back after finding out. The death was mysterious, to be certain, but the police ruled it as accidental.
The next few months were troubling ones. The boys weren't quite sure how to handle their grief–they didn't cry, but they did often go out to mourn in their own way. Katy remained on the family plot, in an effort to be closer to the boys. There was also a policy in action in Boreal Springs that said only those tied to the bloodlines of the founders could be moved to the cemetery. Derek had said they were separated, so she wasn't 'technically' connected.
Of course, Derek wasn't overly distraught. Katy had been a thorn in his side for a long, long time. He had liked her, once, and then she became an overbearing wall that stood between him and what he really wanted. He felt for the boys, but they liked Mary and Mary would be better than Katy. He just wished Mary felt the same way. Everytime he hinted at it, she looked horrified.
"Derek, it's barely been a year! How can you think that?"
"It's all I've thought about since University, Mary. Katy's death has no factor in that–can't you see?"
"I'm sorry, Derek. Not now. It's too soon–your poor boys…"
Despite her rebuttals at his proposals, Mary was always around. Sara would often come with her, unless she had a lot of homework. Then she would stay with 'Auntie G' while Mary came over. Chuck and Damien were saddened by the loss of their mother, but they were only six, and couldn't full comprehend it. They liked Mary and Chuck had even accidentally called her 'mom'. That was likely because Chuck really like Mary. She was so educated and Chuck wanted to be educated, too. Though he didn't know what it meant, really.
Damien was a bit slower–he had been Katy's baby. He missed his mother, but he was young and Mary was nice. She would hug him when he looked sad and tell him silly stories she said came from her step-father, Sun-Tzu.
"I think you should get married already," Janine said, her chair scooted back to accommodate her growing stomach. "It's been a year–that's enough time."
"Janine," Henry replied, clearly stunned. The way she said it had been so… cold. "Katy was his wife."
"I know, Henry," she said with a smile, her voice softening. "But it's time to move on, don't you think?"
Derek was happy with Janine's support. He looked at Mary and took her hand, "you already know I'm in total agreement."
Mary sighed, "I… I don't know… maybe, maybe it's okay now."
While they talked, Henry couldn't look away from Janine. He wasn't the smartest man out there, no, but he was a military man and he knew when something was strange. Something was definitely up, though he couldn't quite put his finger on what.
Unfortunately, he wouldn't have a chance to figure it out, either. Tragedy struck again. A week later, Janine lost the baby. The details she gave Henry were sketchy, but her tears kept him from asking any further questions. He let her mourn and felt his own sadness quietly.
If only he knew that the sadness wasn't for the baby at all. If only he knew that Janine was crying because she felt so conflicted she was driving herself mad. She loved Henry–truly and deeply… but she knew she could never tell him who she really was. He would never love her if she was a criminal. Thomas knew who she was, he embraced it, and they worked entirely too well together. She was leading a double-life and it was killing her.
——–
Note from Mao: I'm sorry this update was so FRIGGIN HUGE! You have no idea how crazy this house is, wow. And Katy dying? ARGH! That teen ghost scared the jeepers out of her! I couldn't have Derek plead, because they were furious and weren't in love anymore. And Janine getting pregnant? DOUBLE ARGH. I was actually happy when she lost the baby. Ugh. I should rename this 'Boreal Springs, a SOAP OPERA'. WTF, seriously. At least the quiet Yu house is next.