Michael Saunders is happy to be out of University, but is a little unsure about dealing with Fou-Lu and Elena's messy situation.
Michael found an apartment quickly in Aperture.  It wasn't hard, it seemed as if they were going up all over the place.  Fou-Lu came with him.  He felt bad about the whole thing between him and Elena and he knew that Fou-Lu deserved to know the truth, even if he was a bit immature.  So Michael took it upon himself to make things right.
Elena had called him not too long after they moved in and said she was willing to come over.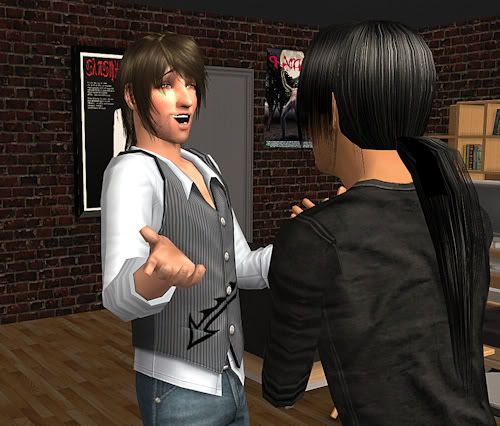 Michael passed the news onto Fou-Lu, warning him against any of his silliness.  Fou-Lu simply laughed him off, wondering what Michael was talking about.
"I'm only telling you because I don't want you to die of shock," Michael began, his voice taciturn, "Elena left because she was pregnant.  You have a daughter, Fou-Lu."
Fou-Lu's only reaction was uproarious laughter.  When he finally finished, the look he gave Michael bordered on ridiculous.  He obviously thought this was all a big joke, "very funny, Michael.  She couldn't keep that a secret for years!"
"And yet she did," Michael replied, not sharing in his friend's amusement, "She'll be over soon.  Compose yourself.  If you mess this up, I'm kicking you out."
Just as Michael expected, Elena arrived an hour or so later with little Emma in her arms.  Michael had already seen his niece several times and so wasn't surprised by how much she had grown.  He made sure to warn Elena, though.
"This is going to be a shock, so don't be surprised if he doesn't react well."
Elena sighed, "I don't even know why I'm doing this."
"Because it's the right thing to do.  Come in, you can't delay the inevitable any longer…"
Fou-Lu wasn't nearly as shocked as Elena had anticipated, leading her to believe that her brother may have betrayed her confidences.  She let it slide and instead introduced Fou-Lu to Emma.  The resemblance was remarkable, there was no denying she was his daughter.  Elena was a little upset that little Emma didn't seem to look anything at all like her, except for her thick hair.
Instead of being angry or upset, Fou-Lu took Emma and began to play with her.  He joked around and was casual, it put Elena at ease.  She was sure he would demand to know where they stood.  Instead, he focused on Emma.  Visits would become a common occurence.  Michael had been right, Emma needed to know her father, even if he was a child himself.
As if dealing with that situation wasn't enough, Michael was surprised to answer his door one afternoon only to find Patrick O`Hanlon outside.  He said little to Michael before shoudlering his way in, forcing Michael to close the door and follow him, apprehension written on his face.  Patrick and Michael had always been friends… but tense ones.  Sade was a major factor in this.
"Michael, you've got to help me," Patrick said, his voice low and conspiratorial.  "Sade is driving me crazy! She's flaking out on University and staying at my place and now I've got a guest, and well, I need her to get lost.  She's my sister and all, but she's driving me insane!"
Was Patrick kidding?  Michael hoped his surprise didn't show on his face.  He certainly didn't want Sade here, not for all the money in the world.  That was dangerous.
"I really don't think that's a good idea–"
"Why not?" Patrick interrupted, clapping him on the arm, "I've always trusted you, Michael.  You're the only one who can do this for me.  You and Fou-Lu can keep an eye on her while I regain my sanity.  Come on, how can you turn me down?"
He was right, how could he?  With a heavy sigh, Michael relented.
It took a weekend for Sade to pop up.  Michael had returned from running some errands to find the house empty–Fou-Lu had been spending a lot of time with Elena and Emma lately.  He walked into his room only to find Sade.  It was hard not to notice that she definitely wasn't a teenager and while she was still a little younger than him, the gap was a lot smaller now.  She smiled, as if she was completely oblivious to the fact she was missing most of her clothes.  What had happened to him and what was she doing?
"Sade, what are you doing?" He demanded, looking past her and out the window.
She laughed and patted the bed, "Patrick told me to come here.  So I made myself comfortable!"
Michael said nothing.  He simply turned around and exited the room.  Sade watched him go, frowning.  Well, that obviously didn't work.
Sade continued to drop in uninvited, but kept her clothes on for the most part.  Michael avoided her as often as he could, which wasn't hard.  His job had him traveling a lot.  He spent a lot of time going to Universities and lecturing on physics and aiding with certain research.  It was pretty much nerd work, but he made quite a bit at it, which was how he could afford housing two other people who didn't pay a single bit of rent.
He would have to call Patrick and let him know that this wasn't going to work out.  He'd have to take care of Sade himself.  Did Patrick truly have no idea what he had done by putting her here?
———————
Note from Mao: Oh my GOD, ACR has made my sims go crazy.  Sade on the bed?  ACR DID IT, LOL!  ACR has decreed that Michael and Sade are each one's One True Sim… which equals hilarity and awkwardness.  Fortunately, Michael is a more shy person and so it's usually Sade chasing him around and trying to flirt/etc.  Oh geeze.  ACR has made my sims into horny teenagers, LOL.  Don't even ask me what happened when Elena and Fou-Lu were left alone in the apartment…