Julie and Asia are happy with their current life, but worry about the future of their children.  Timothy has found himself entangled in an unwitting love triangle while Maggie is on the cusp of teenage hormones herself.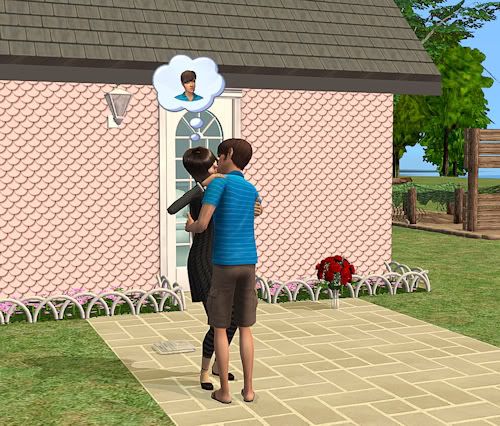 Timothy O`Hanlon is oblivious to the fact that his deepening relationship with Isolde Anderson is causing problems.  To him, he's in love, or as in love as a teenage boy can possibly be.  He ignores Shelly Yu's cold stares and doesn't notice Cole Anderson lurking around in the background.  His sole focus is Isolde and his hobbies.
He does miss his good buddy, Marcus Yu, though.  He's sure Shelly has a big part in that.  James Yu is too busy trying to get early acceptance into college to hang out.
While Julie is sure that Timothy thinks he's in love, she thinks he needs to face the true facts of love.  Love is adopting too many dogs and then having to go outside and scold them in the middle of the night when they roll around in dirty puddles.  Julie loves Asia, but she wishes that she didn't always have to reprimand the dogs.  Asia was incredibly busy at work lately and so most household duties fell to Julie.
Maggie had enjoyed a rather energetic childhood.  She skipped rope, tried to do her homework, but mostly spent time following Timothy around.  He wouldn't let her now, though, she was too young and when he went off to do things, it was 'big kid' things.  She was glad her days of being a little kid were soon to be over…
Julie wasn't quite sure what to think about her youngest becoming a teen.  She certainly looked like Asia, though she carried the genetics of Julie's father, Derek Saunders.  Julie hoped that Maggie took more time than Timothy did to find teenage love.  She needed time to enjoy her freedom before locking herself down.  Julie needn't have worried, though.  While Maggie spent plenty of time on the phone, it was all with friends.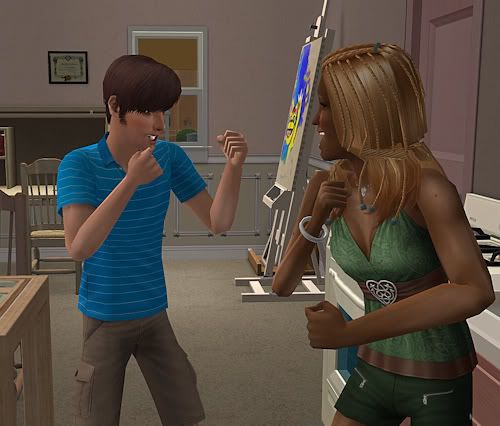 Besides, Timothy kept an eye on her and it was pretty clear she wouldn't be dating until he was off to University.  That was okay with Maggie, she really wasn't all that interested right now.  She had more fun competing with Timothy and being able to hang out with him and his friends.  She was also smart, so they always wanted her help with homework, even though she was two grades below them.
"Why don't you have some cereal, sweetie?"
"Whoa, Mags, that thing is charred!"
"No thanks, I'm going to eat this."
Maggie may have been a capable and independent young teen, but she was not a culinary master.  She burnt everything she cooked, but never threw it out.  She would gulp down every disgusting piece.  Maggie O`Hanlon was definitely stubborn.
———————–
Note from Mao: Maggie cracks me up like crazy.  She seriously burns EVERYTHING.  Even with cooking points, poor girl.  She's a Knowledge sim, so yeah, burning things isn't something she favors.  Asia was absent from this entry because she was mostly at work when anything interesting happened.  Timothy and Isolde are ridiculous little high school sweethearts.  It's sickening, but cute.  An odder pair you'd be hard-pressed to find.