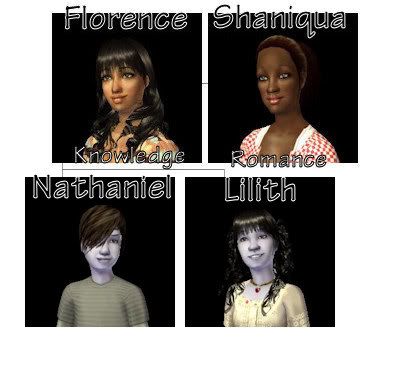 Florence Anderson and Shaniqua Saunders are an odd couple, but so far, they've made it work. The twins, Nathaniel and Lilith, are quickly approaching teenhood. Can the family keep it together through the end of Florence's pregnancy?
While Nathaniel and Lilith got along, they had their rivalries. Lilith seemed set to prove that she was better than Nathaniel–even if he did have pointed ears and a 'pretty' face. While Florence had tasked them with raking up the leaves, it became a heated battle of who could do it faster. It eventually ended in an epic battle of leaves that had the entire lawn covered. Florence was not pleased and neither was Lilith–there was no definitive winner.
Of course, the rivalry wasn't helped any by Tsung Yu. He and Nathaniel had become friends and so he often visited. He was always quick to shoot Lilith down, too. Nathaniel usually just shrugged her off, but Tsung fought back. They argued about everything and Tsung always seemed to win.
Lilith wasn't very happy about being beaten by someone younger than her.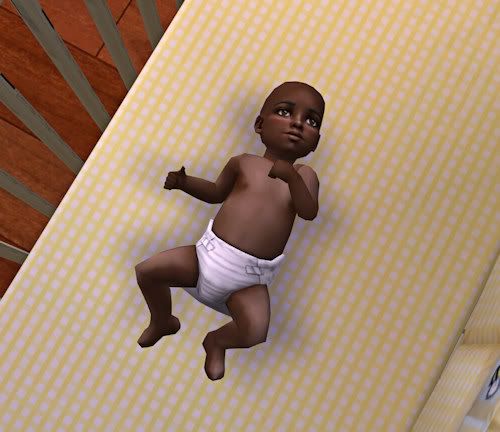 Florence eventually gave birth to a healthy baby girl named Kate. Shaniqua's weird moods had lessened some and she seemed happy to receive the little bundle of joy. Of course, that was probably helped by the fact that Kate definitely took after the Saunders side of the family.
While Nathaniel found the baby cute, Lilith was a bit more standoffish. She muttered something resembling, "great, more competition" before wandering off. Florence was becoming worried–the twins' teen birthdays were fast approaching and Lilith was becoming a troublesome child.
While Florence was worrying about Lilith, Shaniqua was becoming better friends with Jun Yu. While the kids were at school and Florence was at work, Shaniqua would invite her over. They mostly just gossiped–Jun wasn't into girls and Shaniqua was just happy to have someone who wasn't all 'babies, responsibility, babies, bla, bla'. Jun joking told Shaniqua she picked wrong–girls were awful choices for cash cows. She needed to find a rich man.
Shaniqua didn't agree–she loved Florence, in her own, special way. But she couldn't dismiss the unhappiness that welled within her. She listened to jun, but she never took her advice. Men weren't that great and besides, she was pretty much related to all the ones in the little burb.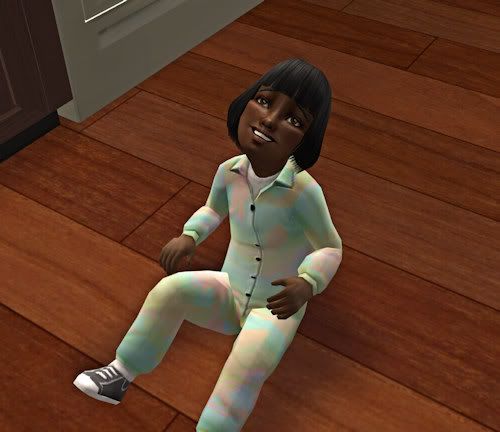 Kate grew into a charming little toddler who looked like she might take after Shaniqua. Both of her parents were involved in her learning, though Florence was more adamant about it. Shaniqua wanted to dress her up, but after the fiasco with the twins, Florence quickly shot down that idea. Despite her odd way of coming into the world, Kate was a healthy and normal little girl.
Of course, after Kate's birthday came the twin's…
Lilith found being a teenager enabled her to express herself fully. While Florence was dubious about her choice of hair, Shaniqua was a bit more supportive. Lilith's grades were fine, but the Academy had sent several notices home saying she was disagreeable and had nearly started fights with several people. Very opinionated and open about it, Lilith found not everyone was so easily to intimidate.
At least she could still kick Nathaniel's butt at video games.
(Her shirt says, "a city built on rock n' roll is structurally unsound.")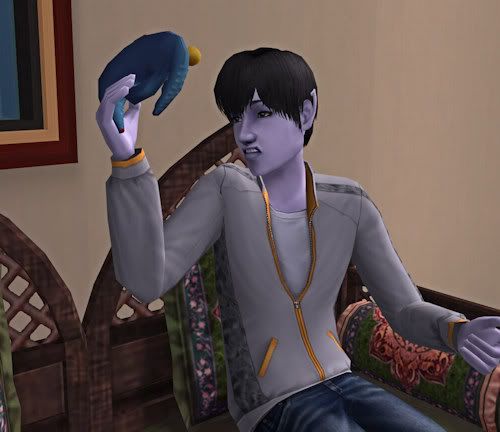 Of course, Nathaniel continued to be Lilith's polar opposite–easy-going, and good-natured, Nathaniel fit in easily with his peers. He continued to shrug off Lilith's silly attempts to prove she was 'better' (he honestly didn't get why it mattered), and focused more on his future. He wanted to go to college so he could get a good job and make lots of money.
Until then, he needed to work on his video game skills.
——-
Note from Mao: For those wondering, Lilith is a Pleasure sim and Nathaniel is Fortune. Once again, my fiance named Kate. Not much to say about this update other than… doesn't Lilith look fantastic? Girl after my own heart, ha! (need to get around to trying silver again…)  Oh, and I will be semi-absent from the web while my fiance is visiting.  Updates should continue, given how much I've played, but not as frequent as everday!