Alyssa Anderson is trying her best to make sure her family name prevails, despite her careless son Nevio's attempts otherwise.  Isolde seems to be a lost cause, but Adora is turning out to be more of an Anderson than anyone expected.
Isolde's family may think she's a 'lost cause', but she thinks otherwise.  She wants nothing to do with their silly familial ceremonies and rites of passage.  She's more interested in her teenage love, Timothy, and her interests in the paranormal.  Thanks to Lilith Yu, she's finding out a ton about the world beyond.  Thankfully, Timothy is respectful of her interests.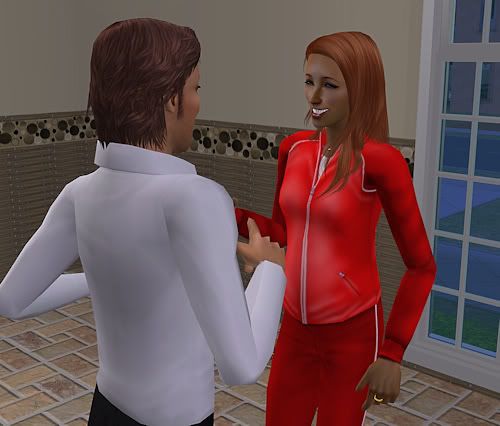 Nevio is making his own kind of friendships, much to Alyssa's chagrin.  It was one thing to mess around with random women from Aperture, but to form relationships with married women from the same street?  Alyssa nearly had a heart attack when she found her son laughing with Virginia Saunders, who is also very pregnant and near her due date!
It was hard to believe she had raised a son with so little tact.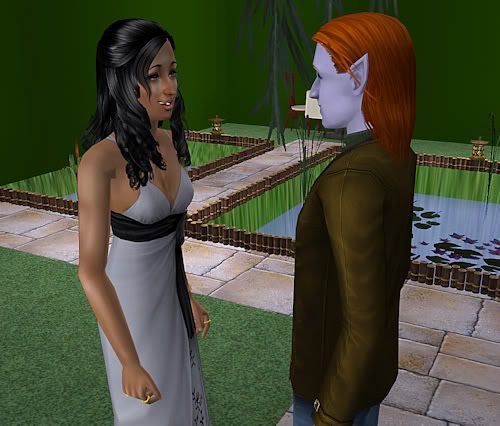 Alyssa certainly hadn't been an angel herself.  She had ruined her marriage by cheating with Shang Yu, but she had made peace with her past mistakes and she hadn't seen Shang in a long time.  Unfortunately, while she had meant to focus on her family, she had gotten sidetracked by another–Patrick O`Hanlon.  He was young, way too young, but he wasn't like the other casanovas.  He was intelligent and skilled in things other than smooth talking.
It was during one of her events that she met up with him again.  He had come to see if there was anything she could do for his friend, Viola.  Alyssa was saddened that she could not, for she had pulled too many strings to get him where he was.
There had been a time, before this, that Patrick had inquired about seriously being with Alyssa.  She was intelligent and interesting, all the things the other women in his life were not.  She was older, but that came with power and position.  Unfortunately, Alyssa had declined and said she was much too old to be someone's keeper and she had to focus on her family.  It was his first break in showbiz that had been her parting gift to him.  She was only mayor, but she had many, many friends.
It was a bittersweet farewell, for Alyssa knew it would likely be the last time she saw Patrick.  She wished him well.  If she had been younger, maybe, but she knew it was senseless to think such things.
While Alyssa was away for her event, Nevio was causing even more trouble.  Cara had been jogging by one day while he was going out to get the mail.  He stopped and asked after her, noting how she'd managed to get her figure back so quickly after giving birth.  Cara asked after Roman, wondering where he was and if Nevio knew.  Nevio did not.
As she ran off, Nevio began to wonder what his brother was up to that his wife didn't know where he was…
Isolde knew better than to think Shelly wanted to make peace when she got off the bus with her, but she ignored her instincts and went along with it.  What she got in return was Shelly going over how Timothy and Isolde were from two different worlds and how it would never last, because Isolde was obviously a freak.  Isolde hated the fact that Shelly was technically her aunt and so she couldn't kick her out.  She had to wait until Shelly left.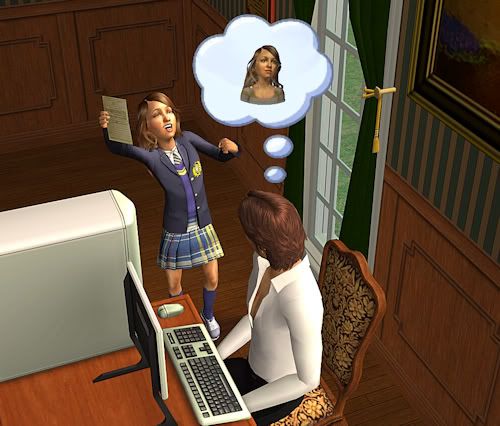 Adora, meanwhile, was doing extremely well thanks to Alyssa's tuteledge.  She brought home straight A's and her teachers were always beaming about her progress.  Nevio was certainly impressed with his daughter, though he knew it was mostly thanks to Alyssa and not his own awesome parenting.
————–
Note from Mao: Poor Isolde.  Shelly really did come home with her and lecture her.  Alyssa and Patrick really did have a relationship at one point, but it never made it to the blog because Alyssa treated it casually and Patrick did not.  They dated while Patrick was in University and a little afterwards.
Every time he sees her, he rolls up that want, and then sometimes will fear it, too.  But he never wants to marry anyone else.  They went on one last date because I was sure Alyssa would be gone by the end of this round.  Seems she's got a few hours left.