Alyssa Anderson and Ryu Yu are finally free of their family, and more importantly, Alyssa's father Thomas. Will Ryu continue to follow Alyssa's every waking command, or will he wise up and demand proper treatment?
"Ryuuu, aren't you done yet?" Alyssa said with an exasperated sigh. Florence had left the only functioning computer broken when she left and Alyssa had a term paper due. "It's been forever!"
"It's been ten minutes," Ryu replied, shaking his head. "Why don't you just go to the library?"
"Ew, do you know how many people touch those computers? That's gross, besides," she smiled, looking at him. "I was hoping you'd–"
At this, Ryu's voice became firm, "no, Lyss–the only reason I'm even allowed within five feet of you is because of Janine… but if you dad finds out I did your work for you? Sorry, no."
"You're such a wimp," Alyssa huffed, sticking her nose in the air. "Just hurry up."
Doing the term paper had been far more work than Alyssa anticipated. Even worse, she broke two of her nails! That was unacceptable. If Ryu wouldn't do her work for her, she had to find an alternative. She had heard some girls talking on campus about how… 'nice' the professors were. These were total bimbos from Planet Clueless getting straight A's! If they could do it, so could Alyssa. So she invited her professor over.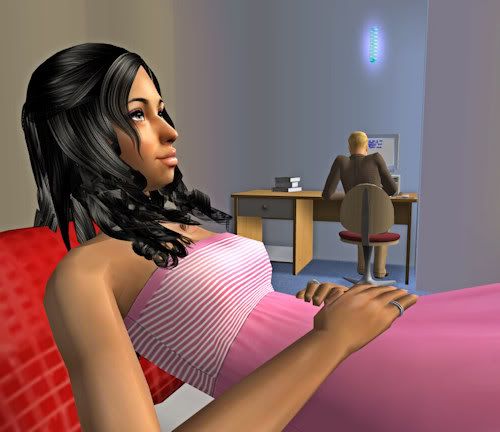 "Aren't you done yet?" Alyssa grumbled from the nearby bed over the frantic sound of fingers hitting keys. "Ryu will be back soon!"
"You know, this isn't really what I anticipated when you told me to come over." The professor grumbled in response. Why was he doing this again? He should have just left.
At this, Alyssa's pretty little voice became cold as ice, "can it, creep, or I'll make sure the entire University Board knows why you've got such a high record of passing students!"
The professor fell silent and continued typing. This little girl looked a lot more daft than she was, truly. She'd caught him in her net–he'd have to be more careful in the future.
"And if you want to continue being employed, I'd suggest you get used to writing term papers." She smiled prettily. "`Kay?"
The professor mumbled, "…little witch."
For the most part, Ryu and Alyssa got along fine when it came to sharing a living area. Alyssa had claimed the biggest and most spacious bedroom upstairs while Ryu took the the second largest downstairs. However, in his adoration of the young woman, Ryu somehow missed all the… odd quirks she had. Like the time he was woke up at 5a.m. to the sounds of hula music outside his door.
"What are you doing?" He asked, unable to hide his confusion.
She just smiled, "what? It clears my head and it's fun exercise!"
"…who exercises at five in the morning?!"
"I do, silly! And while you're up, will you look for my history book? I can't find it."
Ryu sighed and gave up any hopes of getting any sleep. He spent most nights up studying and trying to maintain his 4.0. He wasn't quite sure how Alyssa managed it so effortlessly.
"You're such a wimp," Alyssa said, easily hoisting herself up into a ridiculous Yoga pose. "This is easy!"
Ryu did not share this sentiment, "…I can always just drop the cla–"
"No!" Alyssa said forcefully, balancing herself on one hand. "I mean, it's not so bad, right? It's just a few weeks… though it's weird you need this for a class. What class is it, anyway?"
"…don't ask, really," he sighed. "That'll teach me to wait until the last minute to fill my credits…"
"Less complaining, more breathing!"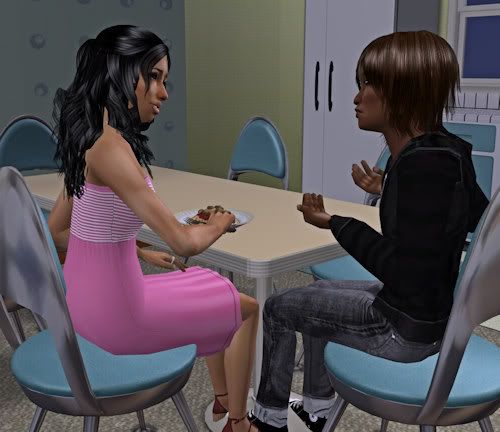 Ryu watched as Alyssa daintily ate her food–it was a little strange, truth be told. His childish adoration seemed to have faded some over the past two years. Maybe it was maturity finally setting in, or perhaps the realization that Alyssa was just… unobtainable. He'd become comfortable in his position as her constant, platonic companion. She even had him sit with her while she ate simply because she wanted someone to talk to.
"What are you going to do when we graduate, Lyss? Hire someone to sit and watch you eat?"
Alyssa gave him a puzzled look, "what are you talking about? You'll–"
"–be somewhere else, Lyss. Once we graduate, you go back to your house and I find my own place. That's it, you know. We go on and have lives. Isn't your dad trying to set you up with that old guy that has the political ties? So, there you go–"
"No, no, no–you don't get it, Ryu," she huffed indignantly, spearing her meatball in a very unladylike fashion. "You're going to help me get out of that sticky little situation. I'm not going to marry any guy who has more hair in his ears than on his head!"
"But your father–"
At this, Alyssa smiled that pretty, conspiratorial little smile of hers, "will be upset to find out that that I secretly eloped after graduation… with you."
———
Note from Mao: Ahhh, these two crack me up so much. It's like a princess and her fumbling retainer. Hate on Alyssa all you want, I love her. Her personality cracks me up. I can't wait until they are adults. And incase you're wondering, Alyssa DOES have a want to get engaged to Ryu and that's my explanation as to why, hehe… heart attack for Thomas, anyone? xD