Kate is happy that her son has found the love of his life and she's even more overjoyed that they're having children.  Hugh is thankful for his mother's help, but he wishes she'd spend more time on herself.
Hugh and Kenya were quite happy with their life thus far.  They were especially pleased with the addition of their baby, Lydia.  It had been a pretty effortless pregnancy, but Kenya was sure she didn't want to find work and would instead remain home and care for the baby.  Kate had to work and Hugh preferred to give his mother some free time, even if she didn't want it.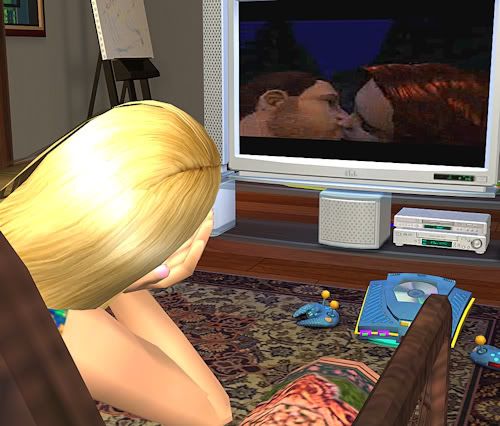 It was a good thing that Kate was around.  Kenya seemed to have fallen sick rather quickly after Lydia was born.  The flu had been going around, both Kate and Hugh had suffered from it briefly.  Kenya felt as if she'd got the worst of it.  It was all she could do to lie on the couch and watch rerun movies on network television.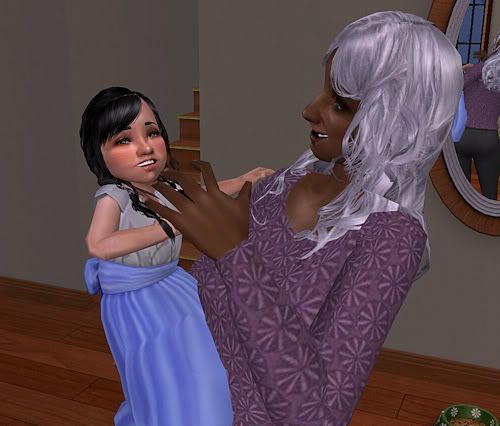 When Lydia's birthday came around and Kenya still felt sick, she was sure something else was up.  Lydia was adorable, though she looked more like her father than anything.  Kate loved playing with her and was even less prone to 'take time off'.  Kenya needed her help, Kate was sure that she wasn't sick, but pregnant again.  Kate would get the house full of babies she always wanted, even if she wasn't necessarily the one giving birth to them.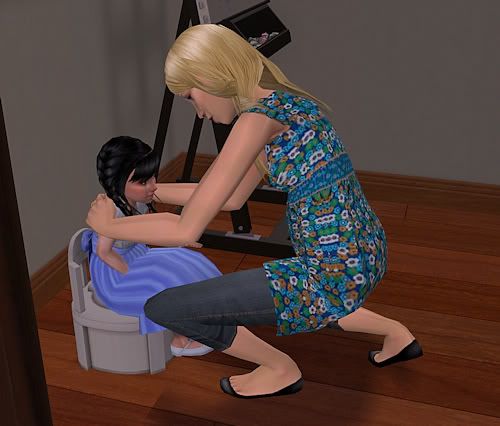 Of course, Kate had been right about Kenya–she was pregnant.  She began to feel a little better, but not much.  Even so, she spent as much time helping and playing with Lydia as she possibly could.  She refused to miss out on her first baby's first just because she felt horrible.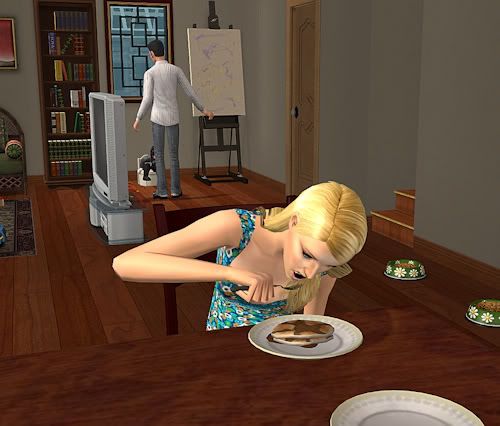 Even with her stubborn declaration of helping, most of the work still fell to Hugh or Kate.  Kenya was simply too busy eating everything in sight and then trying not to throw it all back up.  This pregnancy was completely opposite of the one she experienced with Lydia.  It was horrible!  Kate joked that it could be twins and Kenya thought that it must if it was such a trial.
Everyone was quite shocked when Kenya returned with only one baby.  It was another girl they named Rosa.  She had red hair and the almond brown Yu eyes.  It was quite startling, especially since she had Kenya's coloring otherwise.  Old genetics are funny like that, they'll sneak up when you least expect them.
Lydia became a child not long after, hyper and happy.  She shared her father's enthusiasm for the dogs, much to Kenya's chagrin.  It wasn't that she didn't like them, but the house didn't seem big enough for three!  Especially with Lydia running around with them and chasing them all over.  Kenya was forced to tell Lydia to take it outside more times than she cared to and things had certainly been broken since Lydia had grown into a rambuncious youth.
———————
Note from Mao: Lydia is adorable!  After I loaded their house, Kenya and Hugh immediately went at it on the couch, lol.  Kate was sleeping.  Horrible!  Apparently that was enough to result in Rosa.  I really have no idea how these two are not having twins when they both have the 'twin' family benefit.  Very strange.  Rosa's coloring surprised me.  I'm always glad when those almond brown eyes pop up!