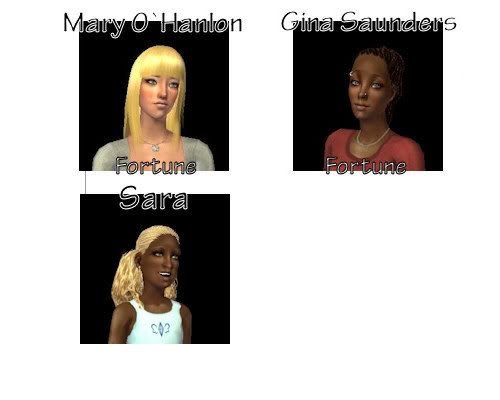 Mary O`Hanlon is finally set to marry Derek Saunders. Will Gina Saunders remain and how will Sara handle her family finally coming together?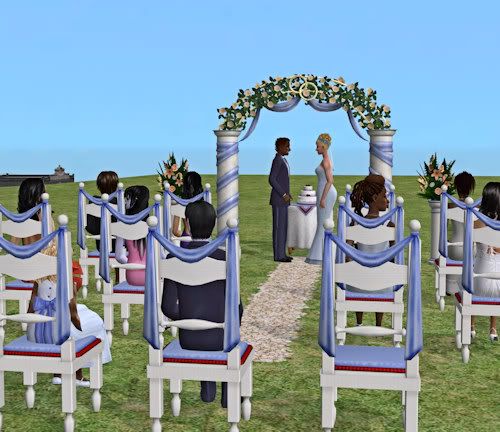 Derek and Mary didn't waste much time preparing for their nuptials. When the time came, nearly the entire neighborhood was in attendance–due to the fact the Saunders line is spread far and wide. Even Eileen Yu, Mary's mother, came out of her widowing sorrow to see her daughter married. Unfortunately, she's missing from her seat in this picture. (she's off to the side with a lampshade on her head, sigh)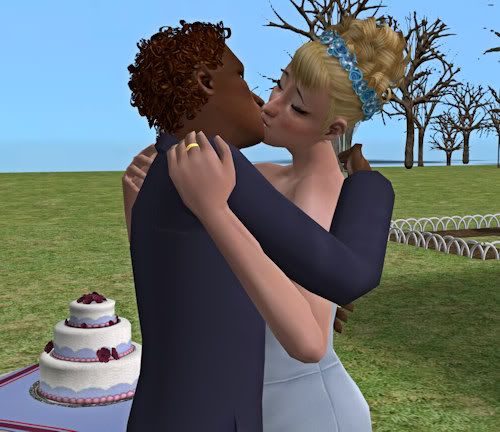 It had certainly been a long time coming, and while Mary was happy to finally be with Derek, she couldn't help but feel something tugging at the back of her mind. The situation was just too ideal. She was a logical minded woman and she found it incredibly hard to believe Katy would just 'drop over'. Something was definitely strange.
However, she also couldn't convince herself that Derek would ever do something like that. Maybe it was just nervousness that caused these thoughts.
After the festivities, Derek and Mary headed off for their short honeymoon in the islands. With all the snow that had accumulated, it would definitely be a nice break. Sara was left to the care of her aunt Gina and both Derek and Mary were convinced to take off work long enough to enjoy newly-wedded bliss. While Derek had moved into Mary's house, the twin boys hadn't come with them.
It had been Henry's decision to keep them there. One of them would eventually inherit the house, since Derek forfeited this when he married Mary. The twins were closer to Henry than their own father, so it wasn't much of a sad separation.
Derek and Mary's honeymoon went on like most honeymoons. Unfortunately, Mary managed to turn into a human tomato while trying to bronze her skin a little. This made certain newly-wedded activities a bit difficult, but she tried not to let it ruin their get away.
When they returned, it was business as usual. Mary was working a little later now and Derek had more time off, so he spent it with Sara. While he likely wasn't the best candidate to help with her homework, he obliged. Gina was kept constantly busy by her new job as editor for the magazine she had been writing for. She still worked on her column, but was now also working on a book that was inspired by it.
The house was definitely filled with successful people–a magazine editor, a sport's star, and a big-wig lawyer.
While the sunburn may have hampered their honeymoon a little, it didn't prevent… certain things. Mary had been feeling ill lately and went to see the doctor. She wanted to be sure before she told anyone.
"I just got the results back today," she said, trying to decide whether to smile or faint.
Derek paused, "…results? For what? Are you sick?"
"No, no," Mary said, waving her hand in the air. "I'm… pregnant. With twins."
Derek wasn't quite sure what to say. He was definitely happy, yes, but his financially-driven mind immediately began to calculate the cost of tearing down walls and building new ones. He could see Mary was thinking the same thing. Twins… again.
Sara's birthday came not long after the news. She was dubious about the new would-be family member. She didn't really have much experience with babies and she wasn't sure she had that maternal instinct that her mother said existed within all females. Sara was a 'bit' of a tomboy and enjoyed sports and rough-housing more than doing her hair or thinking about babies.
She tried to keep her own concerns quiet, though, as Mary and Derek were quite happy. Even Gina didn't mind the thought of changing more dirty diapers.
Sara and Lilith were closer than ever as teens. Lilith wasn't very girly either and while she was definitely domineering, Sara liked that. She needed some direction and Lilith was always more than happy to give it. They definitely weren't in the 'popular' crowd, but they didn't really care. As long as they were together, they didn't need anyone else.
Lilith was the only one Sara confided in about her worries when it came to the new baby. Florence, Lilith's mother, had just given birth to little Kate, so Lilith could relate. She tried to ease Sara's fears, but found she wasn't able to… because they were true. Babies did demand a lot of attention.
It worried Sara because she finally had a father. They really bonded, especially over sports, and Sara was worried the baby would take that away. Derek hadn't been around for the majority of Sara's childhood, so maybe he'd have more of a connection to the new baby and toss her aside. It was a depressing thought and Sara tried not to think about it as the months passed and Mary's belly grew larger and she eventually went on maternity leave.
For now, Sara would just have to enjoy their nightly sessions of catch and hope the baby wasn't a boy.
———-
Note from Mao: Derek and Mary are finally together, but I have a feeling the bliss won't last.
Poor Sara. She really does seem standoffish about the baby! Anytime someone talks about it, she has an 'X' over her reply! Also, a little note: I'm going to WV/Ohio with my fiance and while I have one update left… I may not get to play for a few days until we're all settled. So don't panic if I go a few days without updating–I haven't abandoned the drama!