Thomas Anderson has everything in the palm of his hands; his daughter, Jun Yu, and even his ex-wife. What could possibly go wrong?
To say Janine was surprised when Thomas called her directly would have been an understatement. Worrying that something had gone awry with their questionable dealings, Janine hurried over only to find Thomas seated smugly behind his desk. The knowing look he gave her was unnerving.
"I never thought you a murderer, Janine."
Janine was unmoved by his false sincerity, "it isn't something I take pride in and I'm not about to take it up as a hobby, so if you're–"
"Oh, no," Thomas replied quickly. "I have no desire to get my hands dirty with any of that. Which is why I've called you here. Don't do it again, or our deal is off. That's risky business and it could ruin everything."
Janine didn't reply. Instead, she moved to leave the office.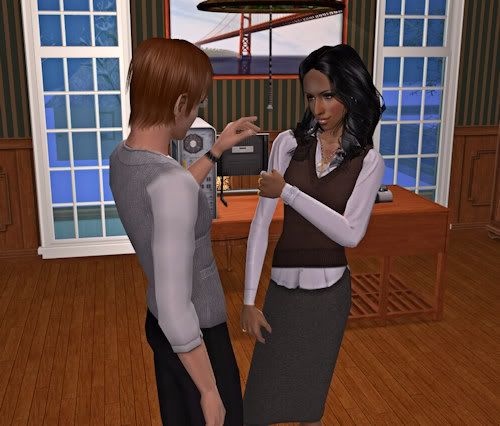 "Not a word, Janine? Not a single tear of remorse?" He said, stopping her. "You've become as cold as me."
Janine rolled her eyes, "I did what was necessary, Thomas. I'm not about to deny it."
"Necessary for that little family you hold so dear. Why don't you tell them about what you do, hm? And where you go at night? Perhaps Henry would be interested–"
Janine pushed past him, "you'd best watch what you say to a murderess, Thomas."
The next morning, Jun was quite interested in knowing why Janine had come over. She was completely oblivious to Thomas' real schemes and he planned to keep it that way. She was a nice little accessory and her fame definitely helped him pull some necessary strings. If she found out, though, he'd likely have to call in Janine's little 'murderess' expertise.
"It was just about Alyssa," Thomas lied. "Her University dealings and whatnot. Nothing terribly important."
Jun quirked an inquisitive brow upward, "is Alyssa coming back here when she graduates? The house will be crowded."
At this, Thomas' jaw tightened, "she is my daughter, Jun. She'll go wherever I go. Perhaps you'd best recheck your standing when it comes to importance."
Unfortunately for Thomas, his little daughter was not being the good girl she was taught to be. When she visited, she brought Ryu Yu with her. Jun was his mother, true, but they hardly had a relationship. Instead, he came with Alyssa and for reasons Thomas did not like.
"I'm not marrying that old guy, daddy," Alyssa said firmly, though with a smile. She tried to subtly cuff Ryu in the shoulder, but he just silenced the moue of pain and kept quiet. This gave Thomas a moment to speak.
"And why is that, Alyssa? He has more than enough money to fund your political campaign."
Again, Alyssa hit Ryu. This time in the ankle. He jumped, calling attention to himself. Thomas stared at him, his eyes narrowed. This was a bad, bad idea. Why had he agreed to this? Though, it was better than eloping–Thomas surely would have killed him then.
"Er, because," Ryu managed, finding his courage. "She's already engaged–to me."
The door slammed so hard it nearly came off its hinges. Thomas had drug poor Alyssa into her old room and had planned a stern talking, but found she was ready for him.
"I don't care what you're going to say, daddy. It won't change anything."
Thomas was unable to bridle his anger, "how can you do something so stupid, Alyssa? Didn't I teach you better than this? Ryu is hardly suitable to be your husband! He's–"
"He does everything I say, daddy." Alyssa shot back. "He always has and he always will! What could possibly be more suitable? An old man who will likely beat me? I'd sooner die, daddy. I'm marrying Ryu and that's that."
She stormed out of the room in a huff, leaving Thomas to wallow in his defeat. He knew letting Ryu near Alyssa was dangerous. Though Alyssa's reasoning was somewhat good, he had to question if there wasn't more she was hiding from him.
Meanwhile, Jun was making her own matches. She introduced Shaniqua to one of her friends from the studio. He was a nice guy, Shaniqua had to admit, and they got along quite well. Jun knew Shaniqua wasn't completely happy with just women, so she decided to make her broaden her horizons.
At first, Shaniqua was extremely hesitant. She was with Florence, after all, and she loved her… in her own way. But when she started meeting men, she couldn't help the way she felt. They were only friends and she hadn't done anything wrong… yet.
Thomas aged gracefully and couldn't help but be happy with the way things were going. Sure, the Alyssa and Ryu thing was a setback… but perhaps he could find a way to make it work. Ryu was palpable enough, he guessed. He could be shaped. That's what Thomas did, after all, he shaped people into greatness.
He shook the ants in their tiny house, grinning. This little suburb was his ant farm and the people were his obedient little ants.
——–
Note from Mao: This was the first lot I played after installing Free Time! Given the drastic changes to the core programming of the game with FT, I figured the hacks would take forever. I replaced InTeen with risky WooHoo and am using the OBJ version of InSim. Supposedly, SimPE works with FT… but we'll see. I am also now safely in WV/Ohio and all set up. This was a backlogged entry I forgot to write. From here on out, we're up-to-date with my current playing!