Michael Saunders is trying to keep to himself, but between Fou-Lu's problems and Sade O`Hanlon forcing herself constantly into his life, he's finding it incredibly hard to do so.
"A cat, really, F0u-Lu?" Michael grumbled.  "In an apartment, no less."
"You got something against cats?"
"Not at all, but seeing as you didn't even ask me beforehand–"
"It's for Emma, no big deal.  It won't be here long.  I promise."
Behind them, Sade was already cooing over the cat, "It's so cute!"
"Don't even start," Michael said quickly, looking over Fou-Lu's shoulder at Sade.  "A cat is one thing, but you?"
"Awww, c'mon, don't be a scrooge.  You gonna kick a cat and a girl out on the street?"
Of course, Michael was a loner, but he wasn't heartless.  He didn't kick Sade out or the cat.  He tolerated them both as well as anyone could hope to.  Especially when Sade refused to leave him alone.  She had a job, this much he knew, but what and when it took place, he couldn't say.
"You can't avoid me forever," Sade said daringly, eyes narrowed as if plotting something devious.  "I don't see why you even bother."
"Some of us have a sense of decency," Michael replied, though defeat was obvious in his voice and face.  "I don't see why you have to be so… pushy."
She smiled at this, "Maybe because you're shy and I like watching you twitch."
Meanwhile, Elena and Fou-Lu weren't quite having the same issues.  Elena visited frequently, both with and without Emma.  While they had both tried to be as casual as they could, old habits die hard.  Elena found herself reliant on Fou-Lu constantly being there.  She began to wonder if perhaps her own doubts had just been fear.  Fou-Lu was immature, but he tried, and he'd grown, despite himself.  Keeping him away was hurting Emma.
Perhaps there was something to be said for second chances.
Sade's techniques needed definite work.  Michael was resisting her as fervently as ever and it was frustrating.  Worse yet, when she tried to back off and attempt more subdued methods, she failed.  Burning breakfast was only the beginning.  She decided to quit before she burnt the entire apartment down around them.  Why did he have to be so stubborn? Had Sade hit on anyone else, they'd have been flattered and smitten instantly.  She was Sade, after all.  Gorgeous, and while not skilled in the culinary arts, extremely good arm candy.  What the heck was wrong with Michael?
Elena was trying to figure out just that.  In her visits, she'd noticed what was going on and decided to confront her step-brother about it.  He was reluctant to talk, but Elena knew him and his weaknesses.  He had no choice.
"If you don't like her, just tell her so she leaves you alone," Elena said, trying to be sisterly, but her annoyance was obvious.  "What you're doing is just mean, Michael."
"I'm not trying to be mean," Michael said sadly, unsure of what else to say, really.  "I just, I mean.  I don't get it.  I was supposed to be alone, right?  And I keep getting lost in these situations and I'm surrounded by people and I just–"
Elena rolled her eyes, "accept it.  Life isn't what you want.  You take what you can get.  You think I wanted to get knocked up in college?  But I love Emma, and I wouldn't go back and change it.  Who says you have to be alone?  Being weird doesn't mean you're not like the rest of us.  You were born that way, Michael, and we all except it.  Why can't you?"
"…I don't know."
"Well, figure it out quick.  Sade may be full of herself, but you are who you are.  Girls won't exactly fall over themselves for you forever, Michael.  Not once they figure out how truly strange you are.  Sade knows and doesn't care.  For some reason, she likes it.  Don't take advantage of that acceptance."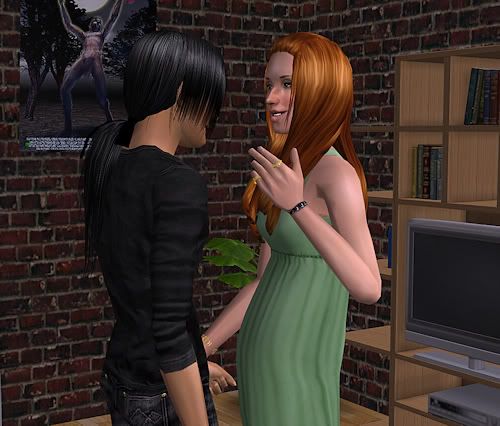 Michael tried to take Elena's advice to heart, but his personality was what it was.  He couldn't change that and so he simply avoided Sade as best he could.  She eventually cornered him and instead of being annoyingly pushy, she approached him carefully.
"Will you come with me?  I want to take a walk, but it's dark…" Her confidence was faltering, but she hid it well.  "Someone like me?  I'll get kidnapped if I go alone.  Please?  I'll be good, I promise."
He sighed.  His first response was to refuse, he did have to work early in the morning and it was already nine.  Who goes for walks at nine when its cold?  But he was weird in his own way, too.
"Fine, but this better not be a trick."
"Of course not!" She grinned suddenly, taking his hand and pulling him towards the door.  "Let's go!"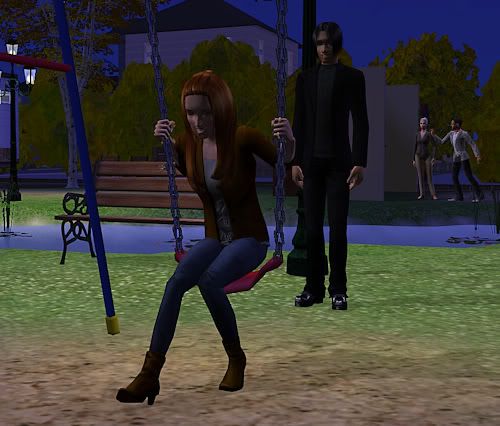 They walked to the park, which was surprisingly populated for it being so late at night.  Sade moved instantly to the brightly colored swings, flopping down on one of the plastic seats that dangled helplessly from the chains.  It rattled beneath her weight and creaked as she moved.
"Swings, Sade?" Michael asked incredulously.  "You brought me out here to swing?"
She stuck her tongue out at him, "what's wrong with swings?  Don't be such an old man, Michael.  You're barely thirty!  Everyone loves swings."
"So says the twenty-something who dropped out of college," Michael grumbled, giving her a small push, the creaking of the chains worrying him.  "Is this even safe?"
"Don't you ever stop?  It's fine!  Now push harder, that last one was lame.  It's not like I weigh a ton," she laughed, dainty and yet mocking all the same.  "Unless you're too weak–"
The push she receieved sent her high into the air, eliciting a sudden squeal.  She gripped the chains hard, coming back down, scuffing her feet against the dirt and digging her heels in.  As the fear dissipated, she laughed and was surprised when it intermixed with Michael's own laughter from behind her.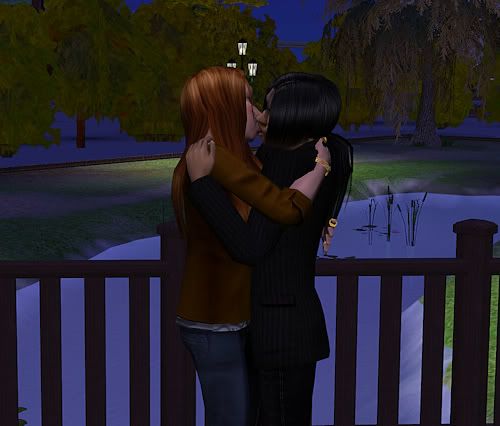 As they moved to leave, Sade stopped and turned to Michael, her face twisted in mock anger.
"You tried to kill me," she said, laughing, unable to keep up the guise.
"Obviously not hard enough," he countered, surprising her.
She moved towards him, dangerously close, arms catching him by surprise, "ooh, that would be scary… you know, if you weren't so meek!"
"I scared you, didn't I?"
Instead of replying, she took the opportunity and kissed him.  It had been nearly ten years since this scenario had played itself out in the basement of Michael's childhood home.  Of course, then it had been awkward and much shorter.  Neither had gained any experience, but adulthood tends to change things nonetheless.
———————
Note from Mao: Sorry this is long.  Sade and Michael drive me nuts.  Seriously.  Sade is push, push, push and Michael is running away like a scared little boy.  He's 100% shy, she's 100% outgoing.  The mixture of the two is VOLATILE.  Sade also fails at cooking.  FAILS.  Fou-Lu is moving out to join Elena the next round, hooray.  Here's hoping it lasts, lol.