Henry and Janine have reached the end of their adult lives. Can they make the best of their elder years or will the lies and mystery pass down to their son, Gordon? Chuck and Damien remained behind when Derek Saunders left to become Derek O`Hanlon. Will they grow up to be well-adjusted or just plain weird?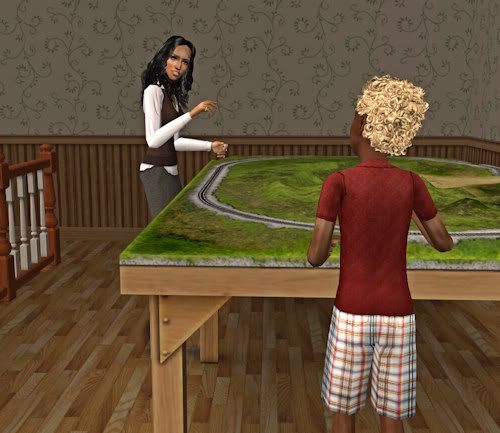 Janine had to admit that it was a little odd the twins stayed behind. Henry explained that one of the twins would take over the house, so it was important that they stay. Truth be told, he felt more like the twins were his own sons instead of grandchildren. They certainly acted the part!
Chuck shared Janine's interest in tinkering with electronics, so she brought home an old, unfinished train set. They bonded over fixing it.
Gordon, meanwhile, was too busy with his best friend Tsung Yu. The two were inseparable–especially since Nathaniel Anderson had his birthday and was off to a different school. Tsung wasn't terribly athletic, but he did have a want to know everything, so Gordon taught him about basketball (which he learned from Henry).
While Tsung's interest in everything was understandable, one couldn't help but question his sudden want to know about sports. It was well-known that Lilith was a secret athlete (as was her best friend Sara)… and it was also known that Tsung and Lilith had a bit of a rivalry.
While his brother Tsung was too serious for the twins, Shang found them to be great company. Damien was especially gifted at video games and Shang had fun trying to keep up. Sure, the twins were older, but they befriended Shang all the same. He was 'cool, for a little kid', they said.
Chuck wasn't nearly as good at the games they played, so he just watched and kept score.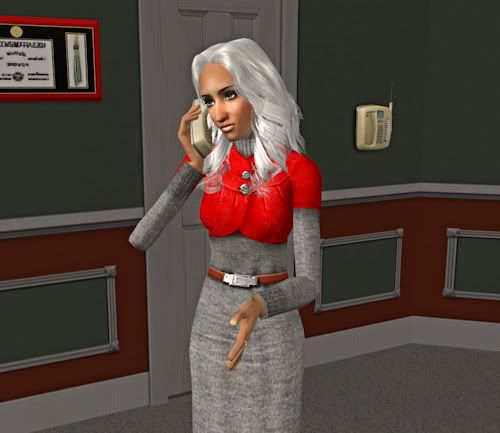 Janine may have crossed over to the next part of her life, but she certainly wasn't too old for her job. In fact, she felt invigorated by her gray hairs and wizened face. She had climbed to the top and even had a task force the local authorities had made dedicated to stopping her operations. That was impossible, as Janine was too good. Her double-life allowed her the comfort of an alternate identity to hide in when the cops came sniffing around. Who would ever suspect a sweet old grandmother?
"It's fine, Derek, I promise," Janine assured her step-son. "Stop worrying. I took care of everything. Just keep quiet and it'll all blow over. Yes, I'm sure. No, I don't think Mary knows and she won't if you act normal. Okay, all right. I'll see you. Bye."
Henry also entered the land of gray hair and was quite happy about it. He could now fully enjoy his status as 'grandpa'. Unfortunately, he was still worried about Janine. He knew for certain she was hiding something–military training had given him that much sense. He just wasn't sure how to broach the subject without upsetting her.
"Was that Derek on the phone?"
Janine smiled, taking his hand, "yes. If I had known you were home, I would have given you the phone."
"He seems to be doing well, despite what happened to Katy."
"He's happy with Mary," Janine replied, giving his hand a squeeze. "It's what he wanted from the beginning. Katy wasn't as nice as she let on. But it's over, so let's not concern ourselves with it, okay?"
"Yes, I guess you're right…"
Gordon woke up from a late nap to find Janine laying on one of the unoccupied beds. She didn't seem to notice him at first, so he stood their quietly until she finally said:
"Gordon, you know mommy loves you, right?"
"Yes," he nodded, a little confused. He was young, but a quiet maturity lurked beneath his innocence. "Are you okay, mommy?"
Janine nodded, a half-smile forming on her lips, "yes, just a little tired. Mommy picked a hectic life and she worries a lot. About you, your sisters, Henry…" she stopped, and looked at him. "Just remember, Gordon… that no matter what, mommy loves you, okay?"
"Yes, mommy." He said, noting the sad look in her eyes. Instead of saying anything, he changed the subject. "Is it dinnertime yet? I'm hungry."
"Close enough, sweetie. Come on." Janine moved from the bed and led him downstairs.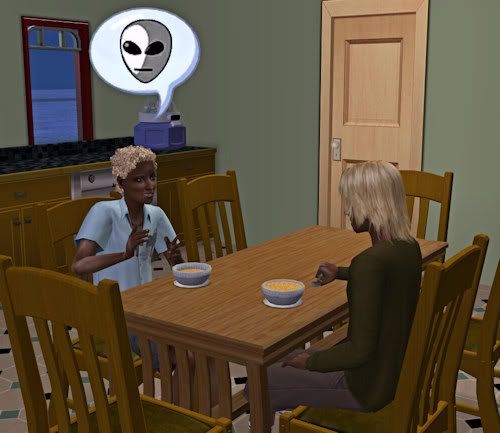 The twins had their birthdays and grew up to be more different than ever. Damien mellowed out a little and decided that knowledge was a pretty cool way to expand on his gaming. If he learned everything there was to learn, than he'd surely be the best! Chuck, meanwhile, decided that his 'refined' mind was best suited at wooing the ladies–all the ladies. It was something Chuck and Damien just couldn't agree on.
"Dude, c'mon, you know aliens are totally hot."
Damien made a face, "you're talking about Lilith Anderson? She's crazy!"
"You're just mad because she kicked your butt online," Chuck retorted, rolling his eyes. "Those hard-balling chicks are the thing these days, you know? Like Sara!"
"Oh, gross!" Damien was horrified. "She's like, our… um… sister? Half-sister–yeah, that–half-sister! Stick to the aliens, you weirdo."
Chuck made a face, "I didn't say I wanted to date her, Mr. Uptight. Sheesh. But Lilith? That could be… interesting."
"Yeah, if you don't enjoy having balls. Whatever, dude. You're crazy."
Finally, for the first time in her life, Janine felt fulfilled. She was literally the top of the top when it came to crime. Not only did the local government want her gone, but the bigger agencies as well. It was a bittersweet victory. Now her double-life was necessary and she could never expose who she really was.
She would live out the lie for the rest of her days. If she were to tell, she'd put her family in danger.
Using his charisma (and Sara), Chuck got Lilith to come over. Sara wandered into the living room to play video games with Damien while Chuck kept Lilith out in the kitchen. His charming compliments and ways had no effect on the tough-as-nails Lilith Anderson. She snorted derisively and called him names.
By the end of the visit, Chuck was certain he'd get Lilith–one way or another. Meanwhile, Lilith had to admit she was intrigued by his persistence. Most guys either backed off and ran away crying to their mommies. Chuck had courage.
———
Note from Mao: All my Gen1 adults are becoming elders! It's amazing, haha. I'm still having a lot of fun with this, so it's all good. As for Lilith and Chuck? Chuck's FIRST convo after becoming a teen was, literally, about aliens. That's all he talked about and then he brought Lilith Anderson home. Say it with me folks… three bolts. We'll see how it goes. I had planned on having Lilith reroll in college.