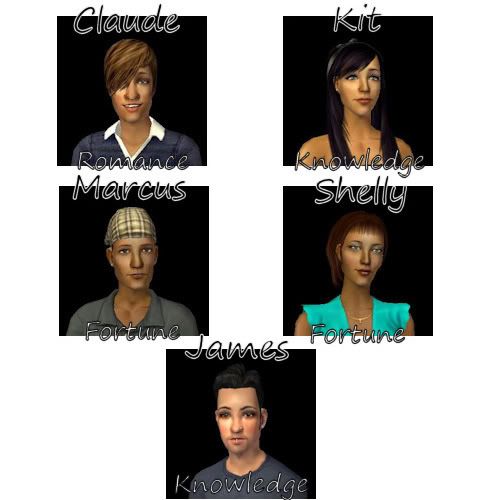 Claude Saunders and Kit Knight have been at University two years now and have developed a sort of 'understanding.'  Now joined by Marcus and Shelly Yu, they're forced to be a bit more discrete.  Worse yet, James Yu has also come trailing along, his sights set on Kit.
James didn't waste any time tracking down Kit.  He found her eating some burned grilled cheese–she had never been much of a culinary master, despite her mother's skill.  He took a seat next to her and immediately launched into his anti-Claude propaganda.
"What are you doing with Claude, Kit?"
She gave him a look, "does everyone know about it?  Stupid Sade and her big mouth…"
"Forget Sade," James interrupted, "Claude Saunders, Kit?  You're smarter than that."
"So what?  What's it matter to you, James?  If you think insulting me is going to win me over, you're wrong."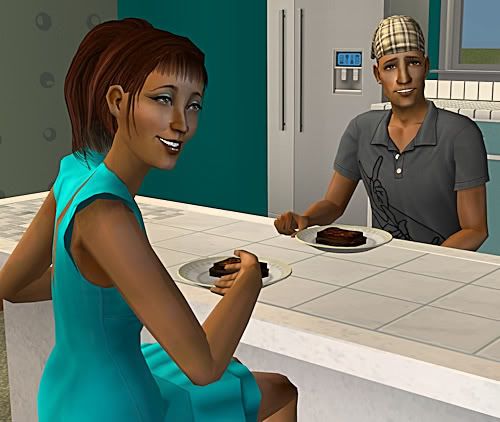 Shelly and Marcus arrived sometime later, also greeted by the burnt grilled cheese sandwiches.  It had been a long drive and they were both hungry, so they didn't complain.  Shelly wasn't really sure what she was going to do now that she was University.  She knew she wanted to make lots of money, but now the how or the why.  She kind of missed her rivalry with Isolde and maybe Cole, too.
Marcus was just thankful to be away from their grieving mother.  Grief wasn't really his thing.  He missed his father, true, but he was a guy, and guys really aren't into tears.
Claude, meanwhile, found himself catching up with an all-too-familiar face.  The strange woman from the bar turned out to be an exotic blonde who was suddenly in his age range.  He wasn't entirely sure how that worked, she didn't look a day older than when they had first met years prior.  She contacted him suddenly, and he hadn't bothered to ask how she got his number.  She was hot, what else mattered?
The funny accent certainly helped, too.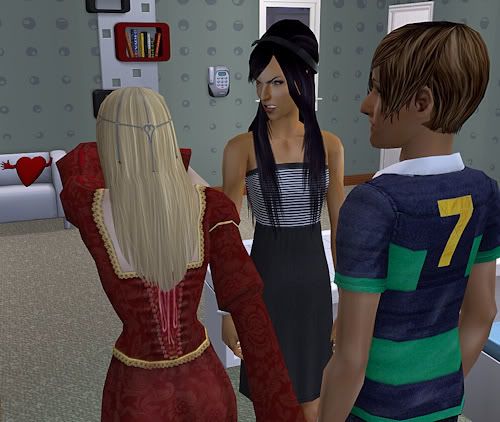 Kit, however, wasn't nearly as impressed with the supposed 'Countess'.  While the thing between her and Claude wasn't serious, she refused to believe his involvement with this mysterious blonde was a good idea.  Common sense wasn't exactly Claude's forte and he missed the obvious signs.  As the Countess slunk away, Kit glared at her and then leveled her gaze on Claude.
"Geeze, Kit, don't be so jealous," was all he could manage.
"Don't be such an idiot, Claude!" She roared, wanting to hit him, but restraining herself.  "There's something wrong with her.  Can't see it?"
"Not from here," he said, watching her leave a little too closely.
Kit sighed.
At least she had some repose with James.  He was younger, yes, but it was so nice to have someone around that seemed to be from the same planet as she was.  He had always been intelligent, perhaps even more so than she, but his age had always been a deterrent.  Not to mention that Kit really never paid much attention to boys in school, either.  She left that mostly to Sade.  Now free of her best friend's nattering, she found herself falling under James' sway.  It was just as well, as Claude was overly preoccupied with his crazy blonde.
Claude didn't think there was anything off about Emily.  Sure, she was pale, she had a funny accent, and she only came around in the dark… but everyone had their quirks, right?  Maybe he was just desensitized because of his father.  Of course, Claude knew exactly what his father was… maybe that's why he had such a hard time realizing what Emily was.  It didn't matter.  He liked her a lot more than he liked all the other girls he'd found.  She seemed to feel the same and so all was well in Claude's mind.
It didn't take long for Kit to educate James to the way of college.  She liked him enough, sure, but she wasn't completely serious.  He was, of course, but Kit couldn't have known that or maybe she wouldn't have been as aggressive.  She simply thought they were friends with a mutual arrangement.  Kit wasn't entirely sure why she wasn't really into commitment, only that she wasn't.  Poor James.
Claude got the awakening of his life late one night while he was on the balcony with Emily.  It had been like every other visit, they talked, spent time together, and went outside a lot.  This time, however, she led him purpousfully to the balcony.  When she was sure they were alone, she began to act strangely.  Claude couldn't really remember much of what happened next, only that he woke up a few days later feeling really funny and Emily was gone.  He tried contacting her several times to no avail.  It was almost as if she had completely disappeared.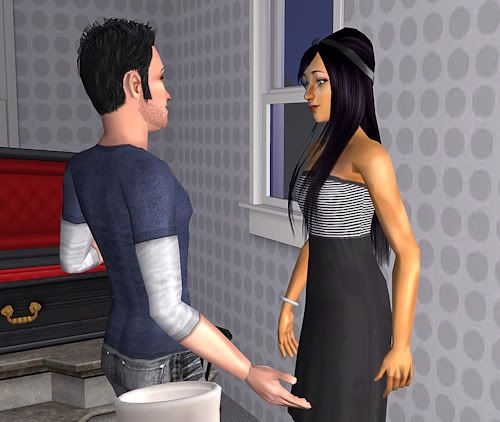 It was close to graduation and while Claude tried to hide the changes he now recongnized as vampirism, he couldn't hide from Kit.  She snuck into the unused upstairs bedroom to find a coffin.  Her suspicions were confirmed.  She drug James up there, much to his chagrin.
"What is this supposed to prove, Kit?"
"Claude's been turned into a vampire, obviously," she said, as if James had been suddenly struck dumb.  "That idiot, I told him not to mess with that blonde weirdo…"
James sighed, "Why do you care, Kit?  It isn't your problem anymore.  You're graduating soon.  Come on, let's go downstairs."
When the time came to leave University, Kit would leave alone.  She planned to leave in the afternoon the next day, while Claude made separate arrangements.  He really didn't look forward to the phone call, but knew he didn't have a choice.
"I'm fine dad, really.  I don't see why you're so worried, it's just University… what's the worst that could happen?  No, I'm sure.  Nothing's wrong.  I just have some things to do.  I'll see you in the morning.  Tell mom not to worry.  Okay, yeah, I know.  Bye.  See you then."
Claude was not looking forward to his homecoming, but he had no idea what else to do.  Only his father would know anything about what he'd become and even if he had to face his wrath, it'd be better than going through it blind and ignorant.
———————-
Note from Mao: Shelly and Marcus will have a bigger part in the next round of Uni, no worries.  As for Claude and Kit and James… ugh.  Three bolt love triangle.  HOW?  I do not know, so don't ask.  Claude is obsessed with Emily, though, much to Gordon's chagrin.  It's the reason he's a danged vampire.  Revenge plot or stupid luck?  We'll see.  Sorry it's taken me so long to update… holidays, sickness, work… you get the picture.