Alyssa Anderson is trying to keep her family together, even at the end of her days.  Her son, Nevio, isn't making it easy.  Thankfully she has Adora to add some sanity to the mix.  She loves Isolde, too, but worries for her.
Roman came in while Alyssa was at work.  Behind him was Patricia Moreno.  Nevio had seen her working at the store, she had been pretty hot before the whole pregnancy thing.  He wasn't sure why he was agreeing to this, especially since Patricia seemed so disraught about it.
"It has to look completely sincere," Roman warned.
"It will, I've done this before, remember?  Lacie…"
Roman tried not to cringe, "right.  Of course."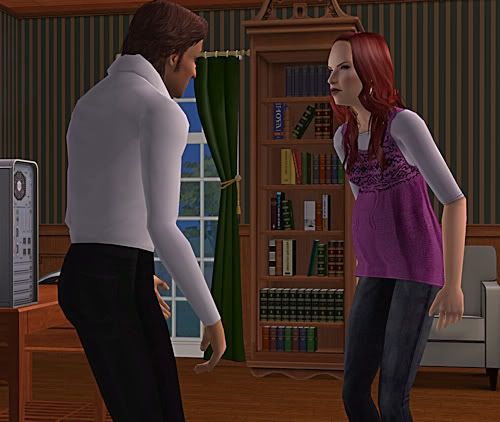 Roman left the two to get acquainted before the wedding, which would happen at the end of the weekend.  As soon as the door closed behind him, Patricia lit into Nevio.
"You are sick," she snapped.  "I can't believe you're agreeing to this!"
Nevio gave her a look, "you obviously agreed, too."
"Out of love!  For my child," Patricia replied morosely, looking off to the side. "The alternative… was hardly a better option."
Nevio didn't even want to know what the other option had been.
Despite the tensions and animosity between the two, the wedding continued without a hitch.  Nevio had to be sure that Alyssa was none the wiser to their jest.  It had been harder than he thought, living under the same roof.  Roman, Cara, and even Gregory were there.  Why wouldn't they be?  It would have seemed peculiar if they hadn't been.  Despite his best efforts, Roman found himself too busy with his thoughts to pay attention.
It was anyone's guess what happened next.
Patricia had hardly been married ten minutes before she stepped off the platform and toppled over.  Alyssa was quick to come to her aid, as she'd heard the girl coughing profusely since she arrived.  Sickness and pregnancy usually don't go hand-in-hand.  An ambulance was called to no avail.  She was pronounced dead on the scene.  It was truly a dismal day for all, for a death is one thing, but the death of a pregnant woman newly wed?  It's too horrible to consider.
There was no investigation, for too many witnesses had seen it happen.  There was no foul-play, except on nature's part.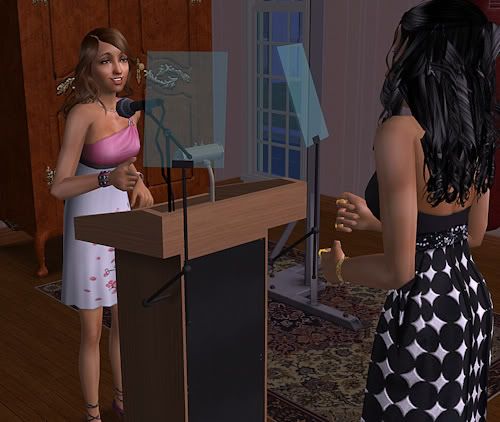 It took some time for things to resume as normal in the manor.  The only thing that brought the cheer back was Adora's birthday.  She was turning into a lovely young woman and Alyssa was determined to mold her into a true family matriarch.  It would take much, as Adora yearned to have children of her own.  Little did she know that along with those children would come an entire family to manage.
Unfortunately, Alyssa's time came not long after.  Both Isolde and Adora were beside themselves with grief.  Nevio mourned inwardly, obvious only in that he no longer brought women home.  The house was a somber place, and the ripples of Alyssa's death moved through the family and its branches.  She was not only the matriarch of a powerful family, but also the Mayor.  Many holes were left to fill when she died.
Isolde was not so good at handling her grief.  All she could see was death surrounding her.  It was a bit much for her fragile mind to handle and so she began to lash out.  She threw horrible tantrums and fits, refused to see Timothy, and would lock herself in her room, whispering into the phone receiver.  She spoke only to Lilith Yu and the mysterious friend she had met through the old woman.
Adora, meanwhile, made friends.  She knew that her grandmother wanted her to be in her own image, and so she did her best to be popular.  Maggie O`Hanlon and her got along great, even though Maggie was a little older.  They were both level-headed individuals and their attractiveness didn't hurt the bond, either.
Adora was definitely happy to have a friend in her time of need.
Isolde had a friend, too.  Before she snuck off to University, she called her and requested what she had wanted for so long.  It was a shame that Lilith couldn't be there to witness it.  Unfortunately, it wasn't enough to sate Isolde's grief.  There was too much temptation, too much begging her to get lost, to go further in and innundate herself in its power.
It would have to wait until she reached Boreal Summit University.
——————-
Note from Mao: Apparently teens CAN be witches… yay!  So Isolde was a witch before she left.  I've never had a witch before, so I'm experimenting.  As for Patricia's death, you cannot imagine the face I made.  I was truly and completely SHOCKED!  She literally just dropped over.  She's been sick for awhile, but I thought she'd make it through the pregnancy.  Not so.  I have the illness hack from MATY that makes them fatal if not cared for.  She and her baby were my first casualties.
Last update of the year!  Happy New Year, everyone!