Nathaniel and Sara Anderson are happy their kids are finally accomplishing something, but, not quite so happy that something seems to be getting girls pregnant or going after questionable relations.  There's still Cole, though, right?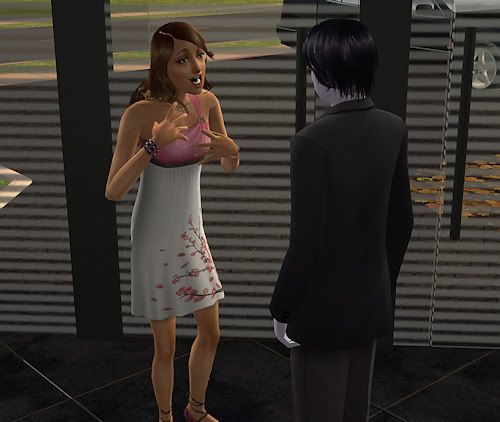 Cole met his distant cousin, Adora Anderson, and heir to the Anderson estate one day at school.  He knew instantly that Shelly would hate her as much as she hated Maggie.  There was no attraction there, Cole simply enjoyed knowing the important people in Boreal Springs.  He was still fully intent on getting Shelly to re-evaluate their little 'deal' only this time, sans Timothy O`Hanlon.
Sara, meanwhile, had Patrick come over with his impregnated woman friend.  Patrick had come only because he knew that if he didn't, the repercussions would be much, much worse than if he did.  So he came, sat down on the couch and tried to work his charm on his sweet old mother.
"Don't give me that charm, Patrick O`Hanlon.  That won't help you here!  What were you thinking, getting a girl pregnant?! I thought you had a better head on your shoulders than that…"
"Did you bring me here just to lecture me?  You could've done that over the phone…"
"Oh, no, my boy.  You're not getting off that easy…"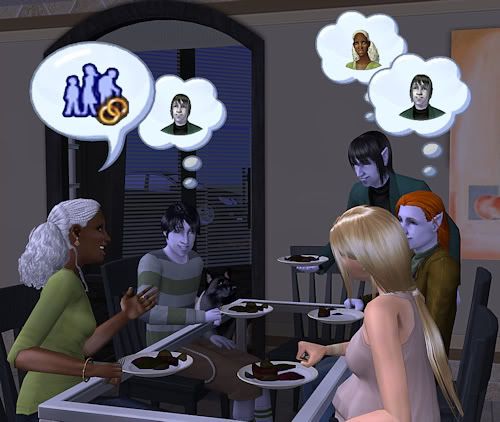 Dinner was a tenuous affair that Cole enjoyed very much.  Seeing his older siblings get in trouble was always a good thrill.  He also couldn't help but notice just how very pregnant Viola was.  Wow.  Sara wasted no time getting down to the dirt on things–Patrick would have to do the right thing get hitched.  Nathaniel was so shocked by the blunt statement that he accidentally burned dinner.
Patrick and Viola both were not entirely sure what to say, but Sara was adamant.  Marriage or nothing.  Patrick tried to counter with the fact that Sara and Nathaniel hadn't married at first, but Sara was ready for it.  She got pregnant of her own volition.  Patrick is a womanizer who obviously doesn't respect women.
Nathaniel saw them out, looking just as wearied as poor Viola.  She was definitely ready to leave–the stress of Sara's constant prodding was almost too much.
"She's just trying to do what's best for the baby," Nathaniel offered with a sigh.  "I think… she's right, but it's your decision."
"Do you know how hard it is to be a married actor, dad?  Really?" Patrick tried to smile, but found it difficult.  "I can't change who I am.  Not just because someone's… pregnant."
Nathaniel gave him a look, "someone, Patrick?  She's obviously means something, because you've allowed her to live with you, despite your absolute need for a 'bachelor pad'.  I think you're in denial."
Patrick laughed and headed to the car, calling back, "and I think you're going senile!"
Inside, Cole was getting lectured by Sara.
"Now, remember Cole, no getting girls pregnant unless you're married or in a relationship and decide you both, mutually, want kids, okay?"
"Yes, mom," Cole replied mechanically, sighing.
"And no cousins!"
He rolled his eyes, "mom, come on.  You're worse than the kids at school…"
"I'm just saying, Cole.  I'm telling you because obviously, my not telling Patrick or Sade has resulted in them doing it!"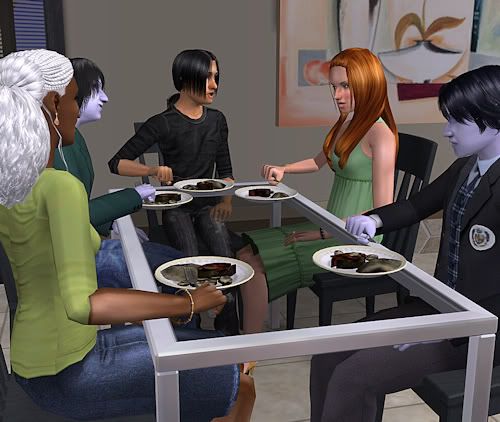 Speaking of cousins, Michael and Sade came over to see Cole off to college.  Once again, Nathaniel burned dinner.  He claimed that all the stress of these situations was too much.  He'd rather be with his dolphins or training others how to properly feed the seals.  Not this insanity met for family sitcoms.
It wasn't that Sara didn't like Michael, she did, a lot.  He was Gordon's child and therefore, she knew him better than he thought.  Heck, Sara knew Gordon better than Nathaniel knew.  She was his legal advice and she'd come to know what he actually did for a living.  Made things interesting, that's for sure.  Michael was a good kid, Sara was just worried being with Sade would mess him up.  Not vice versa.  She loved her little girl, but Sade was something else.
The dinner went well until Sade couldn't take it anymore.  Burnt food!  It was like when she was trying to cook.  She looked at her father and without skipping a beat, said, "dad, seriously.  Are you going senile or something?  You're cooking like me now!"
Michael was quick to add, "no, Sade.  This is actually recognizable as food."
Which resulted in a glare and laughter around the table.  Cole would miss his dysfunctional siblings, but University awaits.
——————————–
Note from Mao: Whew, what a round.  Sara had some issues to address with her children!  Poor Nathaniel, I think he's getting too old to cook, he kept burning everything, LOL.  The mesh that makes H&M outfits and others pregnancy morphed makes them look like whales.  Wow.