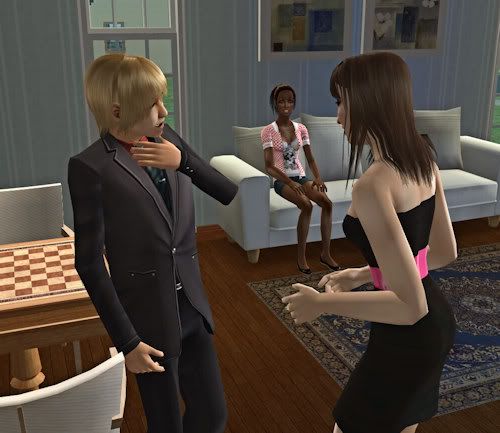 While they were upstairs, Jun was downstairs doing her own sort of 'training'. She knew her friend Shaniqua Saunders was miserable and confused, so she wanted to help her out. The last time she had introduced her to an old friend, they hit it off very well, but nothing ever came of it. This time, however, Jun would be sure Shaniqua got the message.
It worked, of course. Shaniqua was teetering on the edge and it was enough of a push to send her sailing over. Of course, who could say what would come of this… but Jun was sure whatever it was, it would bring some clarity to the situation. Sure, Florence wouldn't be happy, but this wasn't just about her or her brood–Shaniqua deserved to be happy, too.
And by the look on her face, at that moment, Shaniqua was quite happy.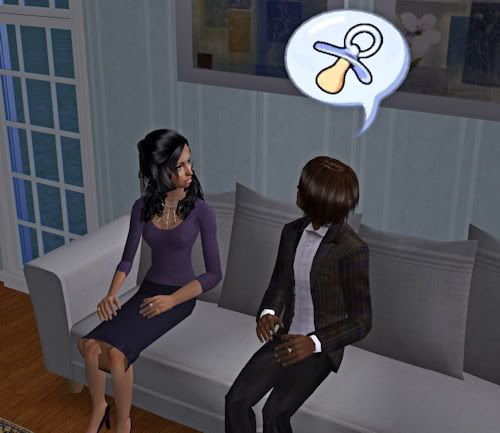 "Why didn't you tell me?" Ryu said, sitting down next to Alyssa.
"Tell you what?" She was surprised and saw there was no escape. Her odd behavior hadn't gone unnoticed and neither had the fact that she had grown uncommonly quiet lately.
"That you're pregnant," Ryu replied, giving her a look. "I saw the papers–you left them out in the open. Not to mention all the running you've been doing. When were you going to tell me?"
Alyssa sighed, "I don't know. I haven't even told daddy yet–he'll be furious. I'm so close… but if I'm pregnant, I can't work…"
"That's not important, Alyssa," Ryu shot back, slightly angry. "Thomas can go to hell. Whatever he hopes to gain out of you becoming mayor is nothing compared to your health and the health of the baby. Why didn't you tell me? How far along are you? How long have you known?"
"I just found out," she pouted. "Only a month and a half… but I'll start showing soon. I can't hide it for much longer."
"You never should have to begin with. You have to tell Thomas."
Thomas was, of course, quite furious. Alyssa wasn't supposed to be even thinking of children yet! How could she be so careless? Her entire career was now at risk! Ryu had better stay well away, that was for certain, or Thomas would feel the need to help relieve him of some unnecessary body parts. Still, maybe it could work. No, it would work, Thomas would make it. He always made things work.
"Maybe it isn't as bad as we think," Thomas said, ignoring the fact that Alyssa didn't necessarily see it as 'bad'. "Maybe you being a mother will present you as a more likely candidate to those with families. Yes, that could help win the voters over tremendously… a power mom–part career woman, part mother."
Alyssa was dubious, "daddy, I really don't like the idea of turning my child into a political stepping stone–"
"Nonsense!" Thomas snapped. "It will be perfect. We'll need to work on your image a little, and set back some speeches, but it'll work."
Alyssa and Ryu stepped into her old room and began trying to decide where to put everything. They'd convert the unused room into a nursery for the baby. While Alyssa had stopped using it years ago, Webster had loved sleeping in there. Unfortunately, the old dog had passed several days ago and it was now time to make use of the space once more.
"I don't think I like the idea of putting our baby where the dog died, Ryu," Alyssa said, looking around. "That's morbid."
"No, it isn't. That's life," Ryu replied, feeling suffocated by all the pink. "But we'll have to find somewhere to put all this… stuff."
"Hey," Alyssa's brows furrowed as she noticed the tone with which he said 'stuff', "that 'stuff' was mine! It was good stuff."
"Yes, but now you're an adult and I hardly think you need this… this what is this?" He asked, pointing to the weird glowing ball on the side table.
"It's a lamp, you idiot!" She huffed.
Katarina Anderson was born a month early, but was still healthy. Alyssa had survived the labor, but wasn't quite sure if she ever wanted to go through it again. She wasn't even sure if she could be a mother. She hadn't ever really thought about babies, but it was her own fault for not being more careful. Alyssa had waited until she was married to do anything of that sort, so when she finally discovered it… well, too much of a good thing, as they say.
Katarina had Alyssa's lovely tan skin, but her eyes were none other than her great-grandmother Risa's! It was a pleasant surprise, to be sure. The brown hair obviously came from Ryu.
————
Note from Mao: Ahh, I did NOT want Alyssa and Ryu to have a baby so soon! In fact, I never let my sims have babies so early into adulthood. Ugh. Oh well. At least she somehow got Risa's eyes! That's awesome.  Also, I know the DB needs updated–I'm working on it.  It takes FOREVER to upload on my fiance's craptastic satellite interwebs so I am doing it only every few houses now.