Gordon Saunders is comfortable in his position of power over Boreal Springs and Aperture, unfortunately, it often puts his family at risk.  Lauren is furious when Claude returns home looking much like his father–pale and with fangs.
"I thought you said nothing happened at University, Claude," Gordon began, his voice stern.
Claude tried to play it off, "nothing really did."
"Claude, you're a vampire.  You call that nothing?" Gordon snapped, unable to keep his composure.
"Well, I mean, yeah… but it's not so bad.  I mean, I've got a handle on it.  I'll live."
Gordon sighed and sat down next to Claude, trying to find the proper words.  It was difficult.  He couldn't exactly say 'no, you're not allowed to be a vampire', he was one.  If it was okay for him, why not Claude?  What a mess this was.  Worst of all, Gordon knew this wasn't an accident.  Someone had done this on purpose.
"Who did this to you, Claude?  Was it another vampire?"
Claude hesitated.  Should he say it was Emily?  She had disappeared shortly after.  He paused a moment before finally saying, "yeah, another vampire.  She was… one of my–"
"I see," Gordon said, standing up.  "What was her name?  If you don't tell me, I'll find out anyway.  Make this simpler, Claude."
"Emily."
"You'd better fix this, Gordon!" Lauren raged later that night after seeing her son.  "My baby is a vampire! He has fangs, Gordon!  He's not a criminal, and he certainly has no business in any of this past the misfortune of being related to you! You'd better fix this!"
"I will, Lauren," Gordon said between her seemingly endless stream of words, "I'll fix it."
"When, Gordon?  NOW! My baby is not being some weird night creature!  This is all your fault–all of it.  You and your criminals and revenge, grudges, whatever.  I don't even care what it takes, just fix this!"
Gordon grumbled, "you think I'm not aware of that little fact?  I'll fix it, I will, I promise."
Lauren spent the next several hours going between fawning over Claude–who had always been a bit of a momma's boy–and yelling at Gordon.  Finally, she exhausted herself enough for Gordon to put his plan into action.  He dialed the number into the phone and was met with a sleepy voice.
'Gordon?  Do you know what time it is?!'
"Sorry, Lilith, this is important.  Claude's a vampire."
'Er… bad, right?  This is a bad thing?'
"Yes, it's bad!  Now, listen.  I need you to use your… weird contacts and get me something to help him."
'My 'weird' contacts?  Have you finally lost your mind, Gordon?  I can't just wiggle my fingers and POOF, instant vamp b' gone.' She inhaled deeply and finally said, 'I'll see what I can do, okay?  But no promises.'
Meanwhile, Claude was adjusting to life as a vampire pretty well, now that he had his father's guidance.  He was surprised one evening by Kit stopping by.  He hadn't seen her since they both graduated from University.  She had moved into the same apartment building as Sade and Michael.  She also chopped off her hair.  Claude barely recognized her–she looked good, happy.
"I see you're still a vampire," she joked.  "How's that working out for you?"
"It's not too bad, but my mother doesn't care for it."
"I just, I mean, I wanted to see how you were doing.  Since the whole, well, vampire thing."
Claude invited her in and she was grateful.  It was pretty cold out.  Once they were in, though, Claude started with his charm.  She instantly pushed him away, giving him a terrible scowl.  Claude, even being a vampire, was a little frightened.
"Agh!  I'm not here for that Claude.  I just wanted to see how you were doing.  You're such a jerk."
"What?  I'm sorry, Kit.  But, well, it's always been–"
"Well, it's not now.  So, stop it," the words didn't reach her eyes.  She stomped out.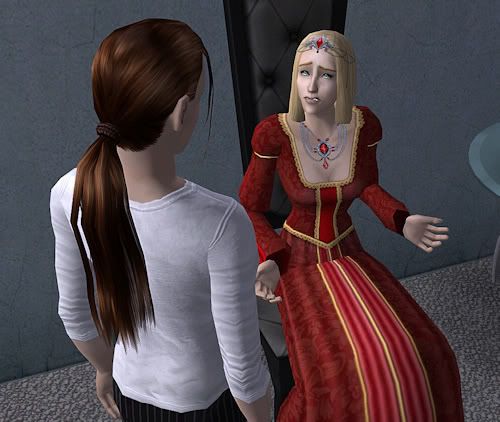 Gordon had Emily in his clutches.  He had pulled her off the street effortlessly, thanks to his contacts.  She was hiding from someone, flushed out from her clan and all alone in the big, bad world.  She was a little shocked when she awoke in Gordon's basement.
"You, you're the one who turned my son.  Why?" Gordon wasted no time mincing words.
"Your son?"
"Claude.  Don't play stupid with me.  Tell me why, why did you turn him?  And don't lie–I know he didn't 'want it'.  You did it on your own."
"I-I… can't.  I'll be killed!"  She looked terrified suddenly, as if the walls were enemies, too.  "I can't say anything.  I can't."
"Someone hired you to track down my son, didn't they?  You've been watching him awhile.  You got into a relationship with him and you used it to get close enough to turn him.  Why?  Who put you up to it?"
"I can't!" She shrieked.
"You can't, because someone will kill you?  I'll throw you out into the sunlight if you don't tell me right now!"
Emily's eyes widened considerably.  She looked terrified.  After a moment, she finally said, "if I tell you, will you still kill me?  Your son will be upset… he cares about me."
"Claude cares about a lot of women, one less won't hurt him," Gordon replied coldly.  "Now tell me."
"Okay, okay… it was Roman Anderson.  He's the one you want, not me.  I feel bad, I do.  I liked–I like Claude.  A lot.  I felt horrible afterwards, but Roman, he was going to… I mean, I couldn't say no.  I'm sorry.  I'm sorry!"
——————————————
Note from Mao: Bad Roman, very bad Roman!  And now the truth comes out.  ;b  Back when Countess Emily first ran into Claude when he was a teen, it was too convenient not to run with.  It was after Gordon and Roman's deal had gone sour.  What better revenge than to mess with the heir?  Hehe.