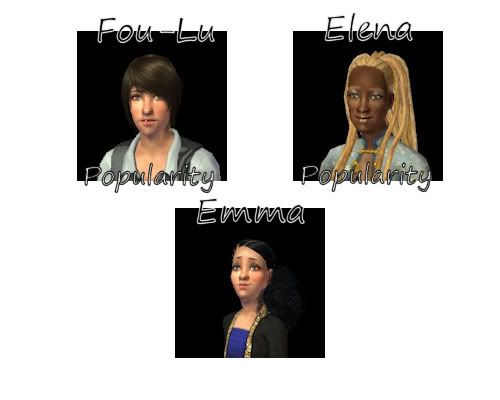 Emma was ecstatic when her father, Fou-Lu Yu, moved in with them at the new place Elena had procured.  He even brought a present–Six, a very fluffy, very cute cat.  She spent a great bit of time cuddling and loving Six and in return, Six pretty much followed her around throughout the house.  Elena had been apprehensive about having a cat, she had been raised with dogs, but found that Emma's fondness or Six couldn't be compromised.
Gordon had sent over a very nice piano as a gift for Emma.  She was starting piano lessons, something she enjoyed more than the violin, she found.  Six would try and sing along, mewling along with the notes as Emma effortlessly played.  She was talented like her father and her mother, that was for certain.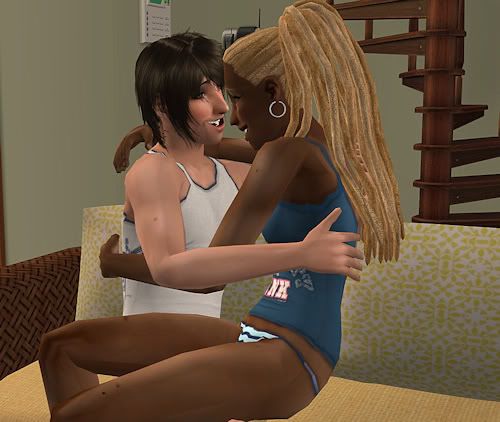 Of course, when Emma was at school, Fou-Lu and Elena were making their own use of the new furniture.  Probably not what it had been intended for.  Neither of them really spoke very much about taking it any further than this.  Fou-Lu was just happy to be with Elena and Emma and Elena still couldn't think about anything serious past this.  She wasn't sure why.  She had always loved Fou-Lu, but she couldn't really allow herself to be locked into it.  It was strange, because she was the responsible one.  You'd think she'd want a commitment, not the easygoing, childish Fou-Lu.
Elena got quite the surprise one night.  While Fou-Lu was out of town for a few days, her entire family popped up on her stoop at 1am.  Okay, maybe not all at once, they certainly wouldn't fit, but Michael and Sade came first, followed shortly after by Gordon, Lauren, and Claude.  Once she managed to shuffle them all quietly into the livingroom, she demanded an explanation.
"Dad called and told me to check on you," Michael offered first, followed by Sade:
"And I was coming, too."
"Your father, in his infinite wisdom, forgot that Sade was pregnant and so tried to call them back and tell them it was all right, he'd go," Lauren added, followed by Claude:
"And then I said, no, mom, let us go.  We're the men."
"And then she slapped him and we all came," Gordon finished, looking up at her, smiling.  "We were worried about you.  There's… some things going down, Elena.  You and Emma being alone at night, it's worrying."
While Elena read their father the riot act on how she's a grown woman and she can take care of herself and her family, Claude decided to get Michael in even more hotwater than he already was.  Trying to sneak off at 1am does not usually go over well with a pregnant wife.
"Sade, really, should you be out walking around and stuff?  You look pretty pregnant," Claude said, not trying to sound insensitive, but he was Claude and so, well, yeah.
Michael shot him a look from behind Sade, as if to say, 'are you trying to get me killed?'
"Do you enjoy having fangs, Claude?" Was all Sade said, her voice hard and terse.  Claude shivered and said nothing more.  "That's what I thought."
He sent his half-brother a look of pure sympathy and apology.
Suddenly, Emma came shuffling down the steps.  She saw everyone gathered and quickly ran towards them, arms outstretched.  Gordon was already standing.  He embraced his granddaughter quite snugly, glad to see she was all right.
"Grandpa!  What are you doing here?" Emma asked, fully aware of the time.
"Just… talking with your mother," Gordon offered, then smiled.  "Do you like your piano?"
"Oh, yes!  It's fantastic!  Do you want me to play it for you?"
Elena tried to say no, but tomorrow was Saturday and everyone was here already.  She looked at her mother, "we should probably go make some breakfast."
Michael glared at Claude and said, "and you should probably get me a suitcase, because if this idiot keeps talking, I'm either going to be dead or kicked out!"
"I'm going next door to see Patrick," Sade said stiffly.
Fou-Lu returned, none-the-wiser about the criminal activity nor the fact that Elena's father and entire family had been collected in the livingroom.  Elena had told Emma that some things involving Grandpa Gordon were best left unsaid.  Emma thought she understood and so remained quiet.  Their routinue continued.  Emma was definitely happy her parents were together.  There was always someone there with her, especially Fou-Lu.  He normally only worked weekends and was home all day during the week.  She got away with a lot when Fou-Lu was with her, but she was still sure to always do her homework.
——————————-
Note from Mao: It would only make sense for Gordon to want to check in on Elena after what happened with Claude.  He knew Michael would be too smart to fall for anything, since Michael knows what and who he is and has for a better part of his life.  It was still hilarious to see them all clustered in the livingroom.  Poor Michael.  Elena and Fou-Lu, thankfully, make use of the bed more than the couch.  Emma and Six are inseperable.