Florence Anderson is happily oblivious to the confusion her significant other of many years, Shaniqua Saunders, is experiencing. Of the twin aliens, Lilith finds herself having issue coping with both the death of her boyfriend and witnessing the entire sordid thing. Nathaniel is a little more easy-going, though admittedly, is worried about his sibling. Kate is about the only normal one in the family.
After the incident that occurred at the Saunders house resulting in the death of Chuck Saunders, Florence and Shaniqua sat Lilith down. She had spent a week at an institution an hour away in the city in hopes of helping her deal with the situation. It didn't seem to work very well. When she returned, she didn't say a word to anyone.
Florence and Shaniqua tried to be reassuring, but it was of no use. Lilith just looked at them. Every now and again, she'd nod. Eventually they gave up and let her go off to her room.
Even Sara found that talking to Lilith was useless. She never talked back and she just looked annoyed. It was quite difficult for Sara, as Lilith was her best friend… her only real friend, actually. One day, as she left Lilith's room defeated, Nathaniel stopped her. Apparently Lilith had been doing this to everyone and he told her not to take it too badly. It wasn't personal, Lilith was just dealing.
He asked Sara to help him practice (Lilith usually did), and of course, she agreed.
It became a daily thing after that, Sara coming over and helping Nathaniel out. She had gotten better and was actually able to block a few of his kicks and make him work for goals. Lilith still refused to talk, so Sara found she spent a lot of time with Nathaniel. While she didn't fool herself into thinking he saw her as anything but 'one of the guys', she still enjoyed being around him.
He was nice to her, too. Well, more so than usual. Likely because she was helping him out. Nathaniel was never mean, no. But he paid more attention to Sara. It made it more difficult to deal with the fact that Nathaniel and Lilith would be going to University without her.
Meanwhile, Lilith spent a lot of time in quiet contemplation. What she had seen had really jarred her. How many people could say they stood face-to-face with death? No one, probably. It made Lilith think about things she'd never thought about before–life, death, the paranormal. What other things were out there, waiting to be discovered?
She also thought about Damien and what it might be like to lose your twin. While Nathaniel annoyed her, she couldn't imagine being without him. He was her twin, they were two halves to the same whole. She felt bad for ignoring everyone, especially him and Sara, but she just needed time to think and ponder and question.
When she was sure everyone was asleep, she would sneak outside and gaze up at the stars. She often wondered where she came from. She was an alien, after all, and not completely of this world. What was her true purpose? Maybe she saw things others didn't because she was an alien. She wished Nathaniel took his differences a bit more seriously, so they could talk about it, but he didn't. He preferred to be normal and blend in and not question.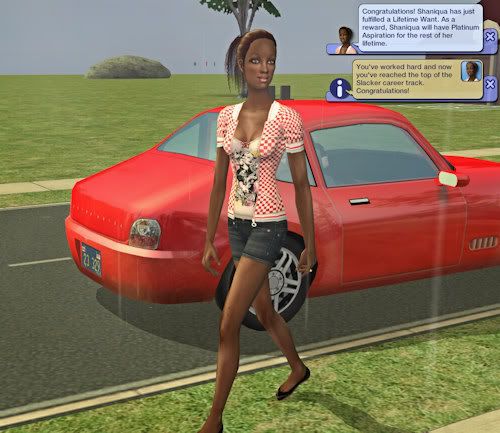 Shaniqua came home one day feeling completely fulfilled. She had completed her life's goal and she couldn't have felt better. It was almost as if she was walking on air. In fact, she felt so amazing that she dared to do what she had been thinking about for days.