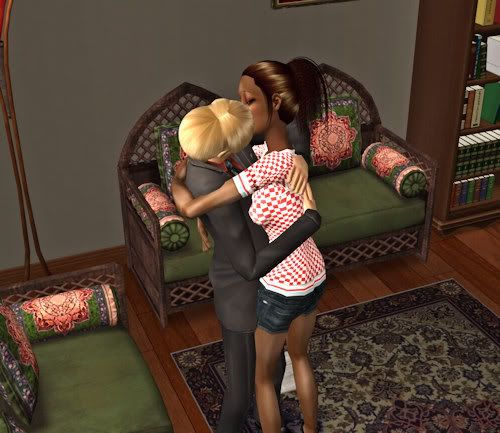 She invited Ravi over. At first, she didn't think she could go through with it… but then, it happened. It felt right and she didn't feel bad about it. It was natural, wasn't it? To be curious of what you've not previously experienced? Besides, Florence was at work and everyone else was away. No one would know and it wouldn't go any further than a few kisses and touches…
Unfortunately for Shaniqua, her self-control wasn't what she thought it was. Even worse, the house wasn't empty. Lilith had off from school due to her tragedy and was taking a nap. When she awoke to get a snack, she heard the noises through the door. She knew her mother was at work and that Shaniqua was home. It didn't take a genius to figure out what was going on.
That made two things Lilith experienced and couldn't and wouldn't talk about. She went off to University, never saying a word. She felt badly about it, yes, but what would she be if she told? What if she heard wrong? It just wasn't worth all the hurt.
With the twins off to University, Kate found there was a lot more time for her parents to spend with her. She was completely oblivious of Shaniqua's infidelity to her other mother, Florence. Shaniqua paid plenty attention to Kate and never once acted like anything was amiss.
It was Florence's turn for fulfillment–she arrived home from work, glowing. She was at the top, her life's ambition, and now she could relax and enjoy her family. Still, something nagged at the back of her mind. She always had a knack for telling when something wasn't quite right, and something definitely wasn't right about Shaniqua.
Florence worked through the afternoon and into the evening, so Shaniqua had plenty of time for her trysts. With the twins gone, there was even less risk. She had from eleven to two PM to fulfill her desires. Ravi was more than willing–Shaniqua was an attractive and alluring woman. Plus, what guy hasn't dreamed of being with a supposed lesbian? It was great for a guy and quite an ego boost, too.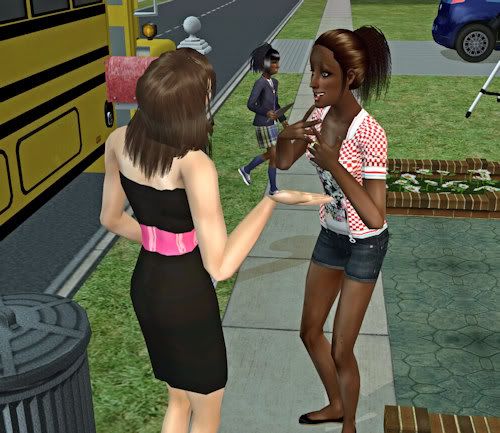 One afternoon, Jun stopped by for a surprise visit to see how things were going. She wanted details on how things were going with Ravi. Of course, Shaniqua couldn't really tell her, as Kate had just gotten off the bus. She shooed her off and promised to call her later. Jun wasn't pleased, but left quietly and allowed Shaniqua to see to Kate.
She'd realize eventually, Jun thought. You just can't corral a romance sim into being house wives!
———–
Note from Mao: Whew, a lot going on in this house! I'm glad to be down to three people. As you can see, Shaniqua gave in. Her wants demanded WooHoo but Florence was too busy… so there you have it. Dun, dun, dun… here's hoping she doesn't get pregnant. I can't wait for Inteen to be finished! Risky WooHoo just doesn't cut it–the chances are too high.